Thanksgiving day might be over but remaining thankful doesn't have to end. The thanksgiving dinner might have finished but you can always spruce up a thanksgiving meal… just because.
Public Relations professional and Afropolitan Chef, Yetunde Taiwo shares a thanksgiving breakfast recipe with BellaNaija.
Having recently released her cookbook – Love with Food: African-fusion meals made easy, Yetunde has this to say about the recipe:
'I thought of this recipe as one that would be perfect for a Sunday morning breakfast and even more so, for this time of year — just in time for the  American Thanksgiving holiday. Before an entire day of cooking begins, this meal is a quick breakfast to keep the family full before the main dinner is served. The color combination is attractive for children while the sweet potatoes are rich in vitamins A and C. Both vitamins are great antioxidants.Perfect for Thanksgiving morning.'
What You Need
1 large sweet white yam
1 large sweet potato
2 eggs
1 small red onion (sliced)
3 cups chicken or vegetable stock
1 cup water
4 tablespoons groundnut oil (or your choice of oil)
3/4 teaspoons salt
1/8 tsp. black pepper
1/8 tsp. curry
½ lemon
1/8 tsp. paprika
Handful parsley
How To
Dice your potatoes and put in water with the lemon. (The lemon keeps it from browning). In a saucepan, add your groundnut oil at low heat. Add your sliced onions and stir.
Boil your eggs in the last 4-5 minutes. Add your chicken broth, spices and diced potato and yam. Cover and cook for 15-20 minutes or until soft.
Add parsley 10 minutes into the cooking.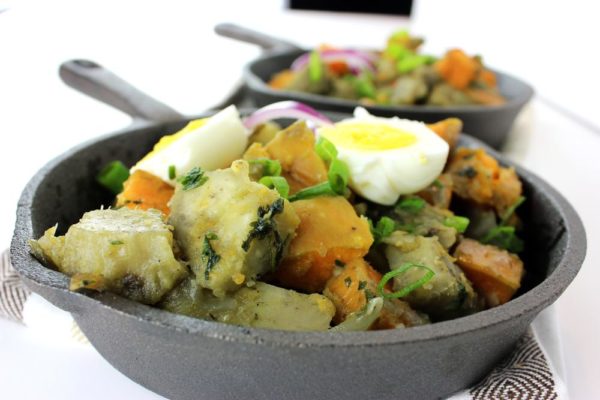 Serve in a plate, slice hard-boiled egg, garnish with paprika and green onions (scallions).
Calorie Count: 220
carbs: 104g
sodium: 480mg
protein: 2g
fat: 110g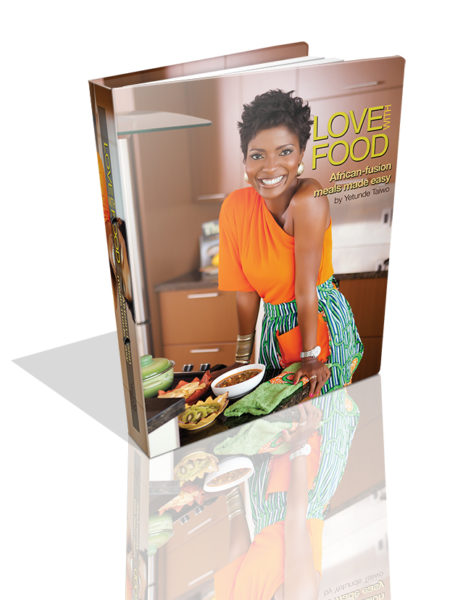 For more of recipes from the Afropolitan Chef buy here on Amazon.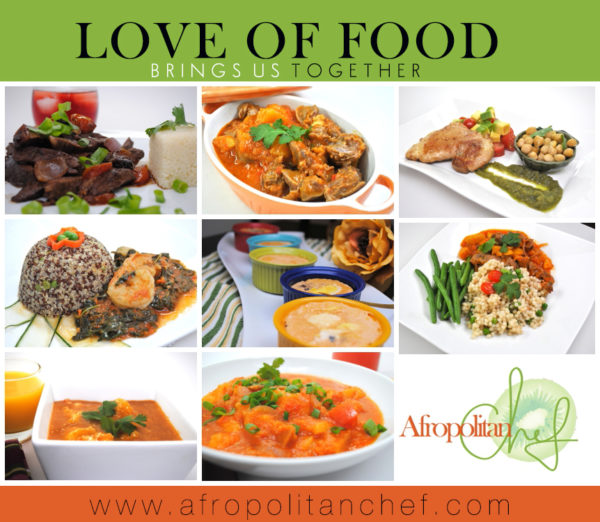 The cookbook focuses on 'Meals inspired by Africa, but infused with ingredients, techniques and flavors from around the world. Taiwo intricately balances flavors of Africa and Latin America in meals like Jollof Rice, made with pureed peppers, some curry, thyme, spices, rice and baked chicken. Foodies will learn how to save time cooking African meals directly from Africa's trend setting, culinary ambassador. Africa has been aptly described as "A world in one continent." Equally so, an African meal can be described as "A world on one plate." Yetunde Taiwo as The Afropolitan Chef will stimulate foodies around the world to eat conscientiously with love. Her passion for food has made her a long time supporter of The World Food Programme and No Kid Hungry organizations. She has committed to giving 10 percent of her proceeds from the cookbook for the rest of her life to both organizations in support of their work in eradicating world hunger.'