Last week this romantic proposal on Tower Bridge, London went viral! Today we share Dumebi & Ezeikel's story with BN-ers!
The groom-to-be Ezeikel hired singers to serenade his then girlfriend Dumebi to the spot where he proposed (in the rain) to Dumebi, just like a scene in the movies.
Hearhow it happened from their friend Alex (@minniemouse_xx) –
"While brainstorming "Eze" as he is known shared his initial plans with me. He was to take Dumebi to dinner at the Oxo Tower then go for a riverside stroll along More London, Southwark eventually leading them to a proposal spot. He said he knew he wanted to present her with a bouquet of specifically red and white roses and that he had hired a photographer.
I suggested using tealights to spell out a phrase of his choice layed out on the ground would be a good idea and he added the idea of sprinkling rose petals on the ground.
Since Dumebi is one of my best friends I knew I wanted to take the event over the edge and so I suggested getting a group called J.E.T to sing to her. Eze loved the idea saying that all he wanted was for Dumebi to be overwhelmed and cry – tears of joy of course!
24 hours before D-day Eze met with the photographer and together they picked the perfect spot for him to propose.
The D-Day!
When the two were in plain sight J.E.T approached the couple and sang Dumebi's name, they then lead her along the riverside. They stopped the couple a few yards down and started serenading them for a few minutes. After finishing Joshua (the "J" of J.E.T) went to collect a hidden bunch of flowers and handed it to Dumebi. After singing a second song Dumebi turned around to find Eze down on one knee holding open a Vera Wang ring box.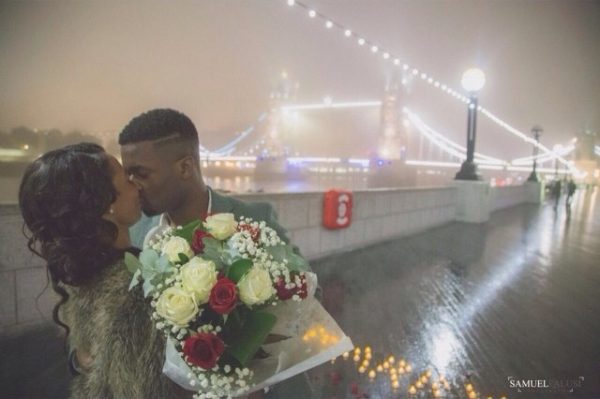 He said a few personal words and asked Dumebi to marry to him, she accepted the proposal and Eze placed the ring on her finger. At which point those of us hiding (Dumebi's sister Jazmine, close friends Demi and Kisayke and passersby) came out and ran towards them celebrating.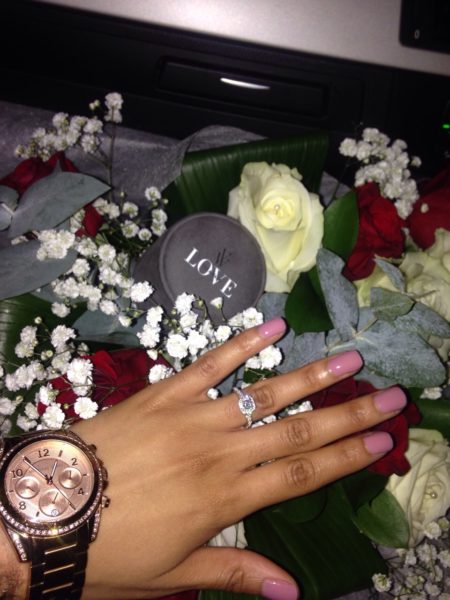 We can't wait for #DEze2015!
Shout out to @r_o_w, @apinchofpetite, @novembrre_, @_dej_, @ms_kis (J.E.T manager) and @gmacitaliano for helping pull off Dumebi's perfect proposal."
***
Alex/Proposal Planner: @minniemouse_xx on Instagram | Email: [email protected]
Photographer: Samuel Falusi
Instagram: @flylusi
Singers: J.E.T | Instagram: @j_e_tourworld