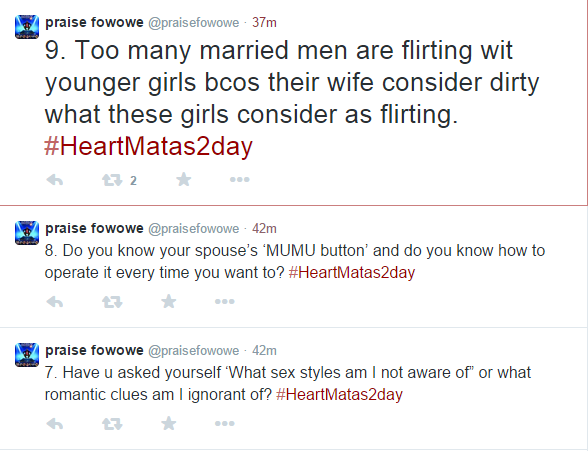 Praise Fowowe is a talk show host, author as well as a relationship and sexual educator.
He usually touches on the topics that society would rather shy away from and we are not surprised to see that on his Twitter page today he has shared his tips on the things that a married woman can do to help her have marital bliss.
Today he shared these 10 tips! Do you have more to add?
1. For every 1 woman getting married there are 10 others looking 4 a husband & somtyms wuldn't mind settling as a concubine. #HeartMatas2day

— praise fowowe (@praisefowowe) December 18, 2014
2. To experience marital bliss, you have to paddle your boat in the direction of that shore. #HeartMatas2day — praise fowowe (@praisefowowe) December 18, 2014
3. How do you rate when it comes to sense of sight, touch and smell? #HeartMatas2day

— praise fowowe (@praisefowowe) December 18, 2014
4. Are you a woman who tie wrapper around in the house in the name of motherhood? #HeartMatas2day — praise fowowe (@praisefowowe) December 18, 2014
5. Are you the bumper shorts-lingerie wearing babe that he married who has committed to constant & never ending improvement? #HeartMatas2day

— praise fowowe (@praisefowowe) December 18, 2014
6. Go online and read 'Dress sense that turns any man on'. 'Tips to making your spouse stay glued to you forever'. #HeartMatas2day

— praise fowowe (@praisefowowe) December 18, 2014
7. Have u asked yourself 'What sex styles am I not aware of" or what romantic clues am I ignorant of? #HeartMatas2day

— praise fowowe (@praisefowowe) December 18, 2014
8. Do you know your spouse's 'MUMU button' and do you know how to operate it every time you want to? #HeartMatas2day

— praise fowowe (@praisefowowe) December 18, 2014
9. Too many married men are flirting wit younger girls bcos their wife consider dirty what these girls consider as flirting. #HeartMatas2day

— praise fowowe (@praisefowowe) December 18, 2014
10. You can choose to up your game today and stay ahead of competition. #HeartMatas2day

— praise fowowe (@praisefowowe) December 18, 2014

Credit: Twitter | Praise Fowowe