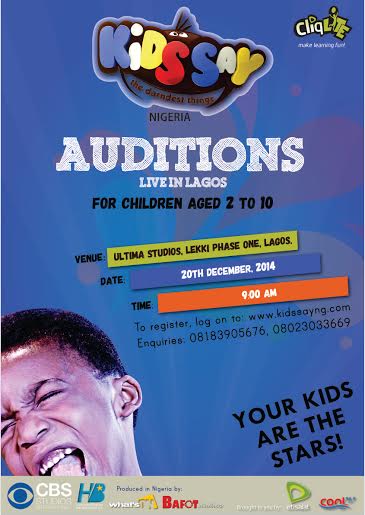 Auditions for Season 1 of "Kids Say the Darndest Things", the globally-acclaimed family television show known for bringing out the hilarious side of children, will hold on Saturday 20th December 2014 in Lagos at the Ultima Studios, Lekki, Lagos. Parents of children between the ages of 2 and 10 simply need to visit www.kidssayng.com to apply.
According to Oludare Onasanya (Executive Director, HB Consolidated Limited), the audition would provide children with the opportunity of displaying their talents in a fun atmosphere.
"We are excited that a show of this magnitude, which celebrates our children and focuses on family is now in Nigeria. Our key objective is to deliver a top-quality family entertainment television show. We invite every parent that knows that their child is smart, witty and full of personality." he said
The television show, which has enjoyed popularity and rave reviews in various markets like Australia, Singapore, India and Italy, will be launched in Nigeria during the first quarter of 2015, with the original format adapted to the Nigerian market. The theme of the show is "Your Kids are the Stars".
Date: Saturday 20th December 2014
Time: 9AM
Venue: Ultima Studios, Lekki Phase 1, Lagos
In its original format, "Kids Say the Darndest Things", first aired on CBS. "Kids Say the Darndest Things" is sponsored by Etisalat and media partner Cool FM.
______________________________________________-
Sponsored Content