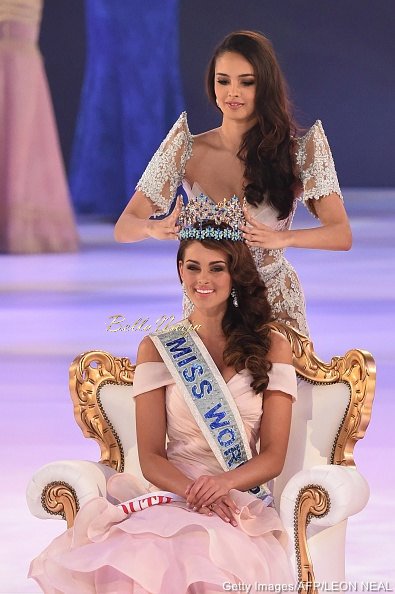 – Miss World 2014 is Miss South Africa Rolene Strauss
– Miss Hungary Edina Kulcsar was named runner-up, while Miss United States Elizabeth Safrit came third in the contest.
– Top five semi-finalists are announced and they are from (in no order) Hungary, Australia, United States, South Africa and England.
– Miss Thailand won the People's Choice Award
– Top 10 semi-finalists announced and they are (in order) Australia (10), Mexico (9), United States (8), Kenya (7), Hungary (6), Brazil (5), Guyana (4), England (3), South Africa (2) and India (1).
– Miss World honours Miss World 1994 Aishwarya Rai Bachchan. The 41-year-old Bollywood actress attended the grand finale along with husband Abhishek Bachchan, daughter Aaradhya and mother Vrinda Rai
– The Vamps perform live 
– 25 quarter-finalists are announced and they are from Bolivia, China PR, Brazil, Dominican Republic, England, Mexico, Guyana, Hungary, India, Indonesia, Malaysia, South Sudan, Vietnam, Finland, Ghana, Kenya, Netherland, Philippines, Sweden, South Africa, United States, Australia, Russia, Scotland and Trinidad & Tobago
– For the first time, five contestants were announced as the winner of "Beauty With a Purpose" competition. The five contestants are from India, Kenya, Brazil, Indonesia and Guyana. 
– Miss United States Elizabeth Safrit is the winner of the Multimedia round, Miss Bosnia & Herzegovina Isidora Borovčanin is Top Model Winner, Miss Sweden Olivia Asplund is Beach Fashion competition winner and Miss Malaysia Dewi Liana Seriestha is Talent competition winner.
– Miss Scotland and Miss Malaysia perform live in front of audience, judges and viewers for Talent competition. 
– First leaderboard scores revealed and Miss France is leading the scoreboard list. 
– All contestants introduced to the audience 
– Contestants presented their National Costumes
– Grammy award-nominated and multi-platinum artist Sky Blu from LMFAO performs live at the opening ceremony. 
– Miss World 2013, Megan Young and Frankie Cena co-hosting the pre-show event.
The grand finale of the 64th edition of Miss World competition is all set to start in London. The coronation night will be broadcast live on the official website of Miss World.
Source: IBtimes