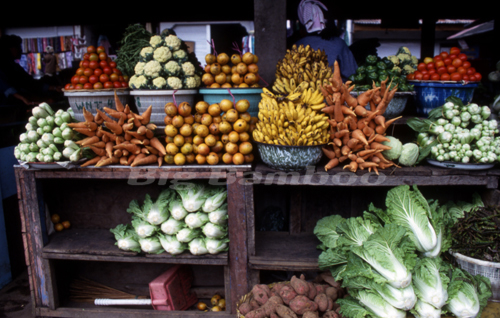 Ahead of the Christmas celebrations, prices of major food items have increased in markets in the Federal Capital Territory.
A survey by the News Agency of Nigeria (NAN) in the area revealed that items mostly affected by the price increase were rice, tomatoes and livestock.
A bag of "Mama Gold" and "Stallion" brands of rice is being currently sold at between N12,000 and N13,000 in Wuse, Garki and Utako markets as against N8,000 it was sold two weeks ago.
A bag of garri now sells at N9, 000 as against its old price of N6, 000 while price of five tubers of yam put together has risen to between N2, 000 to N2, 500, depending on their sizes.
Similarly, the cost of five kilogram of frozen livestock rose from N7,500 to N9,500 in the markets while the price of a small basket of tomato and pepper has risen to N2, 000 and N1, 500, respectively.
Commenting on the development, Benson Oladipo, a butcher, said that prices of food items were likely to rise further, as according to him, the "rush" has just begun.
"People have begun Christmas shopping; comparing the sales from November with now, the price of meat has increased and it is the same with many other foodstuffs.
The increase is not new to buyers and sellers; this is what usually happens during festive seasons," he said.
Vivian Ajayi, a shopper in Garki Market, corroborated Oladipo's view, saying that the price increase was noticed from Dec. 10. She said that Christmas period usually marked the peak of buying and selling every year.
A trader at Wuse Market, Ugonna Okoro, told NAN that she had recorded high sales so far. She expressed the hope that "business will continue to boom" before the end of the week.
She disclosed that prices of condiments for salad, especially carrots, sweet corn and cabbage, had also gone up.
Okoro disclosed that there was scarcity of green peas, cucumber and spinach in the markets.
"Majority of the people prepare salad during Christmas and as such, the prices of its ingredients have been inflated and some are hard to find.
"ight now, four pieces of carrot is sold for N200 and sweet corn which used to sell at N200 is now N300," Ugonna said.