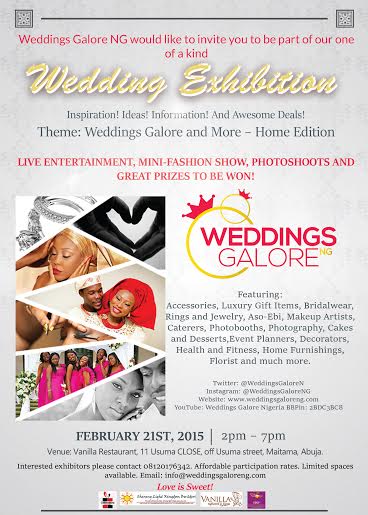 If you are planning your wedding as the bride, groom or wedding planner, then the Weddings Galore Nigeria Wedding Exhibition is a must attend for you!
At the event you will get to meet various local and international wedding vendors under one roof and save yourself weeks of planning in a fun and exciting environment. If you are looking to make your wedding different from the rest and unique, you can get this too.
Guests will also get free dinners and a vacation raffle giveaway – so you and your spouse won't have to worry about spending a lot for your honeymoon. You will also get to enjoy live music, entertainment and surprise guest appearances from artists.
Invite your family and friends because there will be something for everyone.
Date: Saturday 21st February 2015
Time: 2PM – 7PM
Venue: Vanilla Restaurant, 11 Usuma Close, Maitama, Abuja FCT
Admission is free!
Watch the video invitation below;

For more information on the Wedding Galore Exhibition, visit their website: www.weddingsgaloreng.com or call: 08120176342
This event is supported by Shining Light Kingdom Builders, Celebration Cards and Gifts, Vanilla Restaurant and Lounge, Heaven Sent Planners and Wallart Interiors. It is powered by Ledgewood Social Media Limited.
___________________________________________________________________________________
Sponsored Content