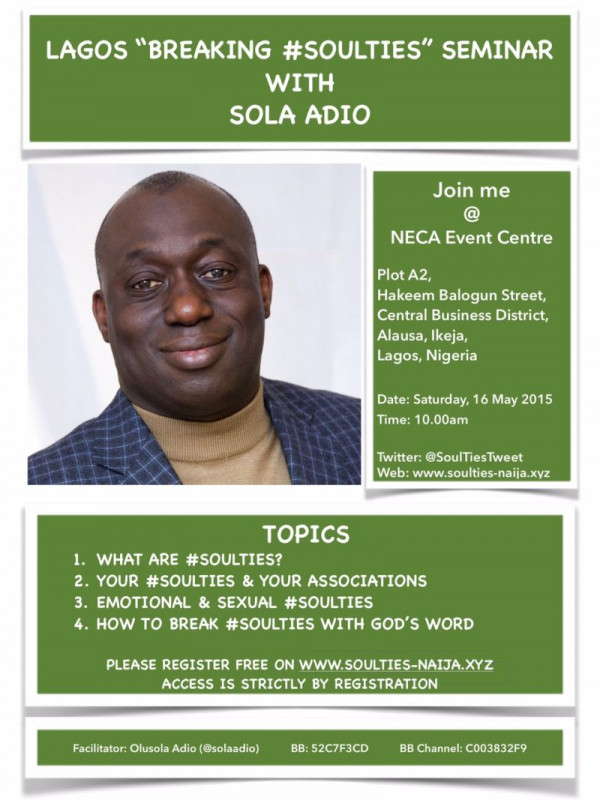 Sola Adio invites you to the Lagos "Breaking #SoulTies" Seminar which will hold at NECA Event Centre, Alausa, Ikeja, Lagos.
The seminar is aimed at helping you, members of your family & friends with addictions, moving on from past relationships and giving you insight on the word of God.
At the event you will get to receive the teaching of God's word, learn practical steps you need to take in expressing your victory in Christ and more!
Come with family and friends for this encouraging event.
Date: Saturday 16th May 2015
Time: 10AM – 4PM
Venue: NECA Event Centre, Plot A2, Hakeem Balogun Street, Alausa, Ikeja, Lagos
Registration: Register for FREE! Visit & sign up on www.soulties-naija.org or www.soulties-naija.xyz
Attendance is strictly by registration.
For more information, visit their website: www.breakingsoulties.com | Listen to the #SoulTies iTunes podcasts here: https://breakingsoulties.wordpress.com/audio-podcasts-page/ | Connect via BBM: 52C7F3CD | Follow Sola Adio & the Breaking #SoulTies movement on these Twitter handles: @solaadio, @charisgrays and @SoulTies | Use the hashtag: #SoulTies | Send an e-mail to: [email protected]
__________________________________________________________________________________
Sponsored Content