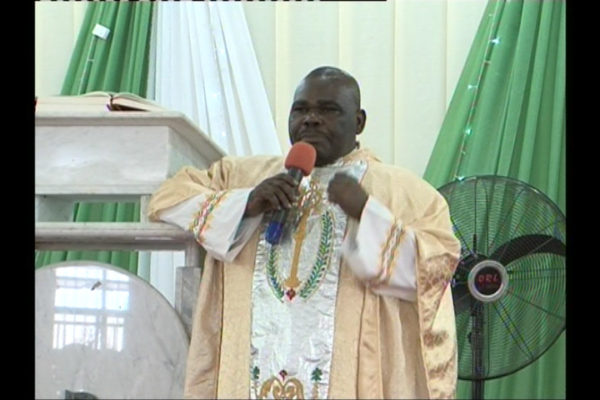 Like a candle in the wind, the light of our lives can be blown out. What remains important is the legacy we leave behind. In this vein, BN Reader Agatha Odigie shares her warm tribute to late Reverend Father Festus Ogbonmwan. Before his death, he served as the Parish Priest Of Saint Gabriel The Archangel Catholic Church, Benin City.  BellaNaija passes its condolences to the family, friends and parishioners of this dearly departed man. 
We hope that this tribute will help to keep positive memories of Father Ogbonmwan.
***
Forgive me Father. …..
You passed away January 24, 2015 and not a word from me.
The Sunday homilies (sermons) that you delivered at St. Patrick's Catholic Church, Ugbowo, Benin City were always eagerly anticipated by members of the congregation as we always came away with food for thought. Trust you to always provide one with practical biblical truths for navigating the 'mine- fields' of everyday existence. Your homilies commenced without fail with simple choruses. A favourite of yours was:
"Come! Come!! Come!!! Holy Ghost come! "
Humour was very much part and parcel of you. Without fail, each homily was spiced with one colourful story or analogy. A particular one etched in my mind till date, is one where you praised the transforming powers of make-up, and how a lot of the female-folk seen in church made up to perfection and decked out to the nines were a different story altogether without the heavy embellishments. You related your utter amazement when you paid an early morning visit to a couple's home in the parish. You were welcomed by the wife who naturally at that time was devoid of make-up. Your amazement was caused by the lady's face which in your estimation looked like raw meat! You had everyone in very bad stitches that day! Some other time it was how conveniences (toilets/bathrooms) are neglected in some homes. You picked on the seemingly mundane things often overlooked that in the final analysis make a world of difference both spiritually and physically. Being a Catholic was real and meaningful under your watch.
Like a General in the army, you marshalled your troops in the form of the everyday men and women on the Ugbowo-Uselu axis of Benin-City to build a showpiece of an ecclesiastical centre. We really could not wrap our minds around the idea that we could achieve a structure grandiose enough to rival older Cathedrals in Benin-City like St Paul's, St. Joseph's or Holy Cross. Left to us, four walls, a roof and a cross to indicate a place of worship would have done very nicely, yet you saw the vision long before we even understood!
All your parishioners were special. You knew most by name and it was like one big happy family, of course not devoid of the politics or intrigues of normal families. You were a stickler for caring for one's neighbour irrespective of tribe or creed. Even though you moved on to other assignments and parishes, you always remained a permanent fixture in our hearts and lives.
When news came of your demise, the funniest thing occurred; I actually broke out in a big grin. I still cannot quite explain it. Okay, if I tried, I think it would be because crying would have offended the very essence of your jovial effervescent being.
Rest well in our Lord's bosom, Rev. Father Festus Ogbonwan. You did exceedingly great!