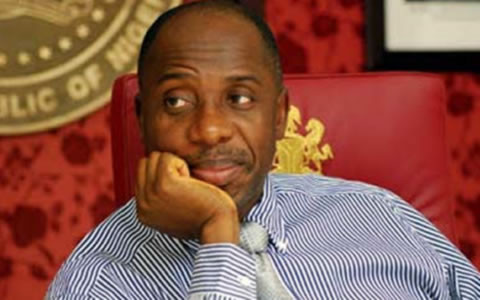 Rivers State governor, Rotimi Amaechi on Sunday wished his deputy, Tele Ikuru, "all the best," following his shocking exit from APC.
Reacting to the situation, Amaechi said via a statement by his Commissioner for Information and Communication, Ibim Semenitari:
The Rivers State Governor Rt. Hon Chibuike Rotimi Amaechi has only this evening received the news of the resignation of his Deputy Governor Engr Tele Ikuru from the All Progressives Congress.

Whilst the news remains unofficial at this time as the Deputy Governor is yet to notify His Excellency the Governor of this move, Governor Amaechi however wishes Engr Ikuru all the best in his future political endeavours.

He however wishes to note that the reasons adduced by Engr Ikuru are shocking as Deputy Governor lkuru has consistently been the one driving political activities in his local government area of Andoni and has been the second in command driving politics and governance in Rivers state.

On a personal note, Governor Amaechi has accorded Engr Ikuru all the privileges and respect due the office of the Deputy Governor and has treated him with love as a friend brother.

Though the Governor had hoped that the numerous rumors of Engr Ikuru's double-faced membership of the APC and open romance with the PDP were not true, he however appreciates the fact that every individual has a right to pursue his political dreams, as he deems most appropriate. It is however regrettable that Engr Ikuru has chosen the dishonourable path of barefaced lies and name-calling rather than the more honourable path of simply retracing his steps to where he has always been.
According to Premium Times, in an address entitled A Call on the Conscience of The People of Rivers State, Ikuru on Sunday spoke about why he decamped from APC to PDP:
"Ever since, as the true nature and motives of APC are unveiled, I have continued to twist and turn in extreme mental and emotional agony. The more I struggle to belong, the more the Rivers man in me rejects the APC.

After carefully studying, interacting and analyzing the leadership of the party, I have come to the sad conclusion that the APC is a party of rebels, insurgents and anarchists, clothed in robes of pretense and deceit. APC is a party founded on deception and it thrives on unholy propaganda and falsehood…

I wash my hands off this treachery and in the light of the above, I wish to urge all my supporters, the good people of Rivers State to join hands with other well-meaning Nigerians to massively vote for President Goodluck Jonathan and the Transformation Agenda that has brought so much relief and succour to the greatest number of Nigerians.

I also urge all Rivers People to vote for Nyesom Wike (CON), who has shown by his antecedents, track records and boundless capabilities that he will deliver good governance to the People of Rivers State."