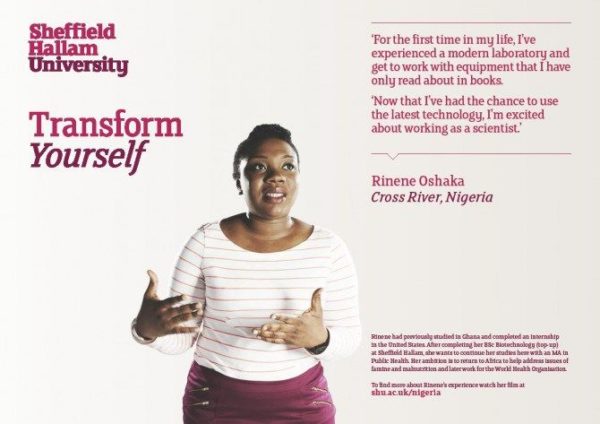 If you have a Higher National Diploma (HND); a top-up degree from Sheffield Hallam University is a great way to boost your existing qualifications and open up new career possibilities.
HND qualification is considered to be equivalent to one or two years of a UK undergraduate degree and, in recognition of this, we offer several top-up degrees for HND holders. If you successfully complete one of our top-up courses, you will gain a degree.
We are also offering an automatic discount of £3,000 to Nigerian students domiciled in Nigeria and applying for an Undergraduate or Masters Course starting in September 2015 and January 2016.
Come to our top up event to find out more;
Date:    Saturday 18th April, 2015
Time:    12 PM – 4 PM
Venue: Best Western Plus Hotel, 12 Allen Avenue, Ikeja, Lagos.
To register please visit www.shu.ac.uk 
For more information and inquiries; Sheffield Hallam University Nigeria Office 3rd Floor, 76 Opebi Road, Ikeja, Lagos. | Email: [email protected] OR Call: 08074094965, 08074094970
_______________________________________________________________________
Sponsored Content