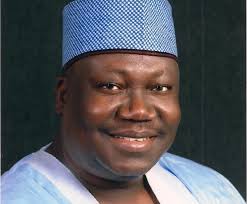 Senate Unity Forum, the group supporting Ahmed Lawan for Senate President and George Akume as deputy, said it had the support of 40 senators-elect of All Progressives Congress (APC).
Leader of the group, Sen. Barnabas Gemade (APC Benue North-East), stated this during an interaction with journalists attached to the National Assembly on Wednesday in Abuja.
Gemade also claimed that the group had the support of the majority of the 49 senators of the Peoples Democratic Party (PDP).
He said that the group had found Lawan and Akume most qualified for the jobs which was why the senators decided to support them.
Gemade said that their candidacy would ensure stability and improvement which had been enshrined in the conduct of activities at the Senate in the last eight years.
"We are happy to unveil to you that this is the plan that the Unity Forum and the 8th Senate have, and by the Grace of God, we will actualise the plan."
He further stated that the forum has 40 APC senators-elect that have keyed into this project together with other PDP senators-elect.
"We are not publishing the list of all the senators because we know that a lot is being done; a lot of claims are being made, so it is not proper to join anyone in making any claims.
"The day we will give you the list, all those concerned will be present and you will match the list with the faces that will be present," he said.
Gemade acknowledged that there were a lot of issues to be tackled in the 8th assembly and stressed that that was why the leadership of the National Assembly must lead by example.
Reacting to a list presented by another contender for the position, he said that a list with signature does not proof anything.
He explained that the people whose names were on the list should have been there to answer for themselves.
He said that when the group would bring out its list, it would not just flash it to the journalists but would give copies to them.
In his remark, Sen. Ahmed Lawan (APC Yobe North) assured that the 8th Senate under his leadership would ensure independence of the legislature.
"We have had eight years of stability and I will like to build on that."
"There is need for consensus in the 8th Senate which is unique in the history of Nigeria with 59 APC senators and 49 PDP senators.
"The gap is narrow hence the need for consensus between the two sides."
"The National Assembly must never be a rubber stamp to the executive," he said.
Lawan also said that he would work to cut down on the cost of governance, fight corruption and partner with other arms of government as well as the legislature in the states.
Photo Credit: Thecableng.ng