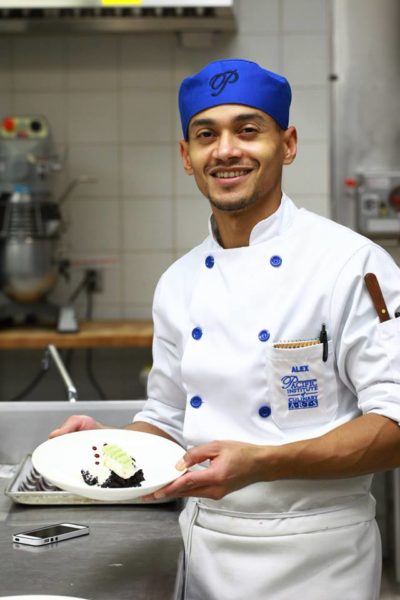 First off, thanks for your comments and questions in my last entry. As I said before, I'd like to keep this as interactive as possible, and will do my best to respond to valid and focused questions in a timely manner. With regard to portion size (too large, too small etc.), I always include a suggested number of servings as I outline the ingredients you'll need. ☺
Today, I've decided to feature another breakfast/brunch option, following from the popularity of feedback requesting recipes similar to my last one. This recipe is quite versatile, and will be focused around demonstrating how to properly cook a crepe and include fillings (bear in mind that you can use any combination of jams, jellies, preserves, custards or nuts).
I've chosen a flavour combination that's close to my heart and belly – it also helps that these items are readily available in Nigeria. Now, before the fitfam disciples out there get on my case for promoting an unhealthy breakfast, let me reiterate that I've made some key modifications from a standard crepe recipe. We'll use whipped coconut milk instead of whipping cream, soy instead of whole milk, homemade banana jam to cut out excessive sugar, and include healthy nuts in line with recommended daily servings of essential fats and proteins.
With that in mind, here's what you'll need (for 3-4 servings or 7-8 crepes):
For the crepe: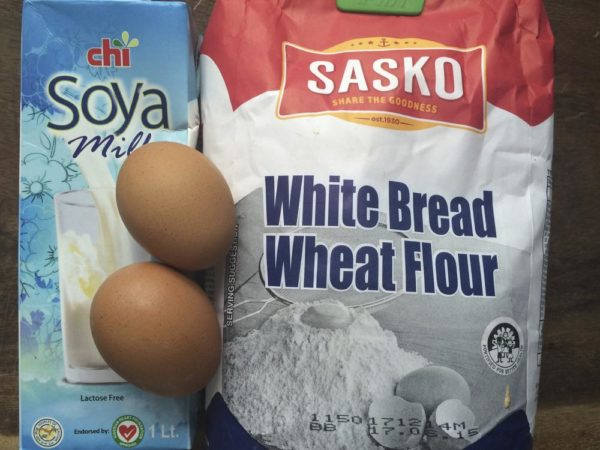 • 1 cup white bread or cake flour
• 1 cup soymilk
• 2 eggs
• ½ tbsp. yoghurt, sour cream or crème fraiche (optional – if you enjoy a slight tang to your crepe)
For the filling: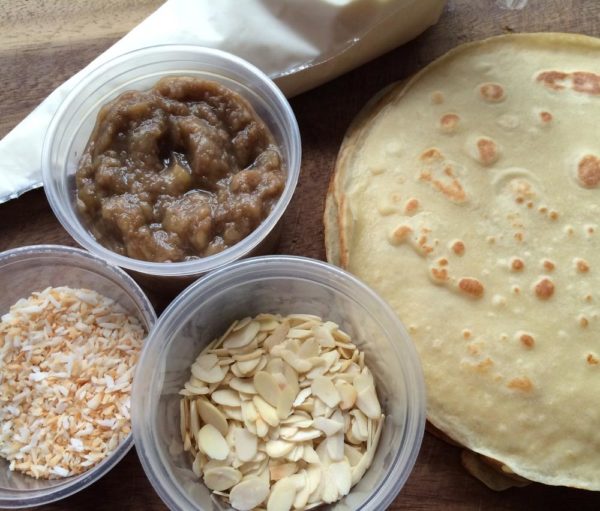 • ¼ – ½ cup each of slivered almonds and shredded coconut
• Sprinkle of cinnamon/vanilla sugar to garnish
For the Banana Jam
• 5-6 bananas, mashed up
• 1-2 tsp. brown sugar
Whipped coconut milk
• One 250ml can of coconut milk (very cold, almost frozen)
How To
1. Mix the flour, eggs, soymilk and optional yoghurt in a large bowl with a spatula until the ingredients are combined and the batter smooth. Place in fridge.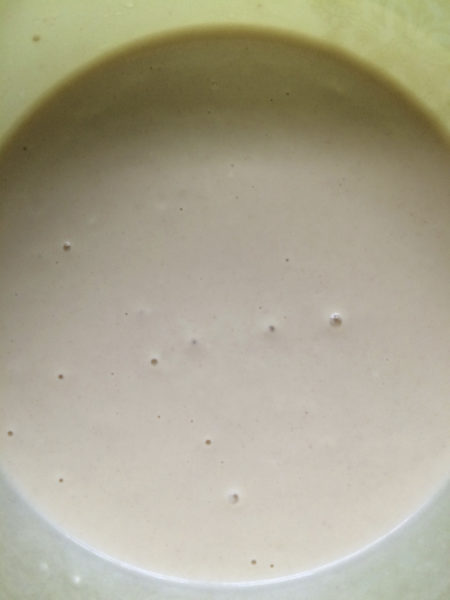 2. Empty the cold coconut milk into a large bowl and whisk vigorously until air is incorporated and it stiffens enough to hold its shape (consider using a hand/table mixer if you have this). Cover and place in the fridge.
3. Place the mashed up bananas in a small pot on medium-low heat, add brown sugar and cook until it just starts bubbling, stirring often. Remove and let cool on stove.
4. Place a large non-stick frying pan on medium-high heat for a couple of minutes. Add the slivered almonds and toast until light golden, tossing often. Repeat this with the shredded coconut, keeping in mind that the coconut will toast much more quickly.
5. Wipe the pan with a paper towel dipped in a tiny bit of melted butter, just enough to barely coat the pan and re-place on medium-low heat.
6. Remove the crepe batter from the fridge and using a medium serving spoon or ladle, spoon into the pan.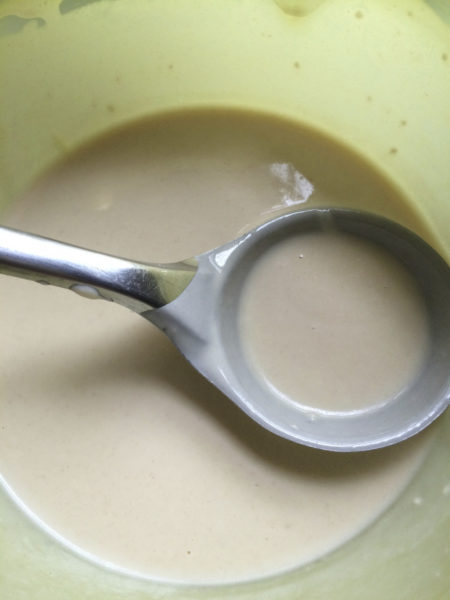 Take the pan by the handle and move in a circular motion, spreading the batter, which will thicken as it comes in contact with the hot pan – work quickly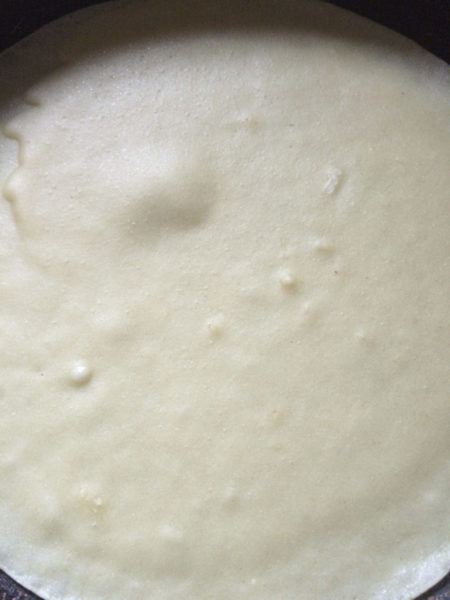 Replace on the heat and using the tip of a spatula to lift up an edge, check for doneness. When it looks something like this (after 2-3 minutes)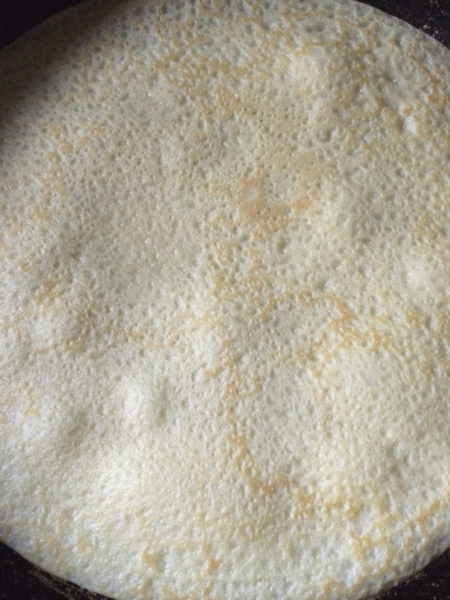 Pick it up with your fingertips and flip the crepe. Cook for another 2-3 minutes until done. (Don't worry, you will almost always have to discard or taste the first crepe, as it probably will be unusable. This "test crepe' will give you an idea of how much batter you will need the second time around to cover the base of the pan.) Using the paper towel from step 5, wipe the pan and repeat step 6.
7. Cook all your batter and let the crepes rest until cool to the touch.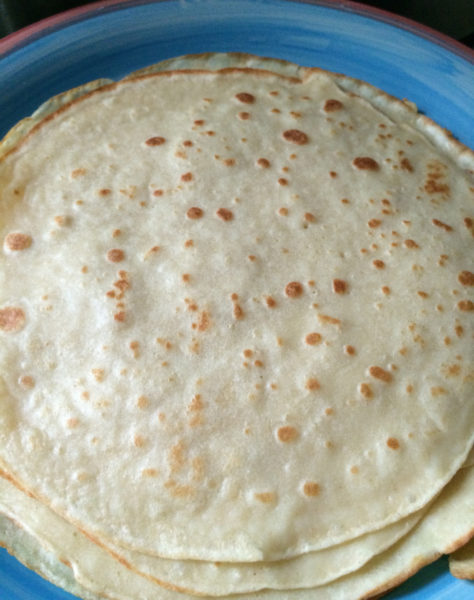 8. Place a crepe on a flat counter or cutting board, use a spatula to spread a small dollop of banana jam, followed by the whipped coconut milk from the fridge.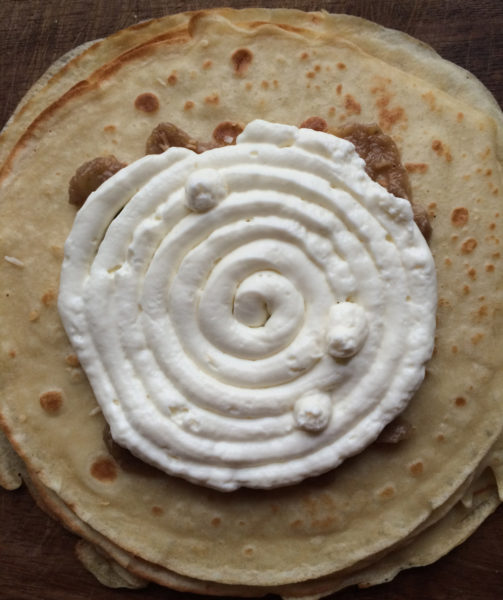 Make sure to spread out only until about an inch from the edge, as the filling will spread when the crepe is folded. (If you have a piping bag handy as I did, it helps with the coconut whip – this is not essential to the outcome).
9. Sprinkle shredded coconut and slivered almonds. Gently fold in half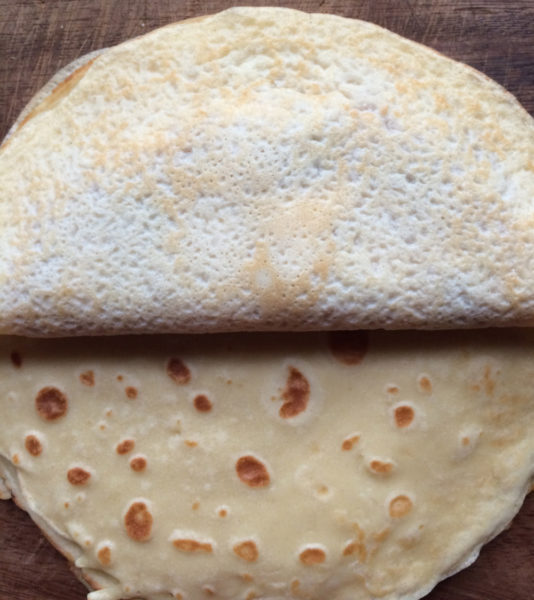 , then in quarter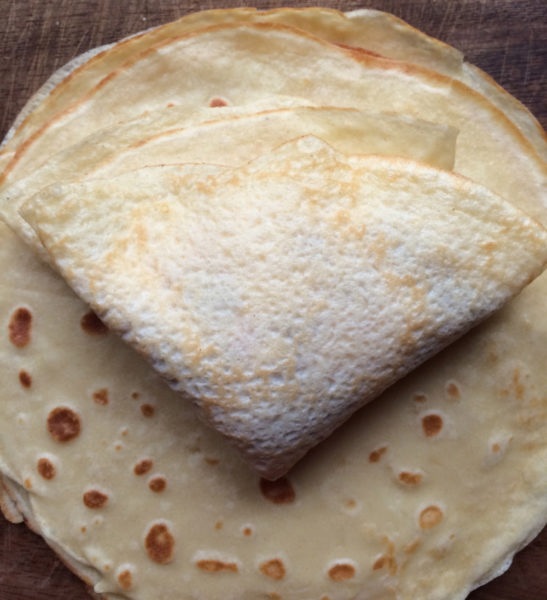 as pictured. Garnish with slivered almonds and cinnamon/vanilla sugar.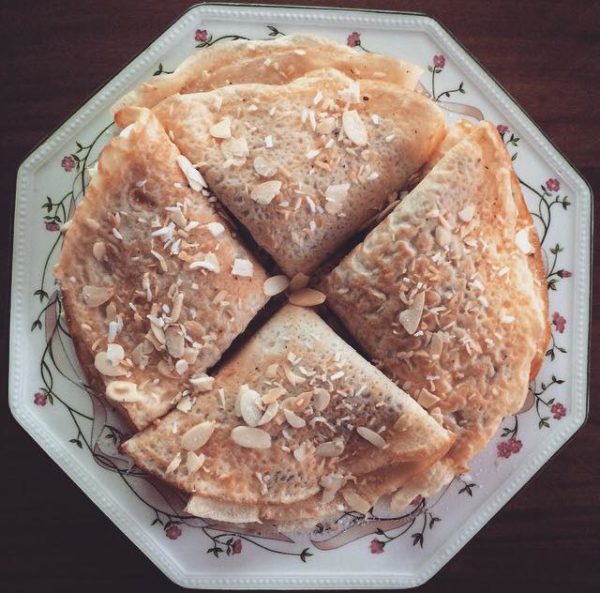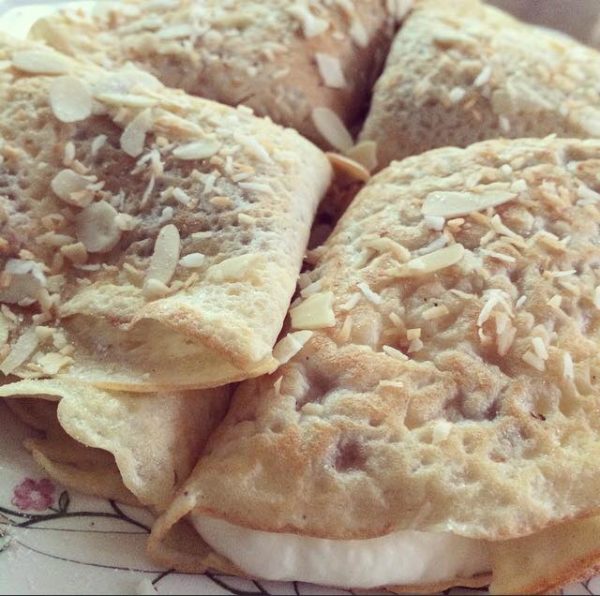 10. Placing the finished plate in the fridge with firm up the whipped coconut milk and enhance the tangy taste if you used any of the sour cultures I suggested. Serving at room temperature also works just fine!
That's it folks! I know this recipe can be daunting to kitchen novices, but as soon as you get the hang of the crepe motion, you'll be able to bang these out in less than 30 minutes.
Feel free to use store bought jams, puddings or custards in order to cut down on prep time, and enhance your creativity.
As per usual ladies and gents, don't forget to cook with class and serve with style. 😉
Yours,
Chef Alex.