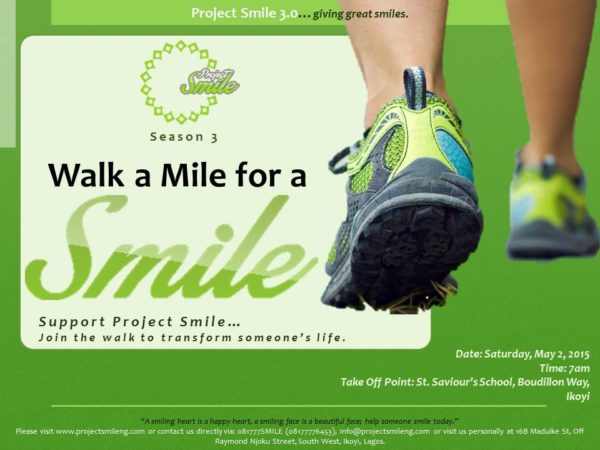 Midway into the Project Smile 3.0 Call-for-Entry campaign, Celebrity Fitness Coach and Personality, Maje Ayida and others have signed up to join Project Smile organizers and supporters on a walk exercise tagged 'Walk a Mile for a Smile' this weekend.
The walk is an activation campaign of the 'Adopt-a-Smile' initiative, a platform for individuals to sponsor nominees for the Project Smile 3.0 smile makeover competition. It is an avenue for the project to treat more than the 3 beneficiaries budgeted for each year. The walk is aimed at sensitizing the public about the plight of persons dealing with dental flaws; calling on persons with flawed dentition to seize the opportunity to have a perfect smile, and create awareness and enlightenment about Project Smile.
According to Amy Traore-Shumbusho, Initiator of Project Smile, "There are people out there who can't open their mouth for fear of being stigmatized in their social circles because they are affected by one or a combination of these cases. Our aim is to seek these people who can't afford the treatment program and give them the opportunity to stand the chance of being beneficiaries of the treatment they never thought they could have because of the immense cost implication. We are giving opportunities to individuals to be part of this cause. Hence, the introduction of the Adopt-a-Smile initiative. Adopt-a-Smile is your opportunity to put a lifelong smile on someone's face by partnering with Project Smile 3.0. This is in sync with the theme of World Oral Health Day 2015- 'Smile for life!'. It's an appeal to invest in the mission of giving great smiles."
They invite you to join the walk with them and together give great smiles.
Date: Saturday 2nd of May, 2015
Time: 7 AM
Venue:  The Walk takes off from – St. Saviour's School along Bourdillon Way, Ikoyi to the Lekki-Ikoyi bridge
Watch the Project Smile 2015 video
Call to Entry kicked off on March 20th, 2015 on World Oral Health Day and will run for 8 weeks.
If you have a dental flaw, visit: www.projectsmileng.com | Facebook:  facebook.com/projectsmilenigeria.
*Participating individuals must be 18 years or above and in a social economic class in which they cannot afford the treatment on their own.
__________________________________________________________________________________________________
Sponsored Content