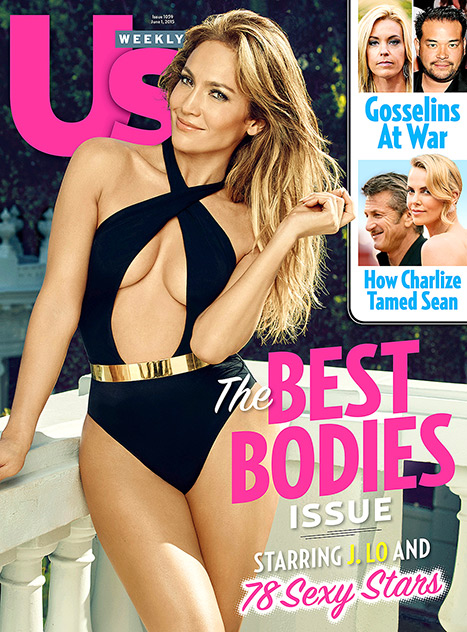 'Gym-spiration' anyone? Jennifer Lopez has definitely got one of the hottest bodies around, and it has landed her on the cover of Us Weekly's Best Bodies issue.
The 45-year-old flaunts her toned curves in a black cut-out swimsuit on the cover with long beach waves & sandy blonde hair for the hot cover. She practically oozes sex appeal and confidence on the set of the shoot while rocking other hot pieces for the issue.
Watch

Speaking with the magazine, Jenny from the block stated "I embrace who I am." "I feel sexy, I feel youthful, I feel pretty sometimes." She continues "I think a healthy body image comes from being the best you, not competing with anybody else." There is definitely no competition with the 'Booty' singer.
"You know, I'm not a 6-foot tall model…I'm not a size 2. I think it's about focusing on yourself and just trying to be the best you." Well said JLo, well said!
Jennifer also dished on life in the single lane – "Being single's good." "You have really nobody to answer to, so you can do whatever you want! But I don't think I go wild or anything."
The singer also let the mag in on what she's working on, including her lifestyle venture – Body Lab. "I live a healthy lifestyle, I try to live a healthy lifestyle." "I'm always looking for something that's gonna help me enhance that lifestyle. Bodylab is a set of supplements that is about your body working as hard as you do."
To see more from the issue be sure to grab the new issue.
Photo Source: UsWeekly.com