Baseline artiste, Skales, released his highly anticipated debut album, Man Of The Year. You can buy the album HERE.
Skales has been in the industry for a while. He showed a lot of promise in 2009 with his second single Heading For a Grammy . He was later signed to EME, where his transition from a promising rap star to a pop act didn't quite work out well. After the expiration of his four-year contract, EME decided not to renew his contract because Wizkid had made so much money for them and Skales wasn't even heading for the HipHop World Awards talk less of a Grammy, they weren't getting returns from their investment.
Fast forward to 2014, Skales established his own record label, OHK Music, and released Shake Body -the first single off his debut album and the rest is history.
Man Of The Year is a 22-track with features from Burna Boy, Davido, Reekado Banks, Olamide , Victoria Kimani, Ice Prince, Phyno, Kenny Wonder, Attitude, Capital FEMI and Rotimi. The production credits go to  Jay Pizzle, Spellz, Orbeat, Dj Coublon, Uhuru, Echo, Bobby Combz, Ganja Beatz, Drey Beatz and TK on the beat.
1. Intro featuring Do 2 D Tun
@showontstop: Unnecessary. Nothing special here
@whoistunde: 60 secs of Dotun telling us about Skales.
S: He didn't tell us nothing though. This just guarantees spins on Cool Fm
T: Nothing is guaranteed with these OAP's man.
2 I'm a Winner feat. Burna Boy
S: Take away that mediocre first verse, this is a good song
T: This right here is a jam! Burna's verse harder than a Nigerian politician resigning
S: Burna murked this single handedly. Skales made up with that 2nd rap. Impressive
3. Lo Le
T: Uhuru beats all sound the same and different at the same time.
S: Na soundception be that o
T: Them get this kain beat yapa for hard drive
S: I know we have heard this before but it sounds fresh
T: This is a jam though. Uhuru gave Skales a banger
S: Skales actually kills this too. I mean "she is the best because of the way she dey dress" and who is Angelina and how did she inspire both songs?
T: Maybe it's the babe that got him out of EME
4. Always feat. Davido
S: JAM!
T: If you can ignore Skales and his A.B.C lyrics. This song sweet
S: I mean sometimes you can overlook that Skales is an embassy because "if na visa you want I got it" ain't a big deal. Davido did his thing as well. Baddest. Spellz' production as well
T: Spellz is steady stamping his authority on these beats
Disclaimer: If we keep talking about Skales lyrics on all the songs. We wont leave here
5. Wonder feat. Reekado Banks
T: So can we talk about my favourite Mavin…Reekado
S: Ain't gonna lie but dude is the hardest working newcomer. Clearly the hardest worker at Mavin. Like a young Wande or Wizkid, dude is everywhere
T: I keep saying he's the one with the most talent, but Korede don use baby face thief all the girls heart
S: Well,  he is working hard enough to steal people's attention. Now, I can spell his name without looking at the track list
T: We thank the Lord.
S: This is a good tune by the way
T: No lies..*hits repeat*
6 Ijo Ayo feat. Olamide
S: My favourite track on the album *assaults the repeat button*
T: This jam is so groovy. You already know it's a good song when you hear 'Listen!'
S: *raises holy hands*
T: You even forget Olamide is on it. This is Skales comfort zone now
S: Thank goodness Olamide didn't shout on this song…this ish too groovy for noise. There is only one negative thing about this…
T: Skales and his half baked Yoruba?
S: Naaa.. He said "Goodluck follow me too do my own"
T: 🙁
T: Why are you singing for Goodluck. There might be diesel to do your album launch but we don't have diesel here
T: It's over fam.. We endured
7 Koyewon
S: Such a turn up song!
T: Kai! To think EME wanted to stop his destiny


S: Guy! It's time to say another prayer
T: Preach pastor Sho
S: Any EME that tries to Skales us, any Eldee that tries to Sojay us, any English raps that tries to Phyno and Reminisce us…..Free Us Now!!!!!
T: Amen!! That MJ part made me shed a tear though.. But I forgive you, Skales
S: Poe gonna be shaking his head like "but I spat bars on my 'Koyewon' though"
T: Same way Terry tha Rapman would shake his head for 'Je Kan Mo'
8. What's Up
S: *lifts hands and puts on head*.
Any song about big yansh is my song 🙂
T: Flavour on this song would have been perfect
S: Mehn the Igbo highlife feel sweeet die. Them go call Flavour for remix
T: This is for them pami drinkers, yellow garri drinkers and nkwobi eaters
S: This is for me and I don't do any of those things. White garri is the greatest by the way
T: Yellow garri just used bleach that's all
9. I Am For Real
S: Mehn Skales get talent sha make I no lie. Now a jam for galala niggaz.
T: And for me! This is jam and half. My favourite jam.
S: Doesn't even sound forced at all. Like he was born in Ajegunle with those body builders
T: Whoever is in charge of his turnaround has my respect.
S: Unlike the person who thought it was ok to have him holding a red cup on his album cover
T: To be honest I never gave him a chance but he is capable of making hits
S: We ain't half way done and he got at least 6 here. He is just proving his haters wrong *waves at Wizkid*
T: Thankfully they squashed their mini online beef
10. OMG feat. Victoria Kimani
S: JAM! Now my guy don drop reggae feel track.
T: Bruhhh! You mean to tell me Kimani can actually sing and not just post thirst traps on Instagram?
S: Kimani was just moaning then just vexed and burst out "The Voice" Ahn ahn! I wanna make her scream now ( ._.)
T: But how is Kimani on this sweet jam and not his label mate Saeon or Aramide?
S: Look I'm just here wondering that too o. No Baseline artists makes the entire album. Something fishy
T: The way the 'oh my god' loop was just dropping. Too dope
S: The Yuna sample was too dope. Before I forget, What's Kimani's Instagram handle abeg make I follow?
11. Swagger Man feat. Ice Prince and Phyno
S: *throws my imaginary beat pill out the window* Trash song
T: It's like everything just went anyhow from here like Jona's govt
S: Wasted beat and hook. Every verse was a hot mess
T: "Connect my friends to light mehn I'm feeling like a socket" Why you no kuku be transformer?
S: Or e for kuku be adaptor. We thought that was the worst till Ice Prince entered. Fadalauuuud
T: With some before I met JayZ lines
S: Baddest behaviour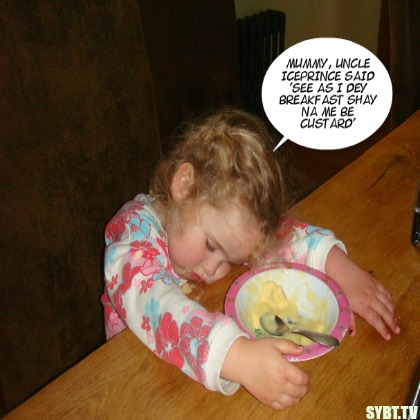 T: At that point I knew Phyno had nothing to say and skipped to the next track.
S: Like I am never going into a house were there is custard after this.
T: It's all oats for me now
12. No Condition
S: If you have suffered, you might like this
T: This clearly had to be on the album. Baba don suffer
S: Wizkid blow, Banky just dey release albums, Niyola dey shoot big budget Kemi Adetiba videos
T: From heading to a Grammy to EME putting roadblock and police man on the road, e no easy
S: But no condition is permanent. My guy don blow
13. Fa Re We Mi feat. Kenny Wonder
S: Skales sabi pick beats ah ah
T: I don't get how he raps well and comes up with corny lines when he's doing pop. The Wizkid subs wee heavy on this jam
S: Hahhaha the Ice Prince factor
T: Sadly
S: Good song
14. Happy
S: Ain't nothing happy about this song. This song is sad. Skip
T: This is the Nigerian pop version of happy.. The only thing is it's annoying after the first listen, unlike Pharell's own where it's annoying after 26262782828 listens
S: Between this song and the horrible red cup on the album cover, I don't know which one I can't stand more.
T: You clearly have a problem with the cup
15. Your Body Hot feat. Attitude
T: See, there's something catchy about this song. I just found myself saying 'your body hot'
S: Sounds like something he has done before but e still sweet somehow
T: Skales with the corny lines as usual. But this is a good song. Attitude did his thing. He needs to change his name though
S: "Attitude is giving us attitude" future naija blog headline
T: Or 'Attitude why are you now giving me attitude' his future girlfriend
S: Na Attitudception be that o
T: Just stop it right now
16. Naughty
T: The song is forgettable
S: I can't pay attention to this song because I wanna just hear the next song at this point. I will meet you there *runs off*
17. Je Kan Mo
T: Banger
S: Jam
T: I wonder why he was calling himself murderer tho'
S: He is a killer. Something has died. May or may not be a mosquito or a beat?
18. Another Round
T: Another song please. Nobody should start a song with 'won ko mi je like Indomie' in 2015
S: Ok ok e don do Skales. This your formula songs don tire me.
T: Skales just released all the fillers he had and sprinkled it at other half of the album
19. Turn You On feat. Capital Femi and Rotimi
S: R&B song toh quality
T: Good song with two underrated R&B musicians…If you can't get Banky again, get someone just as solid
S: Should have been placed higher on the album. Skales definitely a better singer than a rapper
T: I still think he has it in him. But he has clearly abandoned rap for a more lucrative pop music
S: Can't complain. He is a solid pop act now
20. I Forget (Outro)
T: This is proof Skales can rap. Just straight up bars
S: One of the best songs on this album.
T: "DoggyStyle they can't see me coming in advance".. Clap for the boy abeg
S: Haha! I mean I ain't gonna lie. Me sef gats look at what album I was listening to again. but like I said he's a better singer than rapper. The hook >>>>> verses
T: Arguable
Verdict
S: If Skales doesn't make you respect him with this album then nothing else will. He is richly talented and pulls out all his tricks on his long awaited "too many damn songs" album. Cut away 7 tracks and this could easily have been Album of the year. He has found his comfort zone and can finally stand on his own.
T: Skales came through with a decent album on Man of the Year, most songs were solid and the production was stellar. The only problem I had with the album was the watered down lyrics and the length of the album. However, Skales has found his comfort zone and he's beginning to develop into the artist that we knew him to be
3.3/5 wRaps
Peace, Love and Comeback of the year