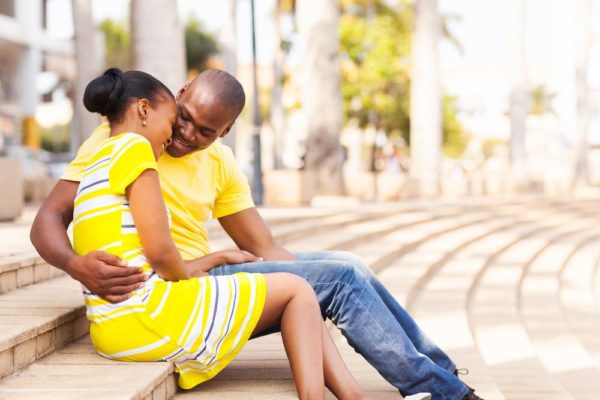 That night while they were at one of their regular hang out spots, he turned to look at her with a longing in his eyes, a way he'd never done before. Words did not need to be spoken; it was as though time stopped and they were the only two in the universe. All the time they had known each other seemed to culminate in that particular space and it was magical. As his lips touched hers, she couldn't stifle the gasp that escaped from her lips. She felt alive. She felt like she had been thoroughly prepared for this moment.
Evan and Joke met at university and had been friends since. After university, they grew even closer. Joke was seeing someone but in her mind she wasn't thinking marriage, she was just in a relationship; she hadn't thought that far yet. Her boyfriend had mentioned marriage but she felt it was something in the distant future, something to be considered when that time came. Evan was in a relationship himself. That night at the bar, everything changed; nothing mattered but both of them.
Joke's boyfriend, however, amped up the marriage talk and the next thing she knew, his family were coming over to talk about getting to know each other better and possibly an introduction. Once his parents came to the house, things spiralled out of control. Joke's parents went into "our daughter is getting married" mode.
She desperately wanted to put a stop to things and asked her boyfriend to slow things down; things were going way too fast. She needed more time, but he was more than ready as he was a few years older and the pressure from both parents and his siblings was insurmountable.
Joke, in the meantime, pondered on how she could leave the relationship and be with Evan. In the time since that night at the bar, she was a different kind of happy, she just wanted to be with him. They talked about her upcoming wedding but she didn't know how to tell him that she didn't want to get married that she wanted to be with him. She didn't want to scare him away by making him think he had to be party to such a huge decision.
She also wasn't sure if he felt exactly the same way or that night just happened. She was worried and confused and lacked the courage to speak to anyone about the turmoil inside her. By this time Joke was on a fast moving train and didn't know how to get off. Both families had done the introductions but her heart was somewhere else. She was in love with her friend and didn't know how to end things with her boyfriend. She didn't want to hurt her boyfriend's feelings, he was a good guy.
Her future was playing out right in front of her eyes but she couldn't take hold of it. Evan was her safe place, her happy place but she was lost.
A month before she was to walk down the aisle, Joke finally plucked up the courage to talk to her mother. Children are led to believe that their mothers will have their backs at all times; that they will go to any lengths to protect them, especially their daughters. Joke realized that day, that in her case this wasn't true.
So on the appointed Saturday morning as Joke processed down the aisle to meet her soon to be husband, she did so with a broken heart as the love of her life watched her from the congregation.
Photo Credit: Dreamstime | Michael Zhang