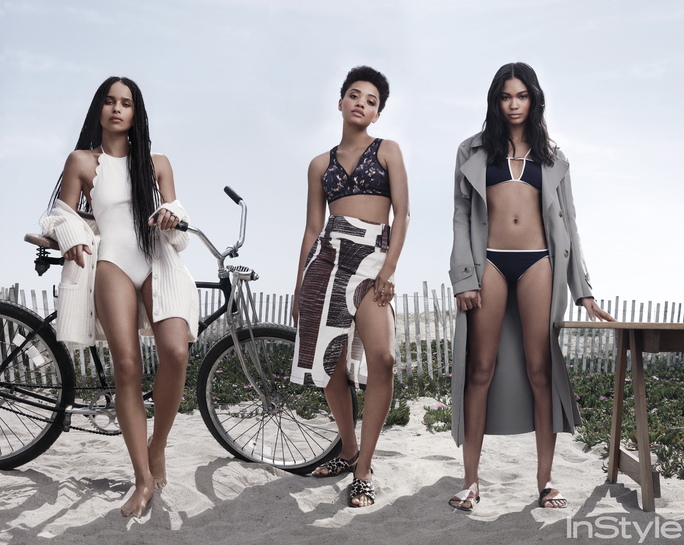 The leading ladies of the new movie Dope – Zoë Kravitz, Kiersey Clemons & model, Chanel Iman hit the beach in swimsuits, bralets, sweaters, vintage dresses and more for the July 2015 issue of InStyle magazine, with photos by Chad Pitman.
In the issue, the ladies dish on their roles for the movie – written and directed by Rick Famuyiwa and executive-produced by Pharrell Williams (See photos from the premiere here); and their hopes for the movie in relation to their careers in modelling and film.
Dope just happens to be Chanel's first acting debut and is definitely testing the limits of her comfort with its numerous nude scenes. Speaking on her role she says – "This was the chance to show people my acting ability, because Lily is the total opposite of who I am." "Most people wouldn't have taken this role because of the nudity, but I've done so many shoots topless … I look at it as art." "Someone's got to do it."
26-year-old Zoë, who isn't new to the world of acting also speaks on her role saying – "I've stayed away from doing 'urban film' because I just don't relate to the characters. I'm not going to take a role because I happen to have the same skin color."
Visit Instyle.com to read more from their interview, see more images and grab the latest copy on InStyle for the complete story.