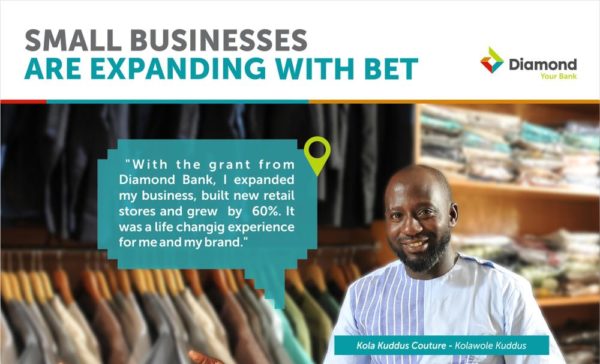 Diamond Bank in collaboration with Enterprise Development Centre, Pan-Atlantic University introduced the Building Entrepreneurs Today (BET) programme, organized to support businesses with the education, advisory, support and financing they need to expand their businesses.
The BET programme involves the training of fifty (50) budding entrepreneurs over a period of six (6) months after which the top five (5) entrepreneurs are awarded Three Million Naira (N 3,000,000) grants to take their businesses to the next level.
The pilot edition of the programme was launched in 2011 and it was a massive success as thousands of applications were received from entrepreneurs across the country. Diamond has gone on to launch 3 other editions and the reception just like the first has been remarkable.
The BET programme has made a huge impact on the lives of young people and is gradually changing society as small business owners are now equipped with knowledge, skills and funds to properly manage their businesses.
Watch the video of one of the Diamond Bank BET winners; Kolawale Kuddus (Creative Director, Kola Kuddus Couture)
The 2015 edition of BET is scheduled to commence on the 16th of June 2015.
Visit www.diamondbankbet.com for more info.
___________________________________________________________________________________
Advertorial– Sponsored Content