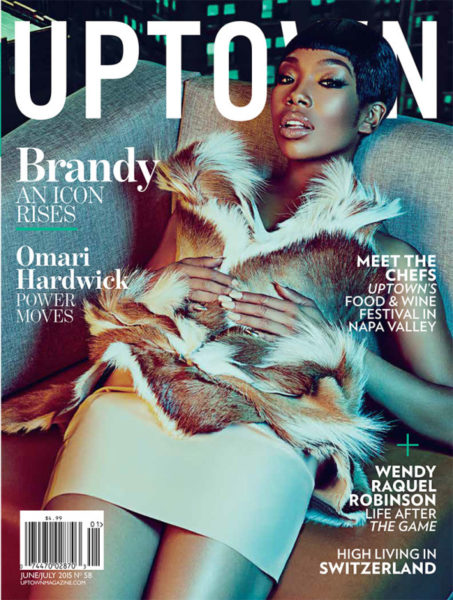 Brandy is almost unrecognizable on the cover of the latest issue of Uptown Magazine.
With the tagline 'An Icon Rises', the 36-year-old actress and singer talks about her new projects – including being on Broadway – Whitney Houston, her recent break up and more.
Read excerpts from her interview below.
On her celebrity: "I don't view myself as a celebrity. It's all about the intention. It's not about me. I thought that it was before. But, now I know that it is about other people. Who else could it be about?"
On how playing Roxie Hart in Chicago changed her life: "I stepped into something that I was born to do and I didn't know it. I walked on the stage and my entire life reawakened … It's about making people feel good about themselves and helping people dream. The vain stuff, like the pictures I took for this magazine and being in shows, I love! But it is all just the polish. I'm not a celebrity. A star guides. There is a difference."

On Whitney Houston: "I think about her every day. She is everywhere. She is with me all the time. She's always there. Whitney was the possibility of dreams coming true. I loved her. I loved her personality. I loved the way she danced. I loved her smile and her voice."
On her breakup: "Ryan [Press] and I were just two completely different people and we found that out when we were already in love with each other. Sometimes it happens. It hurt him, it hurt me and it hurt my daughter. It was a really hard time and another phase of the sadness that was a cloud for a while."
On what she will never do again in a relationship: "I will not mix business with pleasure anymore. I think that's one of the things that does not work for me. I get confused about who a person is. That's one of the things that I know that I will never ever do if I am ever to have time or make time for another relationship."
On wanting to play Dorothy in the highly-anticipated revival of The Wiz: "I am Dorothy and I am meant to do it on Broadway. Portraying Dorothy is a dream and I just want to experience my dreams. That's what life is about. God created us to thrive."
You can read up the full feature on Uptown Magazine.
Photo Credit: Uptown Magazine