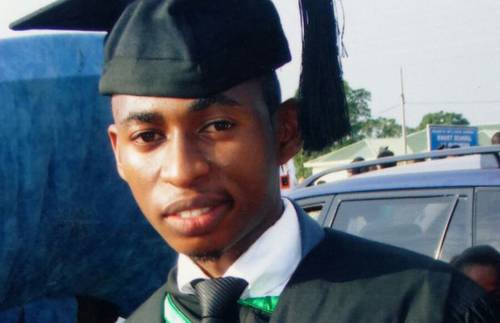 A 25-year-old Ghanaian man named Nazir Nortei Alema is believed to have joined terrorist group, ISIS.
According to Sahara Reporters, Nazir is a a graduate of the Kwame Nkrumah University of Science and Technology (KNUST), and holds a degree in Geography and Rural Development. Also, the publication states that he is feared to be one of 10 suspected Muslim youths from Ghana who have joined the terrorist group.
Alema's family reportedly stated that on August 2nd, soon after completing the mandatory National Service in Ghana, he sent a WhatsApp message to his family stating that he was traveling to another part of Ghana on a job-related assignment.
However, Alema subsequently sent another message stating that he had lied about his whereabouts.
His father, Kabiru Alema is said to have disclosed the contents of the purported message:
"Pray for me, for I will never forget you in my prayer and it's my hope and prayer that we meet again if not in this world then in Jannah (paradise). I love you all. May Allah grant us understanding and guide us all to the straight path. Asalaamu alaikum.

I told you a lie to please my Allah. The deception was to go do some research work in far away Prestea while the main idea was to move far away from you all to the Islamic State (IS). I know it might sound kind of crazy for you but your son really had to take this bold step to get out of the corrupt system of Ghana which has democracy first on its list."
Photo Credit: Sahara Reporters/The Daily Guide of Ghana