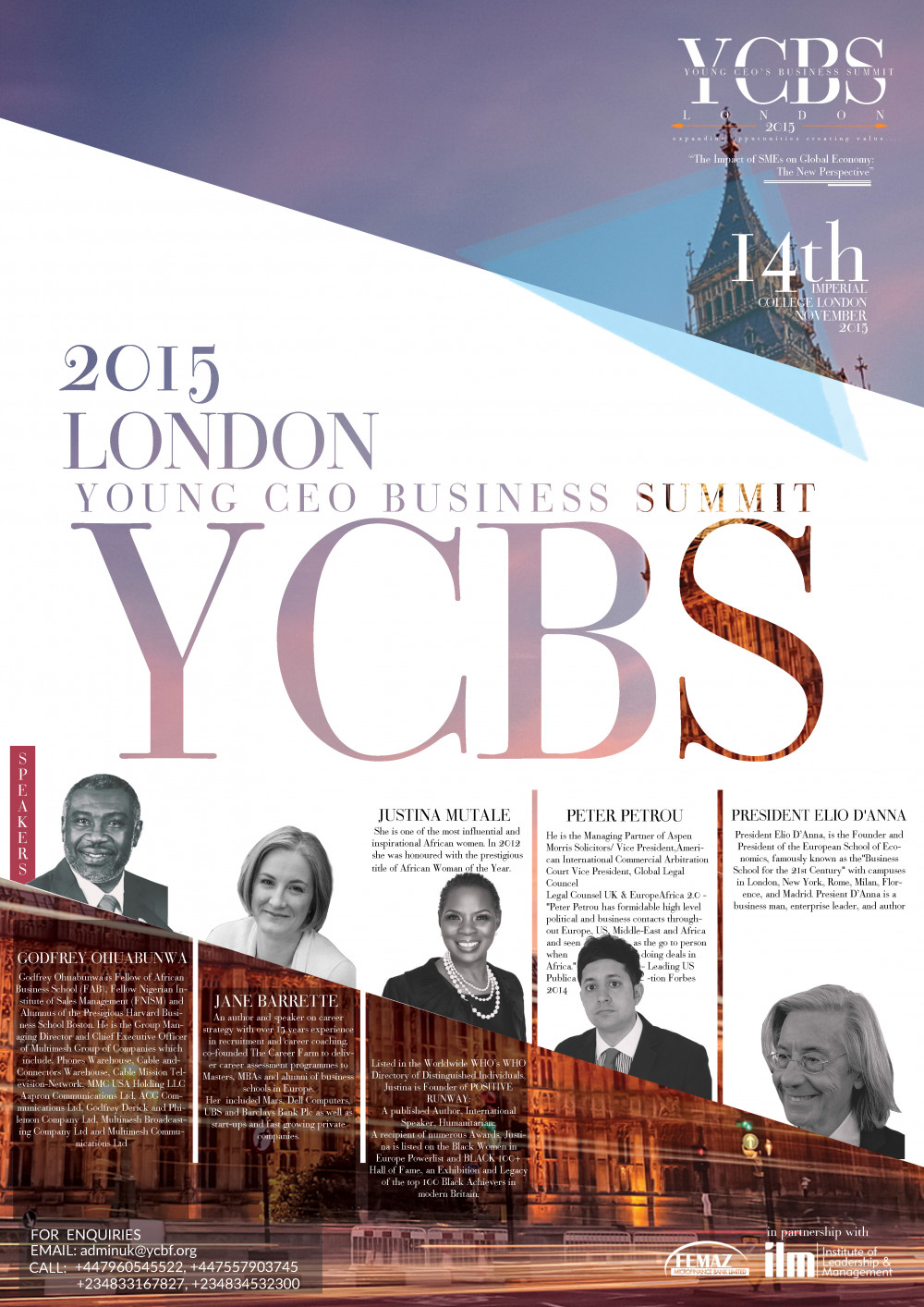 Following the successful outing of the Young CEO's Business Summit held in Dubai United Arab Emirates, Accra-Ghana and most recently in Lagos Nigeria, the organizers of the event have announced their intention to hold yet another awe-inspiring event in November at the Imperial College, London to wrap up its objective program for the year.
It will be recalled that the last event of the Young CEO's Business Forum vividly captured the essence with which it was established. The event which drew participants from across Africa and the world created opportunities for business networks, ensuring that business relationships among young businessmen and women, particularly, CEOs were realized while specialized business training sessions were handled by seasoned serial entrepreneurs and successful business leaders.
This edition is special as it focuses on exporting and showcasing Africa's great Business ideas to the European business community while ensuring mutual business collaboration between the two regions.
The life-changing business summit which will be held in collaboration with the Institute of Leadership & Management and Femaz Microfinance bank will, among other events, feature the final stage of the highly lauded pitching exercise which began its course during the last YCBS meeting in Victoria Island, Lagos, Nigeria.
Date: Friday 13th & Saturday 14th November
Venue: Imperial College, London
Find below some of the speakers that will feature at the event;
President Elio D'Anna – Founder & President, European School of Economics
Dr. Cassandra Martinez- King LLB PHd- CEO of London School of Petroleum Law & Management school
Sir. Godfrey Ohuabunwa – Group CEO, Multimesh group
Cllr. Suzane Fajana Thompson– former Mayor of London Borough of Hackney
Debbie Ariyo – Officer of the British Empire (OBE) & Enterprise consultant
David Smith – Chairman of the British African Business Alliance
Jane Barrett – Co-Founder, The Career Farm
Justina Mutale – MD/CEO Positive Runway
Panelists at the event include;
John Wood – MD/CEO AJ Africa Consulting
Lydia Heater Mudhari – CEO Famous Rainbow Production
Jane Barrett – Co-founder The Career Farm
Paul Alaje – MD/CEO, Systems & performance Mgt. Consulting Limited
Nkechi Azinge – Founder SCAF & recipient of the Queen's Young Leaders Award 2015
Edosa Ohen – Founder Alfa O & O Networks & Glazed the doughnut Café (on forbes list)
Muna Onuzo – MD/CEO, Personality fit limited
Peace Hyde, Forbes Magazine West African Correspondent and CEO Aim Higher Consulting
To participate kindly contact the following emails [email protected] or [email protected] or call +447557903745, +447960545522, +2348093063836, or 08033167827.
More details can be found on www.ycbf.org. You can reserve a seat prior to your payment at http://ycbf.org/index.php/register/ycbfuk2015. You can also register on Eventbrite.
Facebook: https://www.facebook.com/youngceobusinessforum
Twitter: https://twitter.com/ceosforum
Instagram: https://instagram.com/ceosforum/
________________________________________________________________________________________________
Sponsored Content