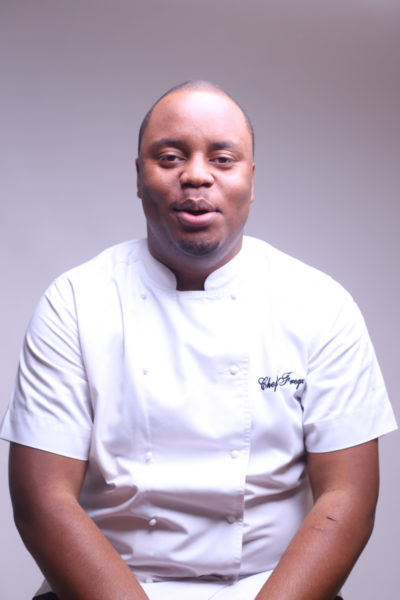 Salut Mes Amis!
Yes, I know I have disappeared. I am only on the 'gram… I know I know! I'm sorry I have actually missed sending in my recipes and thoughts, but I have planned well for this month and of course what I think you should be making for Christmas. Lord have mercy! When are we saying happy new year?
Anyway, today's posts was inspired by me planning to do something for this column but had to feed my fiftfam friend Motunrayo Akinseye at the same time. She recently lost I think like 20 kilos and I have never seen a mother of two look so good, but the struggle has been real! She said that these days pounded yam seems to be calling her name even in her dreams. The palm oil laden egusi she swore she'd never touch again is making countless trips to her mouth and the relish of that smelly but sweet ire/pete is a rush. So yea the struggle is real, but with fortitude and vision we shall overcome!
So bearing all this in mind I decided that when she came to see my new place I would cook her wait us – something healthy but that was delicious.
In recent times I too have been trying to lose a few pounds just because I felt I was getting out of shape. I pretty much have to be cautious about my health so I had been cooking a lot of greens and it is so cheap to buy, so I stir fried it into everything. I had even done a fish and tete fried rice for a small TV Interview and it turned out really good.
On the day Motunrayo came I had way too much Ugwu and Green left over and there was chicken breast, so I decided to make the fried rice recipe but without the rice. The end result was like efo riro without the oil. We ate it with bulgur wheat instead of rice. It was so good I wolfed down mine in a matter of minutes and Motunrayo took her time because she said she wants to drag the experience as long as possible!
It's very easy to make; just make sure you're all prepped. I have also added a recipe for tenderising the chicken so that you're not eating dry chicken breast, which is a general. (chicken breast is boring) The seasoning would be rinsed off and so that all the extra calories won't make it to your belly.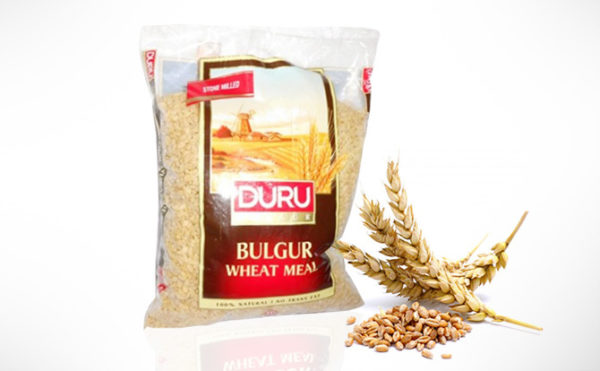 Here's What You Need
4 chicken breasts sliced into thin strips
(Tenderise recipe)
1 heaped tablespoon cornstarch
1 1/2 cups dry white wine
1-2 seasoning cubes
Splash light soy sauce
2 tablespoons garlic puree
1 tablespoon olive oil
The Greens
1 big bunch Ugwu leaves (Mine was 300 naira) cut into large slices
1 medium bunch green/tete leaves or spinach (mine was 200 naira) cut into large slices
1 tablespoon crushed garlic or garlic puree
1 large or 2 medium onions finely chopped or sliced
4 medium sized tomatoes cut into large dice
1 large red bell pepper or tatashe cubed
1 large green pepper cubed
1 small bunch spring onions sliced finely
2 scotch bonnet chillies (that's ata rodo or use ata rodo to your taste)
Ginger to taste
1 seasoning cube
Salt to taste (optional)
1 teaspoon black pepper (I use coarsely ground its better than the finely ground)
3 tablespoons olive oil
3 cups bulgur wheat
Water to cook
Salt to season
How To
Mix the chicken in the marinade and leave for at least 30 minutes or you can do it the night before. You can just seasoning with salt garlic and black pepper if you're in a big hurry.
Start by heating the oil till almost smoking. Add the chicken in two batches and do not stir fry immediately. Just allow it to sizzle and brown well on one side for about a 30 seconds to a minute. If you start to stir immediately, the temperature of pan would drop and the chicken would steam and not brown.
Add the garlic, ginger and sliced onions along with seasoning and stir around. Add the tomatoes, the peppers, chilli, seasoning and cook for another 45 seconds and throw in your greens and carefully move them around.
Once the greens, chicken and vegetables have been mixed through, check for taste. You want to cook your greens for just under a minute so it's still green and slightly crunchy. Adjust seasoning if necessary.
I recommend you get a wide pan or a wok for the stir-fry. Don't be tempted to add extra oil. The steam action from the water from the leaves and tomatoes is enough to clean the bottom of the pan. If it starts to "caramelise" all that flavour is gotten back to your food.
You can add some dried fish to this as well for that Nigerian surf and turf feel in soups.
Serve with bulgur or some brown basmati rice or whatever you like it's pretty versatile.
Cook the bulgur according to packet instruction, but I just usually cook about 1 1/2 cups of it and cover an inch and a half over it. Boil till it is as soft as you. If there's still water I drain in a colander and leave to in the warm pot to steam dry.
The above measurement is for 2 people so double that for 4 people. Cover with water add a pinch of salt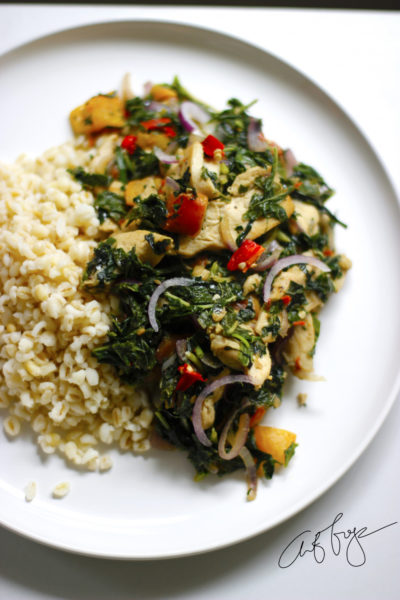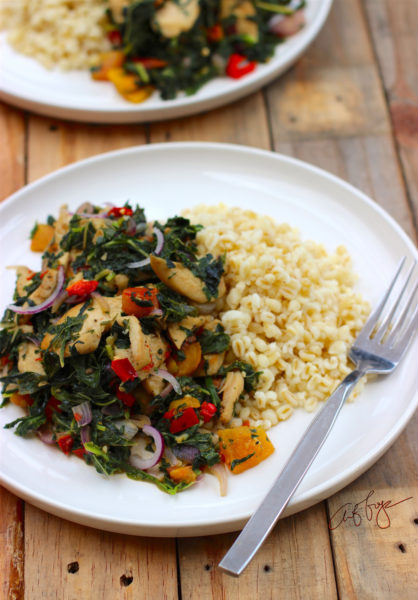 If you're not FitFam you can add a little palm oil
Alright guys that's all this Chef wrote! See you next week with a recipe for an interesting soup.
Ciao!