Music star Omawumi has been hard at work and she plans to close out the year 2015 with a bang!
She has a lot of things she is currently working on and she has given BN the scoop on a couple of them.
A Brand New Website
The singer and songwriter has unveiled her new website (Iamomawumi.com) and we love how minimalist and clean-looking it is. On the website you get to see updates from her social media accounts, her new photos, songs and more.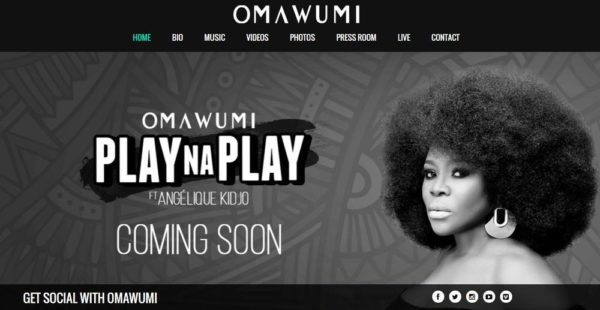 She posted a message to her fans saying "Thank you for joining me on the journey this far. The last few months have been a huge blessing. As you may have read, we welcomed our son Fareed. I'm still basking in euphoria, but now I'm excited to get back to music. My new single introduces the coming together of Omawumi: wit, wisdom, and storytelling, laced in live music. I'm blessed with the opportunity to work with my idol Angelique. Dreams do come true! I hope you enjoy, "Play Na Play," as much as I do."
Her "Play Na Play" Single with Angelique Kidjo
Omawumi is set to release a new song before the year runs out and we are pretty excited about it.
The song features Grammy-Award winner Angelique Kidjo and it is a live production arranged by Cobhams Asuquo.
The video was shot on location in New Jersey by George Steuber for Monstar Film and Produced by Bukola Aré for Of A Kind Creatives. The Fashion Styling was done by Rosemary Kokuhilwa with Make Up by Joyce Jacobs.
See the BTS photos below.