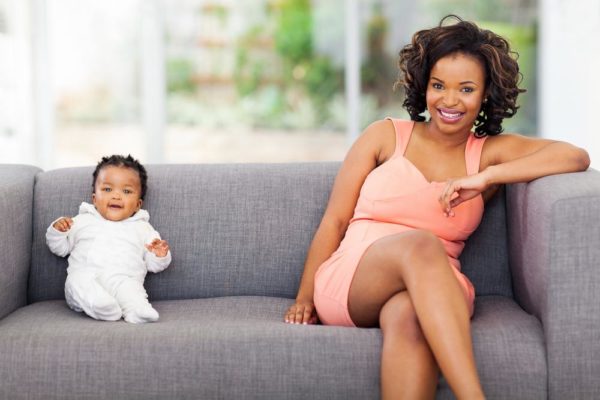 Not too long ago, I got to spend a little time with a family that is very dear to me. It was a wonderful reunion, as I practically grew up with them.
Well one of us now has a cute little baby boy, and we all couldn't keep our eyes and hands off him. Yeah, he's that adorable.
While playing with him one day, I noticed that a lot of things had changed around the house. This prompted me to have a conversation with the mom about some of these changes.
Below is the result of our discussion. They are 18 truths every mother whose child is still a baby understands.
Everything can go into the mouth
It doesn't matter if it is a phone, toy, soap, remote control, tablet or keys etc. Anything and everything can enter the mouth if not under keen observation.
Everyone can easily learn and speak a strange language
One day I heard myself saying "kiki-kiki chuku-chuku-chuku putum-putum pom-pom dadadada-dadadada tititi-tatata" without planning to do so. That was the day I knew that learning a new language is not that difficult.
A baby's smile is so adorable and it can melt a stony heart
Has a baby (especially the one that has a maximum of four teeth) ever smiled at you? There's something so cute about it. It doesn't matter the amount of stress the baby may have put you through, it becomes worth it once you see that smile.
Washing clothes just became one of your pastimes
I am yet to see a mother that doesn't wash at least once in two days. If the baby in question has started crawling, then you may have to invest in a washing machine, especially if you have more than one child.
Watching a baby is a full time job
Watching a baby is a very focus-oriented job. And unlike other regular jobs, it is a round-the-clock job. If you have more than one child, then multiply your job responsibilities by the number of children you have.
You may never have to sleep for up to two hours without interruption
If you sleep without interruption for six hours, then you obviously don't have a baby. Every mother knows that once a baby is born, the concept of 'beauty sleep' passes away. No matter how much of a sleeper you are, waking up regularly at odd hours and crazy intervals becomes a norm for you.
Sucking a baby's nose and doing other 'disgusting' things isn't impossible
When you have your first baby, you will discover that doing 'disgusting' things isn't a big deal. Luckily you may never suck a baby's nostril. But then, you will not escape having to change a baby's diaper. Your baby may even urinate into your plate of food. And when that happens, you won't get mad. You will rather count those as part of the joys of motherhood.
The scent of your house changes automatically
Maybe you have a particular air freshener whose fragrance you used to love. Well forget about that scent and start getting used to the scent of baby pears lotion, baby oil, powder etc.
You may never use the word "Privacy" again
First of all, babies don't have respect for people's privacy. Nothing embarrasses them, so they won't feel shy and leave (when you want to have sex).
Secondly, being a mother could entail that you breastfeed your baby at odd times and in odd places. Yes, you may be speaking to a guy you used to have a crush on, and suddenly you will start breastfeeding without hesitating.
You can be patient and tolerant to a fault
Forget all those gragra wey you dey do o. Once you become a mother, hot temper go pack one side first. A baby will test your patience, try your understanding, play with your tolerance, and stretch your ability to forgive. Guess what? You will just keep putting up with it joyfully.
There is a strange joy that comes with tearing books and breaking things
One day my seven months old nephew took an exercise book and started tearing it slowly, enjoying the moment. He looked so satisfied that you can't just get angry at that misplaced innocence.
If the house suddenly gets quiet, then mischief is being perpetrated somewhere
Babies are perpetual noise makers. If they get to keep quiet, then something very interesting is keeping them occupied. Sometimes they could get creative and start painting walls, 'eating' your phone, or trying to see if your tablet can float.
Finding something where you kept it will become a rare blessing
One day you will wish all your stuff can ring so you can flash them when you need them. Starting from your car keys, make up kits, cutlery and even the content of your handbags, you may never leave something and find them where you left them ever again.
Sleeping for less than eight hours isn't as dangerous as doctors say
Forget about all that health talk on 8 hours of sleep. As a mother, if you get to sleep for up to five hours a day, then you are very lucky. In spite of that, you will remain healthy.
You can do 10 things at the same time easily
Imagine shushing a baby, answering a call, cooking fried rice, preparing cerelac, and making the bed etc. Those are some of the things you will get used to doing at the same time. Don't worry; multi-tasking is a natural skill. You don't have to go to a business school to learn it.
You can almost never do anything without interruption
Your days of watching a movie or doing anything without interruption are officially over. A baby loves attention and if interrupting you is the way to get it, he will gladly do it, even if it means crying for no reason.
It is possible to enjoy the same meal everyday for a month
It beats me how someone can enjoy eating just one type of meal everyday and not get tired. Well babies do this and they never complain.
Unconditional love is real
Some people have gotten burnt by love so much that they now believe that love doesn't exist. Well, seeing a baby and his mother will tell you that unconditional love is not something that exists in Shakespearean novels alone, it is real.
If you are a mother and some of these points ring home, please share your experience in the comments section. If you have ever had to live with a baby, do likewise. And please share this note so that other mothers can see it.
Happy mother's day (in arrears) to all the mothers in the house. Ndi nne Maama!
Photo Credit: Dreamstime