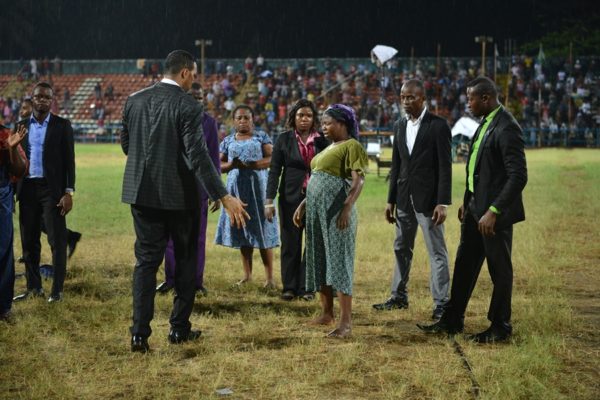 According to Chris Okafor World Outreach Ministries, the crusade held in Calabar had a rather bizarre case. During Chris Okafor's prophecy session,  he stated that there was a woman at the crusade ground who had been offered N30,000 each for two of her lovely children, and that the woman was making plans to actually sell her children to raise money for business.
Before he was done dishing out the woman's details prophetically as he is fond of doing, the woman ran out from the crowd and affirmed everything that he had said.
According to the Church, seeing as her case was beyond prayers, Chris Okafor after praying for her, asked how much she needed for business and she retorted "N30,000". He then smiled and asked if it was okay to give her a hundred thousand naira (N100,000)… she was literally dumfounded. And indeed, right there and then, she got her own rather "financial deliverance" of N100,000!
Chris Okafor, who has a tradition of financially and materially empowering very indigent widows and artisans every month through his Chris Okafor Humanity Foundation, has responded by saying that:
"For me, giving is living. You know sometimes, people criticize me for raising too much offering, saying that I love money a lot. And I don't blame people who say that, because they don't know any better. I am often driven by my incredible passion to help the down and out in our society and aggressively advance the work of God. That's why I don't force people to give. It is not mandatory. You do it only if you feel like it. I believe that there is a lot of blessing attached to giving when you give into a ministry that puts that money to good use. And we do. I personally don't need any of that money. Times without number I have told my congregation that I had never dipped a finger into our church money for whatever reason, and never will. And anybody who cares should carry an independent investigation into this matter. I am too blessed already. All that money is for God's work, and a huge part of that work is helping our less privileged brothers and sisters in the best way that we can. At our church, we have so many people on scholarships from Primary to Tertiary institutions, we have resettlement programs for the homeless, we have feeding programs for the hungry, we have monthly empowerment programs where people are taught skills and financially empowered to live out their dreams, etc. That is the whole essence of my life and ministry…not just about Prophecy and Miracles."
The Calabar and Bonny Island crusades which drew literally tens of thousands of worshipers from far and near did not end without miraculous healings of all sorts and prophecies that left the crowd stricken with celestial awe.
Chris Okafor is set to appear in several more cities in Nigeria and Europe with his Fiery Miracle Crusades. See below for his itinerary:
RUMFA Special Primary School, Sabon Gari, Kano: March 17 and 18.
Umuoba Aboegbu Anam, Anambra West LGA, Anambra: March 30th – March 31st
National Christian Centre (Ecumenical Centre) Abuja: April 1 – April 3, 2016
K.O Abiola International Stadium, Abeokuta: April 4 – April 6, 2016.
Uyo Township Stadium, Uyo, Akwa Ibom: April 7 – April 9, 2016
Public Transport Links, Cologne, Germany: April 11th – April 13th
Alberto Ipanaque, Calle Potosi, Pasaje 7, Iglesia Canaan, Barcelona Spain: May 2nd – May 4th
_______________________________________________________________________
Sponsored Content