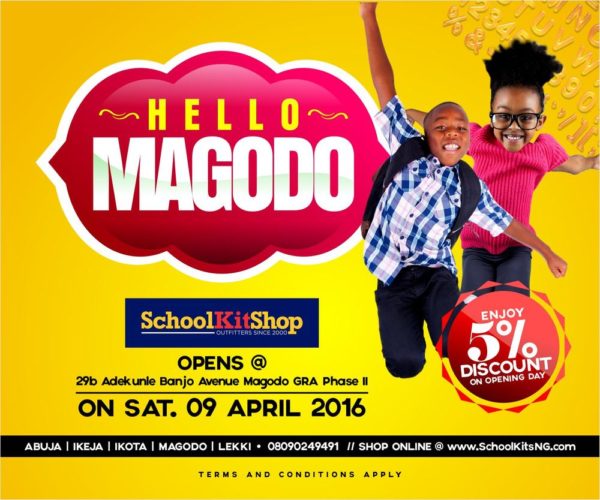 As parents prepare for school resumption and Back-To-School shopping, School Kits – one of Nigeria's leading school retail chain for school-age children- announces the opening of a SchoolKits Shop in MAGODO GRA Phase II on Saturday, 9th of April, 2016.
To commemorate the opening of the MAGODO GRA Phase II outlet, SchoolKits is also offering 5%* discount to everyone that shops on the opening day (Saturday 09 April 2016).
Shoppers in other SchoolKits Shops (in Abuja, Lekki, Ikeja & Ikota) are not left out, as they qualify for the SchoolKits 5% loyalty reward and other valuable incentives offered in-store and online.
These discounts apply to all SchoolKits product categories: School Uniforms and Accessories; School Shoes and Bags; Stationeries and Project Requirements; Boarding House Wears and Accessories; Costumes; Sport Wears and Gear; School Resources; General Accessories and many more.
This promises to be an exciting Back-To-School shopping experience for all SchoolKits shoppers.
SchoolKits Shops are open Monday to Saturday from 8:00am to 6pm and you can also shop from the online store at www.SchoolKitsNG.com.
Visit our Stores
Abuja: Suite GF05 Olive Plaza, Alexandra Crescent, Opposite MRS Station, Banex Junction, Wuse 2, Abuja | Lekki Mega Store: 64B Fola Osibo Street, Lekki Phase 1, Lagos | Magodo Phase II: 29B, Adekunle Banjo Avenue, Magodo GRA Phase II, Lagos | Ikeja: Shop 9, Adebola Shopping Mall, Beside KFC, Isaac John Street, Ikeja GRA, Lagos | Ikota-Ajah: Shop 168/189, Road 6, 1st left Off Road 3, Ikota Shopping Complex, Ikota-Ajah, Lagos             
For inquiries and requests
Call Us: 08090249491 I 08090249438 I 08090200301 | Visit Our Website: www.SchoolKitsNG.com | Connect with Us: Twitter: @SchoolKitsShop | Facebook: facebook.com/TheSchoolKitsLimited | Instagram: @SchoolKitsNG | BBM: C0045B90E
_______________________________________________________________________
Sponsored Content