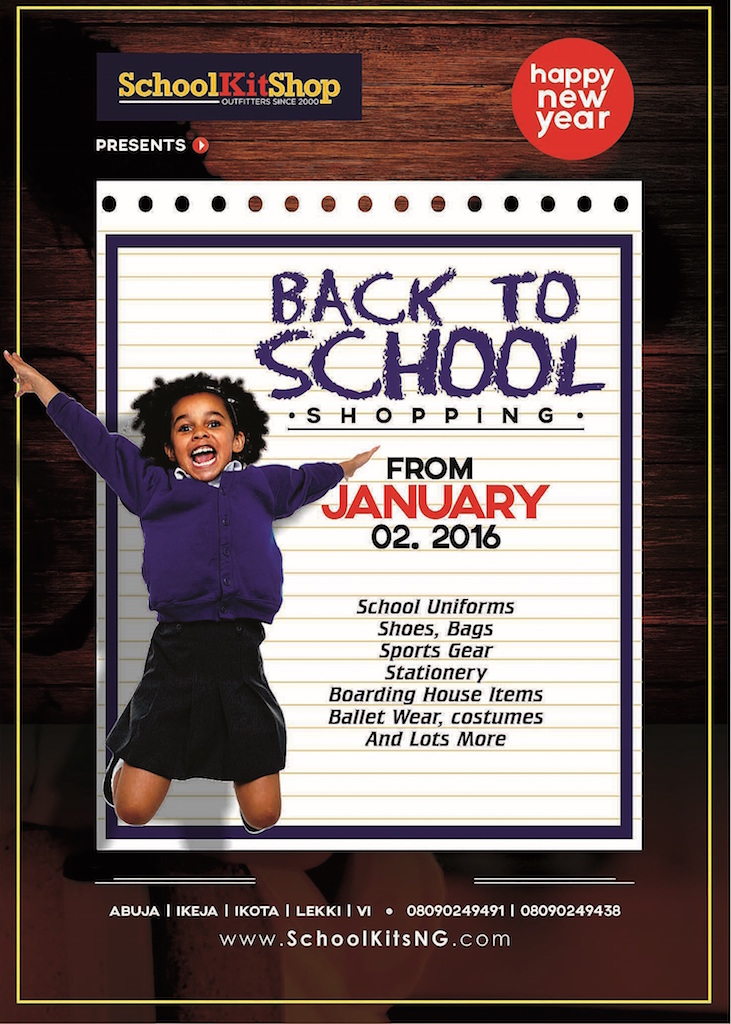 Happy New Year!
Hot on the heels of the hugely successful "The Red Event," SchoolKits announces the commencement of its Back-To-School Season #SKBackToSchool promo starting from Saturday 02 January 2016.
It's time to draw up that replacement list of School Uniforms; Accessories; Shoes; Bags; Stationeries; Boarding House Items; Sportswear & Gears; Project Materials; Costumes and more. There will be clearance discounts of up to 60% on select items (while inventory lasts).
So come with your kids, friends and families to SchoolKits Shop near you to shop for the new school term.
Also, feel free to Shop online at www.SchoolKitsNG.com. Get product updates and make special requests through our online interactive platforms on Twitter: @SchoolKitsShop | Facebook: facebook.com/TheSchoolKitsLimited | Instagram: @SchoolKitsNG | BBM: C0045B90E
Visit our Stores
Abuja: Shop 5, Luxury Block 4, Section 4, Garki International Modern Market, Garki 2, Abuja
Tel: 08077162750
Ikeja: Shop 9, Adebola Shopping Mall, Isaac John Street, Ikeja GRA, Lagos
Tel: 08077162412
Ikota: F168/189, Road 6, Ikota Shopping Complex, Ajah, Lagos
Shop I 57, Road 5, Ikota Shopping Complex, Ikota, Ajah, Lagos
Tel: 08077162724
Lekki: 64B FolaOsibo Street, Lekki Phase 1, Lagos
Tel: 08090200303
Victoria Island: Shop 1 (First floor), Pinky Blue Mall, 21B, Idowu Martins Street, VI, Lagos
Tel: 08077162757
For Enquiries:
Call: 08090249438 / 08090249491
____________________________________________________________________________________
Sponsored Content