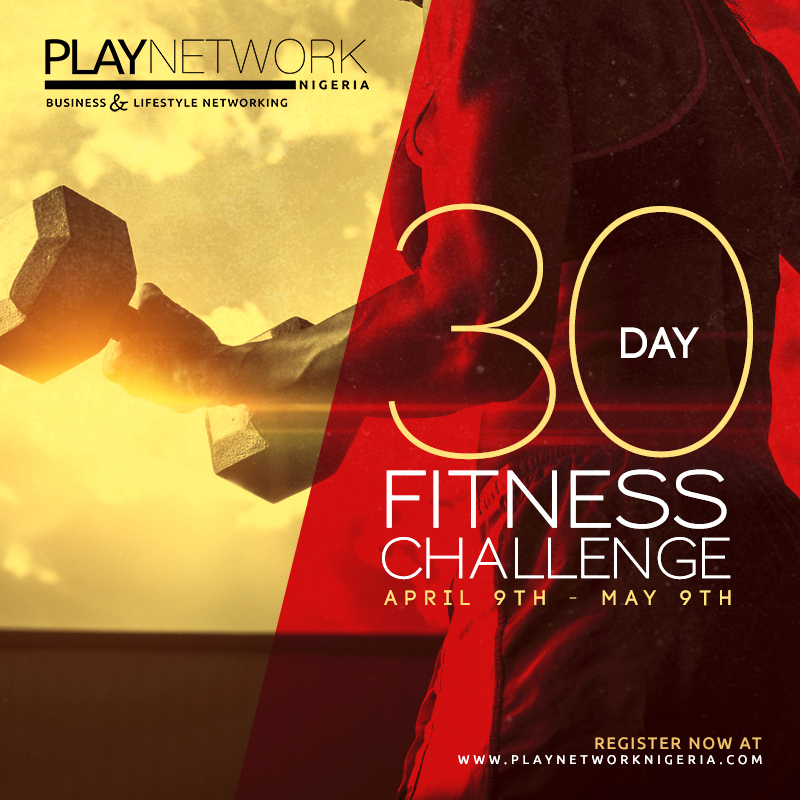 "Our health always seems much more valuable after we lose it." ~Unknown
So you had just one New Year resolution… to LOSE WEIGHT. It's the beginning of the second quarter of the year, and it's the same story. Too busy with work, can't make out time to eat right, gyms are too expensive, supplements don't work. Frustrating isn't it? Well what if we told you it was possible to lose weight, get stronger, eat delicious and healthy meals, all the while hanging out and working with some of the most brilliant young professionals in Nigeria?
Introducing the #PlayNetworkFitnessChallenge
Starting April 9th to May 9th 2016
A month long, health and wellness boot camp where you can achieve your fitness goals quickly in a fun and healthy way. It's a proven fact that most weight loss plans fail because of the absence of a proper support system, with the #PlayNetworkFitnessChallenge we guarantee all that and more.
Features
Customized meal and workout plans
4 week Gym Membership at Bodyrox Gym
Specially Tailored Group workouts and support groups (cross fit, spinning, yoga, martial arts, dance)
Weekly meal tracker and dedicated fitness trainer
Loads of fun bonding sessions and fun outdoor activities like Hiking, swimming, yoga, taebo, etc.
One month Free membership and personal training for best performing participants
Branded Tees
Complimentary Meals and Smoothies at group workouts,
Prizes for top performers
Benefits
Improved cardiovascular performance
Flexibility and strength training
Weight loss and body sculpting
A healthier, happier you!
This is an initiative of @PLAYNetworkNigeria & @EddieMadaki
Partners
BellaNaija, Pulse NG, Sheraton Hotels & Towers, Bodyrox Gym, Cool FM 96.9, Rhythm FM 94.7
To Register
Log on to www.playnetworknigeria.com to register today!
You pay N30,000.00 only to enjoy all the aforementioned benefits.
Upon Payment you receive
One 4 Week Meal Plan
One 4 week Workout Plan
#PlayNetworkFitnessChallenge Hiking Schedule for April‎
One Branded #PlayNetworkFitnessChallengeT-Shirt
HURRY AND REGISTER NOW! Limited Slots Available
__________________________________________________________________________
Sponsored Content