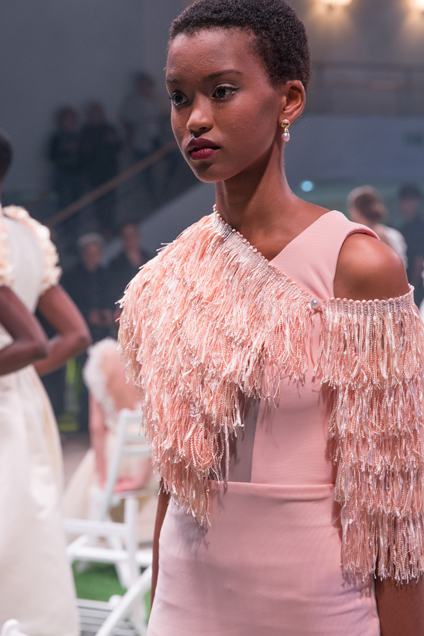 The South African Fashion Week 2016 started with hype with celebrity favorite Gert-Johan Coetzee at a fever pitch with celebrities, press, buyers, influencers and just like the rest of the continent, BN Style was all eyes and ears as we took note of the most poignant collections that walked the catwalks on the first, second and third days to a resounding success.
So far, so good, a lot of the collections shown have been muted in colours giving the entire week an Autumn feel rather than  the vibrancy that Spring is known for, perhaps a new trend that we're yet to catch up on? Only time can tell!
Look below, for the very best the SAFW 2016 had to offer for it's first three days.
Gert-Johan Coetzee
Gert is such an interesting designer because of how he's perfected the art of red carpet dressing over a short span of time, especially for noteworthy South African superstar Bonang Matheba. But to say that Gert-Johan Coetzee brought that much fire and pizzazz that we've come to love about his creations to the SAFW 2016 catwalks would be a great disservice. Don't get us wrong, this wasn't a bad collection at all, but that sparkle and edge that usually comes with everything Gert was missing for us. We'd have loved to see more skin, more drama and sophistication—atlas, all we got is a little of everything, not enough to satisfy our Gert thirst though.
Erre
In a simple sentence: Erre has just successfully made swimwear look like daywear. Well, maybe that wasn't all that simple. But here's the cache: Erre's colour palette was much like everyone else's; mild, earth toned and muted, only here it is put to good use in complementing the models' skin tones. Where they aren't wearing one piece bikinis, they are walking fiercely with gladiator inspired jacket and dresses strapped around their bodies, pretty much in a domineering way.
At Colleen Eitzen, everything was put to good use; from the fabrics that were heavily laden with sequins to the light ones that flew all around like butterflies in the sky to the denim that were made into cute little outer wears such as jackets. The designer kept things fresh with really interesting silhouettes that swirled (which was more or less a thing across the week for most designers) and smartly made the rich gold toned sequinned fabric the base of the entire collection, from wholesome sequin pieces to a little of it here and there. This was easily a good collection, and if you're a Gossip Girl fan, then you'll agree with us that this could easily have been Serena Van Der Woodsen's wardrobe.
Clive Rundle
Clive Rundle elegantly explores the concept of maximalism, with sharp precision and neat execution. The designer favoured layering and mix-match to achieve the look without so much as a scratch. It's also interesting how different clashing prints somewhat coexist in one piece without looking misplaced, all these takes a certain level of understanding of how prints work to be able to present this impeccably, and that, we think Clive Rundle has in no short supply.
Laid back chic was the order of the day at Lunar SS16 presentation. The models strutted the catwalks in slingy shimmery soft hued dresses that went with the wind as they walked while tightly hugging the models figure. Quite a sensual and feminine collection that could have easily gone wrong, yet it didn't -which heightened our intrigue even more.
T'Niche
Asymmetry was the most visible element at T'Niche's presentation. From the cuts to the silhouettes, most looks were lopsided but only in the most interesting way.  The fabrication was super light and the twirling only where absolutely necessarily, other wise, the good tailoring did the majority of the work.
Rubicon
Rubicon's life-mannequin installation was easily the most visually stunning and captivating of all. Models were dressed in divinely sophisticated white (and some in pale pink) frocks that had neatly constructed ruffles and fringe spread across them while seated on white garden chairs on green grass. The ultra feminine collection kept things really minimal with clean simple cuts, with only the details doing all the talking.
Not to be overly dramatic, but in truth, it's Rubicon's world (or at least, the South African Fashion Week is), and we're only living in it!
All Photos Courtesy: South African Fashion Week