You will NEVER see this Movie! Watch 3 Teasers for the Film to be Released in November 2115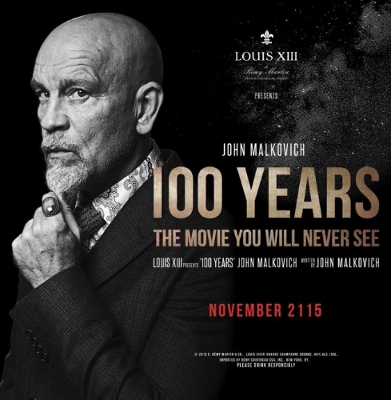 Ever thought about making a movie and keeping it in a custom made safe for a hundred years? Well Louis XIII Cognac did.
Starring actor John Malkovich, the movie "100 Years" envisions the Earth one hundred years from now and will not be released until 2115.
Directed by Robert Rodriguez "100 Years", the movie you will never see, was inspired by the century of careful craftsmanship and patience it takes to create each decanter of Louis XIII Cognac.
To ensure that "100 Years" remains secure until its official premiere on November 18, 2115, one century from now, the film was placed in a state-of-the-art safe which will open automatically in 100 years when the timing is complete.
One thousand guests from around the world received an exclusive invitation to give to their descendants to attend the premiere of "100 Years", on November 18, 2115, at the House of Louis XIII in Cognac, France.
Are you curious to get a taste of the movie?
Three teasers have been produced that explore hypothetical visions of what Earth might be like in one hundred years.  Each teaser begins with the same dialogue and incorporates the actors, but each presents a different future. One imagines the Earth one hundred years from now overtaken by nature. Another imagines a world ruled by technology, after extraterrestrial exploration when Earth becomes ultra-urbanized and technologically advanced. And the third teaser imagines that humanoid robots have taken control of the earth and humans have to run to escape. They engage viewers to question which vision is closest to tomorrow's reality.
Watch them below.
Trailer 1
Trailer 2
Trailer 3
Credits:
Director: Robert Rodriguez
Hero Character: John Malkovich
Hero Girl Character: Shuya Chang
Bad guy Character: Marko Zaror
Agency producer for Fred & Farid Group: Karim Naceur
Production company: Moonwalk Films
Executive producer: Gaspard Chevance