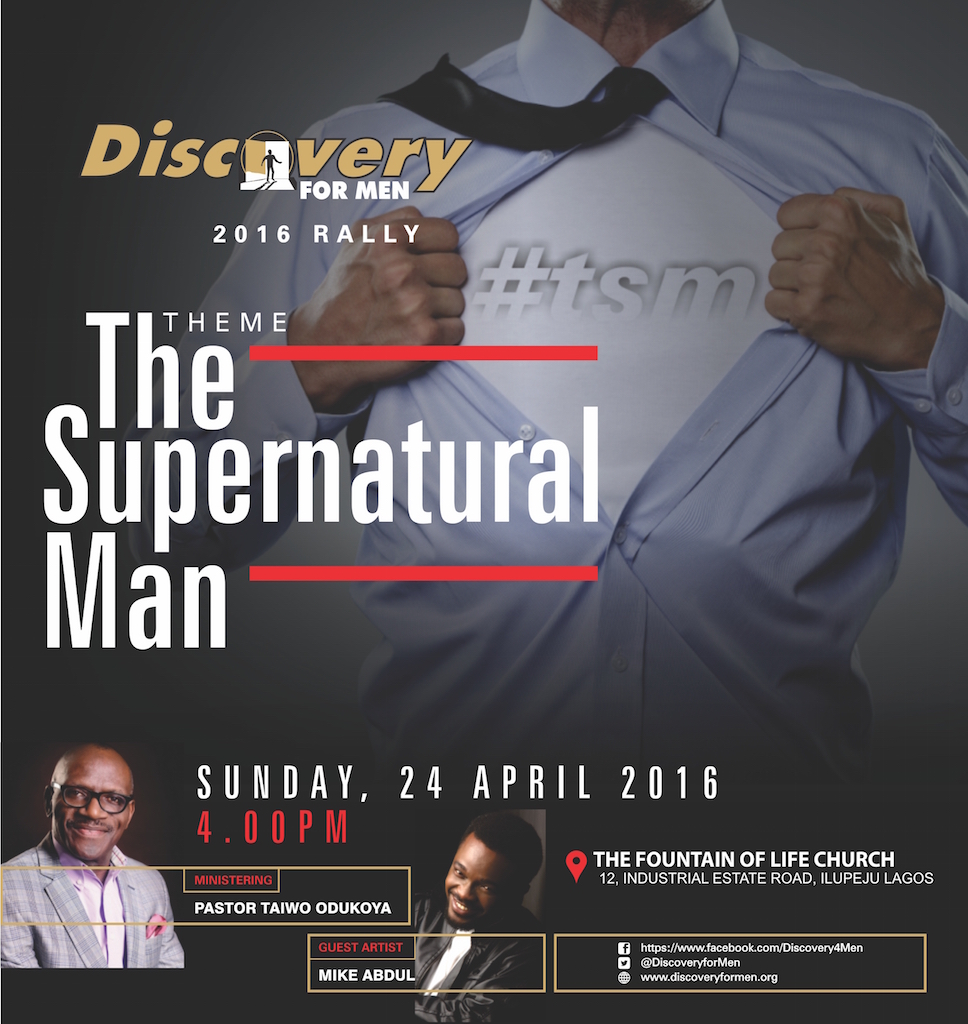 Thousands of men from different walks of life are set to gather on Sunday, April 24, 2016 for Discovery for Men's first rally in 2016.
Hosted by Pastors Taiwo and Nomthi Odukoya, the rally will also have anointed gospel minister, Mike Abdul, as guest artiste.
According to the organisers of what has been called "biggest gathering of men in Nigeria" the theme of the rally which is scheduled to commence at exactly 4pm at the Fountain of Life Church, Ilupeju, Lagos, is The Supernatural Man.
The statement reads further:
"Discovery for Men rallies are not just another church service. We are in an era where men need supernatural talent, strength, character and wisdom to provide leadership, find hope, encouragement and the needed courage to surmount and secure a better future for themselves and the countless others counting on them.

Over the years, men have walked into the Discovery rallies with great burdens in their hearts, desperately seeking answers. After a time of robust fellowship and frank exploration of God's word, they leave with renewed strength to face the challenges that hitherto threatened to consume them. Testimonies of great deliverances, divine interventions and miraculous visitations abound from every corner of the nation and beyond."
The Discovery for Men initiative was set up in 1998 as an outreach of The Fountain of Life Church with the vision to challenge and motivate men to become all that God has ordained them to be.
Website: www.discoveryformen.org
Facebook: www.facebook.com/Discovery4Men
Date: Sunday 24th April 2016
Time: 4PM
Venue: Fountain of Life Church, 12 Industrial Estate Road, Ilupeju, Lagos
___________________________________________________________________________
Sponsored Content