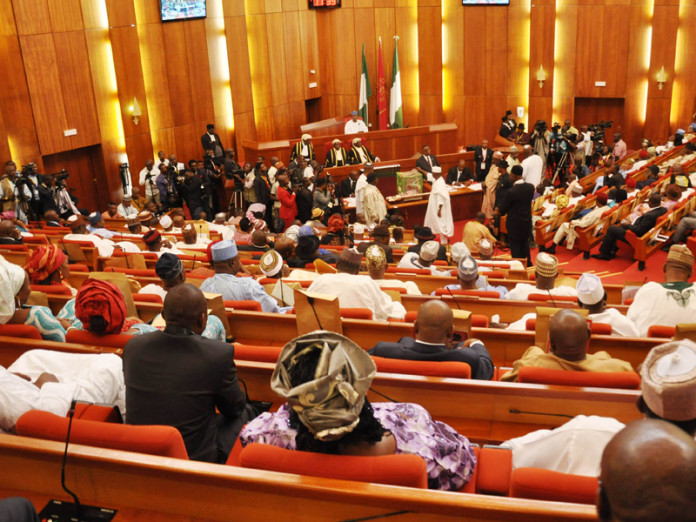 The Senate on Wednesday said it will pass a bill for a law to make kidnapping in Nigeria punishable by death.
The resolution followed the adoption of recommendations of the report of by the Joint Committee on Police Affairs, National Security and Intelligence on the "unfortunate re-occurrence of kidnapping and hostage taking".
The lawmakers held that capital punishment for the offence will serve as deterrent to potential offenders.
They urged state governments to enact laws that will aid the prosecution of kidnap suspects.
The senate also adopted the recommendation that funding of security agencies should be taken as a "priority" while efforts should be geared towards creating employment opportunities in the country.
It resolved that security agencies should embark on training and retraining of their personnel, and advocated increased information-sharing arrangement among the agencies to boost crime prevention.
Presenting the report earlier, Chairman of the Joint Committee, Senator Abu Ibrahim (APC Katsina South), said that kidnapping which started in some regions has become a nationwide menace.
He said that the security agencies know the mode of operation of the kidnappers but are usually hampered by lack of funds and equipment to combat them.
The report stated that there is undue rivalry among security agencies and that it has engendered lack of synergy in their operations.
The senators, however, held that kidnapping has remained prevalent because there is no appropriate punishment for offenders.
They condemned the payment of ransom to kidnappers, saying that it has encouraged and made the "business" profitable.
Deputy President of the Senate, Ike Ekwerenmadu, said that Nigerians have encouraged kidnapping by panicking and paying ransom too quickly.
"We have encouraged this type of kidnapping because we panic and pay money; most times, our people are reluctant to delay or endure the inconvenience or the hardship and then they quickly negotiate. If we want to discourage this kind of kidnappings, the only way forward is to insist that you will not pay," he said.
Senator Ben Murray-Bruce (PDP Bayelsa East) in his contribution said that kidnapping had continued to thrive because there was no form of deterrent.
He decried the attitude of security agencies that often go to sleep after kidnap victim's release, saying that no serious effort was made apprehend and prosecute the culprits.
"One of the biggest problems we have is that we have no deterrent; we don't put people on trial, we don't publicise the trial so people can see the consequence of kidnapping. One reason why people are not scared of committing crime is the issue of drugs, when you are on drugs you don't think, you don't think of the consequences of your action at that time. We must do something to have few criminals and the only way to do that is to deal with the social issues; we need to deal with the drug problem. We need to publicise the trials and sentencing of criminals," he said.
On his part, Senator Dino Melaye (APC Kogi West) recommended that kidnappers should be hanged or made to face firing squad.
In his remark, President of the Senate, Dr. Bukola Saraki, commended the committee for a job well-done and said that there was need for a more stringent law on kidnapping.
The Senate also passed a bill for first reading that prescribes five year jail term for randy lecturers. The bill also proposed a two year jail term for vice chancellors of universities, rectors of polytechnics and other chief executives of institutions of higher learning if they fail to act within a week on complaints of sexual harassment made by students.
The bill sponsored by Senator Ovie Omo-Agege (Labour, Delta Central) and co-sponsored by 46 other senators read:
An educator shall be guilty of committing an offence of sexual harassment against a student if he/she has sexual intercourse with a student.
He or she shall be guilty if he has sexual intercourse with a student or demands for sex from a student or a prospective student as a condition to study in an institution.
He or she shall be guilty if he has sexual intercourse with a student or demands for sex from a student or a prospective student as a condition to the giving of a passing grade.
He or she shall be guilty if he solicits sex from or makes sexual advances at a student when the sexual solicitation or sexual advances result in an intimidating, hostile or offensive environment for the student.
He or she shall be guilty if he directs or induces another person to commit any act of sexual harassment under this Act, or cooperates in the commission of sexual harassment by another person.
He or she shall be guilty if he grabs, hugs, rubs or strokes or touches or pinches the breasts or hair or lips or hips or buttocks or any other sensual part of the body of a student.
He or she shall be guilty if he displays, gives or sends by hand or courier or electronic or any other means naked or sexually explicit pictures or videos or sex related objects to a student.
He or she shall be guilty if he whistles or winks at a student or screams or exclaims or jokes or makes sexually complimentary or uncomplimentary remarks about a student's physique.
The bill said that the only exemption would be when the student is legally married to the lecturer before gaining admission to the school.
The bill also said that students who falsely accuse lecturers of sexual harassment should be sanctioned by the school and even face dismissal.
Credit: The Citizen Ng | NAN