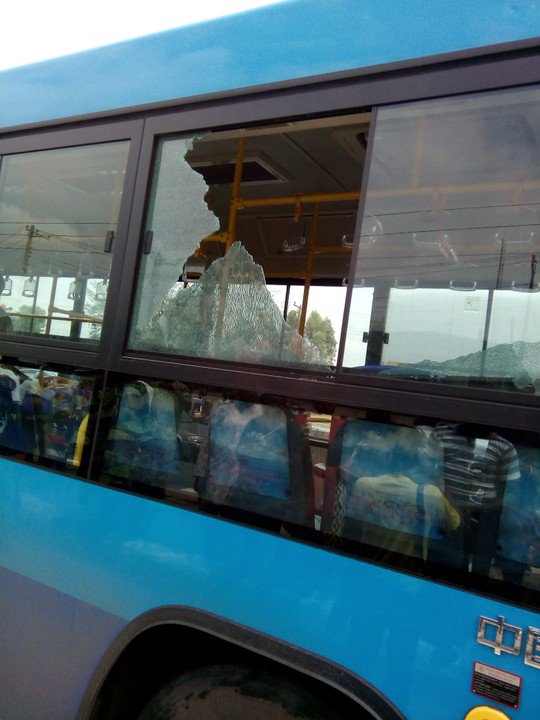 A BRT bus on Wednesday ran over a hawker while he was being chased by officials of the Kick Against Indiscipline (KAI) in Maryland.
Reports say the man was trying to cross the road in other to get away from the KAI officials when he met his unfortunate end.
Twitter users say other hawkers and hoodlums in the area began to protest following his death, vandalising about 20 BRT buses in the process.
Death of an hawker chased by KAI officials killed by BRT bus triggers standstill at Maryland..PLEASE APPROACH WITH CAUTION @Gidi_Traffic

— Ifemidayo™ (@IFM4real) June 29, 2016
@Gidi_Traffic A hawker was killed while being chased by the KAI guys on Ikorodu road. Hawkers are protesting and destroying BRT buses.

— Gozie (@SirGozie) June 29, 2016
#REPORT"@oguduojota: Hawker got hit by a BRT! As area boys destroys the bus @Gidi_Traffic pic.twitter.com/ejDMARoyyQ"

— GIDITRAFFIC (@Gidi_Traffic) June 29, 2016
"@AYmediaKoncept: RIOT ON IKORODU ROAD AT MARYLAND. Hawker killed by BRT bus yle evading KAI. Corpse on the highway. pic.twitter.com/AYgeTCDw68

— GIDITRAFFIC (@Gidi_Traffic) June 29, 2016
"@iamfatdon: @Gidi_Traffic "More Than 20 BRT Buses Damaged By Sellers At Maryland" (Photos) #GIDITRAFFIC pic.twitter.com/z5ZB8NQhGu"

— GIDITRAFFIC (@Gidi_Traffic) June 29, 2016
Officers from the Lagos Police command responded swiftly and have restored calm to the area.
#PHOTO "@LanreAgboola1: @Gidi_Traffic Maryland/Idi Iroko incident. @PoliceNG calling for reinforcement. pic.twitter.com/IY9TruxxiZ"

— GIDITRAFFIC (@Gidi_Traffic) June 29, 2016
[4:06PM]"@rrslagos767: @Gidi_Traffic RRS has responded swiftly, quelled riot, eased traffic congestion #IKORODURD pic.twitter.com/G1hmtaVjNI"

— GIDITRAFFIC (@Gidi_Traffic) June 29, 2016