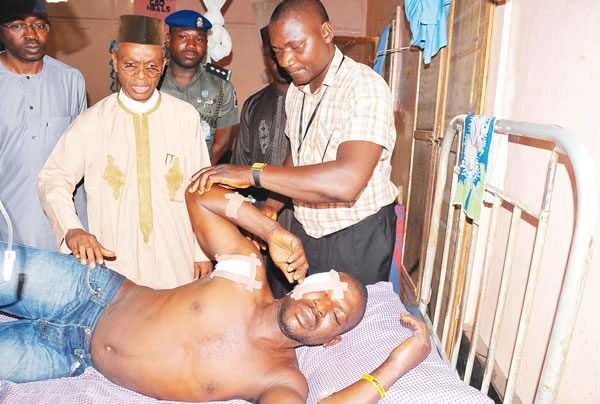 A 41-year-old carpenter, Francis Emmanuel Francis, almost lost his right eye on Tuesday following an attack on him by Muslim youths for not observing the Ramadan fast, PUNCH reports.
This is coming barely 5 days after the  alleged murder of a woman, Bridget Patience Agbaheme over "blasphemy" against Prophet Muhammad.
According to PUNCH, Francis, speaking to journalists said:
I went to buy wood to do some work. When I came back, I bought food to eat. As I was eating, about six Hausa boys came and asked me whether I was a Muslim or a Christian. I did not answer them. They asked me why I was not fasting. I told them that I am not a Muslim.

Before I know it, one of them slapped me. As I stood up, the rest came and surrounded me and started attacking me with knives. I didn't know them. Nobody could come to my aid because of the type of dangerous knives they were carrying.

They used cutlasses, scissors and knives. I became unconscious; I don't even know who brought me to the hospital.
The Kaduna state governor, Malam Nasir el-Rufai,  led a team of senior government officials, including the Deputy Governor, Architect Barnabas Yusuf Bala, to visit Francis who is recuperating at the St. Gerald's Hospital. The governor comforted the victim and promised that the government will not allow any criminal to hide under any religious guise or to use religion as justification for violating the right of any citizen. el-Rufai said:
The government will not allow anyone to get away with any crime using his or her faith as an excuse. There is no compulsion in religion. It is a free country, and that means no imposition of faith or religious practices on anyone.

We sympathize with our fellow citizen, Francis Emmanuel. We have assured him that we will not allow anybody to violate his right, or that of any other citizen. The Kaduna State Government is resolute in its stand that all criminals, including those who try to hide under Christianity or Islam, will be tackled and prosecuted.

We have been given faith to live our lives in obedience to the Almighty, and to let that obedience manifest in our kindness to others, the honesty of our conduct and the consistency of our hard work. Care and compassion for others is one of the noblest ways of demonstrating love for God.

We implore everyone to do their duty to uphold peace and security in Kaduna State. We should not allow differences in faith to be a barrier to harmony or a cause for conflict. Nobody can impose the tenet of his faith on another person. The decision to observe any religious activity is the prerogative of the individual.

Let us all remain vigilant and report any suspicious activity to the security agencies.
Photo Credit: PUNCH