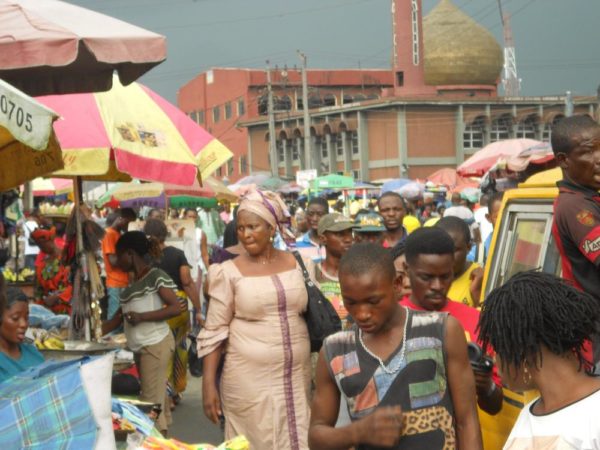 Tobi Osunkoya was a meat seller before he became a bus driver. A stout pot bellied man in a faded Ankara print Kaftan and with the patent cheerfulness of aged people. He says this bit with unmistakable pride, perhaps to prove that he has had other experiences besides the disorderliness that is the Lagos driving sector. He says too that meat selling is a quite profitable business , of course nothing like the violence that is Lagos bus driving, without the brutish Agbero's waiting at every bus stop for you to press earnings into their palms, the scuttle for fares and the serial appearance of vehicle vandals.
The place is Boundary market; it is Christmas Eve. For Mr Tobi, however, it is like every other day. Perhaps the increased number of fares to Ojuelegba and CMS make the biggest/only difference; that passengers would hurry after him as expected with last minute Christmas shopping elated him, I knew this bit.
He is sitting inside his empty bus when I arrive, talking to my partner, Ejiro, maybe about why I was running late or maybe of something else, something trivial, perhaps why the harmattan made it difficult for one to rise in the morning.
Ejiro does not reply my greetings; she is upset that I arrive late. She does not know that hell hath no fury like Lagos traffic on Christmas Eve, that even the bike I had boarded when the buses seemed to move no more although prominent for slicing in between narrow divides of cars was also somehow caught in traffic.
"The guy is down with Malaria," She says. She is talking about the photographer who was supposed to join us. I nod flippantly, retie my sweater around my neck in bid to tackle the cold someway and tease her about how beautiful she is looking, she manages a laugh.
"I think we should start now," I say, but Mr Tobi does not clearly understand, I want to say it in Pidgin but my Pidgin is not fluent, as with many other languages, I speak it with the manacles of one accustomed to speaking English and oh, I hate this!
"Pa, make we start so we no go waste time" Ejiro says in Pidgin and his eyes light up in comprehension. I wish I were like her for one second, the effortlessness with which she says it, without hesitating to think of the next word, the articulation.
My jotter is ready and so is my Lenovo phone, whose modest recorder app would today play one of its biggest functions in its one-month long history.
He tells us first that he grew up in a discreet village somewhere in Ogun state, that when the meat selling business became unprofitable and with the increasing, number of unemployed graduates because of whom he saw no need for school, his brother introduced him to a friend who gave him his bus to drive.
"Na so many people dey take start," He says "Nobody dey buy bus on their own"
His answer, of course, postulates that at some point people actually bought their own buses, that in a good-looking future, they retired from splitting their day's earnings between them and their bus owners and worrying persistently about damages and invasion from vandals.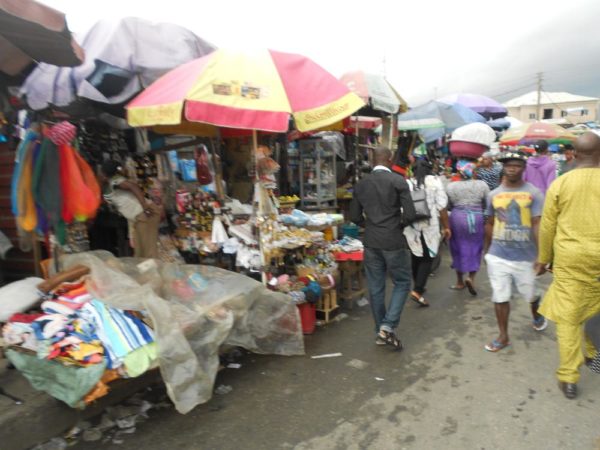 Nevertheless, this is not the case for him. Over ten years into the business of bus driving and he has been unable to buy his own bus. He states this as his biggest challenge, splitting his daily earning of slightly above three-thousand naira between him and his bus owner, alongside starting bus driving without a license.
"Without license, all of us start," He says again, generalising another detail and I feel a sudden sprint of fear in my chest at the thought of drivers without licenses cruising Lagos roads confidently.
Mr Tobi has five children, who attend the tuition free school of the local government, and a daughter who is married. I "Oooh" in exhilaration when he says this and we all laugh; it is easily the only language we all understand, laughter. It is visibly less confusing than my disturbing fuse of English and Pidgin (saved only by Ejiro's modifications), visibly less tasking.
And in that moment I realise how beautiful laughter is, how collective, widespread, like fine-tasting music, laughter is complete.
He says his earnings from bus driving is enough for his family to live on, they are perhaps the sort who trimmed their needs till they became wants and although I did not expect him to say anything else, I really did believe him.
In future, Mr Tobi does not plan to retire, age is catching up on him but he says this does not matter. He plans rather to buy his own bus, things would get better then, he would make more money and his kids would attend better schools. I imagine him; better grizzled than is he now, frail bones and shaky hands, speeding along Lagos roads and I marvel at such love for a profession considered dreadful by many.
"Abeg, no join" is his advice when I say peradventure I want to be a Bus driver, we all laugh, again, that complete laughter, and yet I know he is dead serious, I can easily tell.
The sun is blistering when we walk away from him, as if furious at the harmattan for taking its spotlight. It is searing my skin and making my afro itch.
I regret bringing my sweater, but I do not say a word to Ejiro, we do not say anything at all. Perhaps like me she is coming to terms with a life that is so different from ours, with trying to imagine how people lived it. Perhaps she is admitting to herself that beyond the smiling face of Mr Tobi and his seemly vacant expressions, there are simply stories we would never know and she was comfortable with this admission, because I was.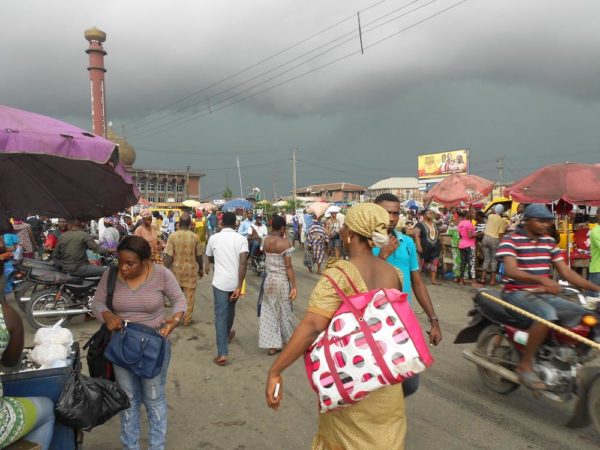 Rasheed Onigbinde has been driving for 27 years. The next driver we talk to, he is youthful, properly dressed, in a trim Kaftan and glossy pointed shoes that caught the sun's rays and reflected it back at me like the flipside of an oily frying pan and this stuns us.
With him, I can speak fluent English, and although his replies are not exactly silver-tongued or void of mistakes, they are more than one would expect from a bus driver, from any uneducated person at all.
He speaks English with the custom distantness and gratitude of one who mastered English simply by being around educated people, the indebtedness to the language. He does not own it, and frankly, I realise, neither of us do.
He was born in 1968 Ibadan and left in form 3. He thus identifies more with Lagos as his childhood than the rusty roofs of a hometown he left behind.
After he received freedom in 1986 from the garage, in which he learnt to be a mechanic for four years, he decided to go into driving. He believed his experience as a mechanic would give him an edge over other drivers.
Luck smiled on him three years later, in 1989. A friend who perceived him fit introduced him to the business, gave him his own bus, and in April 1990, a year after driving, he got his first driving license.
He opens his wallet to show us the laminated ID card before I can say it is not necessary and in that moment, I get my first intuition about his personality. It is "self assured" "bare all" and I admire these traits.
I look at Ejiro and I know she thinks these things too. I vow to ask her later but I do not remember.
He reminds us that driving for someone initially came with its shortcomings and that this coupled with safety issues, primarily armed robbery were the major challenges he faced.
"I understand the value of education and I know how important it is," he says when he discloses to us that he has five children scattered in various universities and polytechnics across the country.
He says this bit with plain well-deserved pride, with the satisfaction that came from knowing his children got all of what he did not and then again, I get my second intuition about his personality. He is a "survivor", a "I know what I want"
Today, Rasheed Onigbinde is no more the coy mechanic venturing into a business that could not assure him of a decent future, he no more presses part of his day's gains into the eager palms of bus owners.
Today, he owns two buses, rarely drives and is more active as the assistant secretary of the National Union of road Members for the area, a post he is unsurprisingly very proud of.
His motive for joining the association was simple "It is not fair that the people in the association are just people, not drivers or past drivers who know what we pass through," He said "That's why I joined the association, so I can represent my people, better than anyone else, because I know what they want"
Today, he owns a house somewhere in Lagos, receives over four-thousand naira daily from his drivers and plans to retire in the future.
For him, life's motto has always been "To make sure I know what I am doing, invest wisely and become a person in this world"
My heart leaps when he says this and I find myself marvelling at this man content in his definition of 'become a person', a definition my engineer Brother would call limiting and my Pastor would frown at. I marvel at his insight and astuteness, it is uncommon amongst bus drivers, or this perhaps is because I have never spoken to any of them in this way.
I realise then that not everyone must have big dreams, not everyone must want to win the Caine prize and be a New York Times bestseller, go on book tours and sign thousands of books for eager fans, or be granted audience at the White House. Not everyone wants to be eulogized when they pass on by millions of people, or given a star on the walk of fame.
For some however, these concepts of dreams come in smaller pixels, imaginable, possible if one tried hard enough, beyond reach, but still within reach. They are dreams, but they are the feasible dreams, the "I can come to pass" dreams. But we all must have dreams.
"It's not about where you find yourself, but what you do with it" is what he answers when I ask him of his opinion on my joining bus driving and I am once more amazed that this well-dressed man in pointy shoes teeming with wisdom and integrity never had a University education.
We are ready to leave then and as I look at Ejiro, I know she is mad at the photographer for not showing up.
"My phone camera was not so bad in Mr Tobi's photo," I say as we leave the park "perhaps we should have used it with him too"
She waves me away; she does it often, waving me away. It makes me mad and I wonder how she learnt it, but as with every other thing, I do not say a word.
I do not want to ruin the moment; we are too drowned in our thoughts. Outside, I wave at the man who introduced us to them; he is calling passengers to another CMS bound bus.
"Thank you," I say, he nods but I barely see him, I am lost in my thoughts. I am thinking about Mr Tobi and Mr Rasheed and about how similar their stories are- each a chunk of the big cake that is life, each satisfied with this chunk.
I know I will go home and life would get in the way, that I will watch my favourite Mnet shows and think less about them, if at all. I know I will wish I can run into them someday and wonder if they will remember me without assistance, or I might not wish to run into them. I might toss my note pad into my closet, type and dump it on one folder in my Laptop, misplace the recording and try to juggle life as a single Lagos Boy and a feature writer.
Yet somehow, I know I will not do that. I know I will write about them, about laughter, dreams, family, and the harmattan. I know I will write about peace, self-satisfaction and finding love in little things, because I believe that stories deserve to be told, that every story deserves to be told.
Photo Credit: Somto Onyeka