Yesterday Radar Online exclusively dropped the story that 18-year-old Malia Obama was captured on video smoking marijuana at a popular music festival in the U.S., Lollapalooza.
The first-born daughter of the United States President Barack Obama and his wife Michelle got admission into Harvard University but is taking a 'gap year' before she resumes college in 2017.
The internet broke when the video came out – people have had different reactions ranging from defending her (see some reactions below) to saying people should focus on the upcoming elections and Donald Trump (this includes Chris Brown) to trolling the girl who released the video, putting emojis of rats and corn (implying she's corny and a rat for snitching), to criticising Malia for setting a bad example.
Watch the video below

Chris Brown left a comment defending the 'first daughter' on The Shade Room Instagram –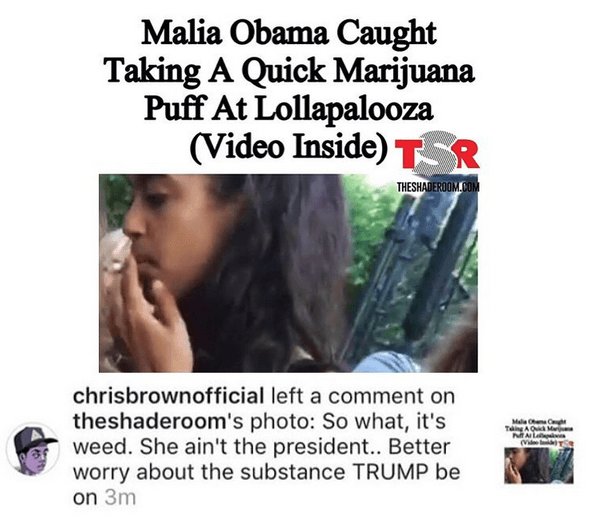 Many also defended her, including media publications –
You should probably go fetch your life .. She has hers… #MaliaObama pic.twitter.com/u58X52pTqQ

— Nathan Allen (@workwthecoach) August 11, 2016
Malia Obama smoked weed?

Oh wait… like her dad did also at her age? The current president of the United States?

Darn devil's lettuce.

— spicy boi (@StrainCentral) August 11, 2016
Who cares if Malia Obama was smoking weed? Her life is not for our consumption: https://t.co/ewTl4NvG97 pic.twitter.com/CQsWg0RwwB

— Complex (@ComplexMag) August 11, 2016
There has been no official word from the White House on the matter yet.