Enjoy a big bouquet of Entertainment this September with DStv Compact & DStv Premium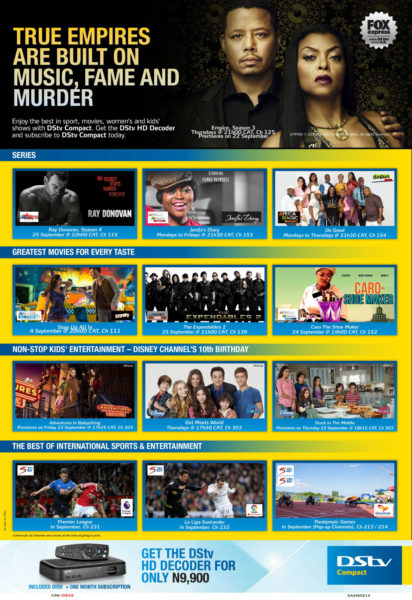 With September comes the fall, and with that lots and lots of new fashion releases and breathtaking outfits which we can all follow at the fashion shows, or simply watch on DStv… but hey, there are a lot more things you can watch on DStv besides fashion… infact, you can watch EVERYTHING on DStv including fashion!
The DStv Compact bouquet offers over 95 channels for only N6,000 per month with TV shows like Empire Season 3, Jenifa's Diary, Ray Donovan, and more. Enjoy the best movies like Step up, The Expendables, and Caro the Show Maker; don't miss the Premier league and La Liga games on SuperSport 11 and 12 and the special Disney shows this month.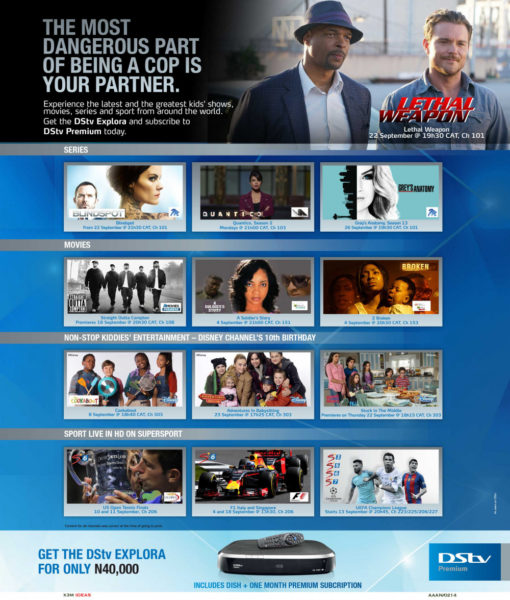 And if you need an even bigger bouquet of entertainment? Go for DStv premium, with over 130 channels packed with TV shows like Lethal Weapon, BlindSpot, and Grey's Anatomy! And when it comes to movies, you are in for a good treat with Straight outta Compton, A Soldier's Story, 2 broken and more. Catch the best sporting moments on SuperSport 3, 5, 6, and 7 plus more than enough entertainment to keep your kids engaged with Disney channel.
Get a DStv Explora or HD Zapper decoder today, subscribe to the Compact or Premium package and experience a September filled with unmatched entertainment.
___________________________________________________________________
Sponsored Content