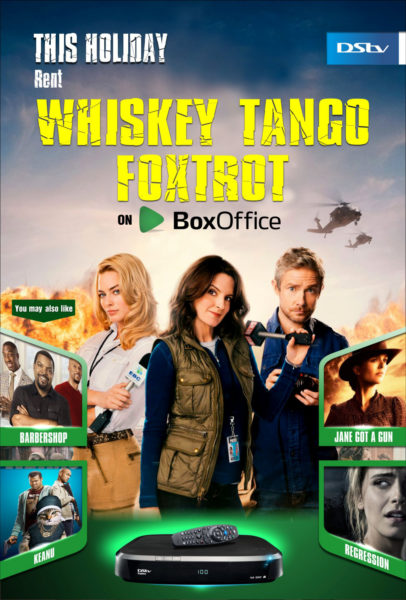 Whena TV news journalist (played by comedian, Tina Fey) decides to shake up her career and take a 3-month assignment as an on-air reporter in war-torn Afghanistan, she quickly finds that she is way out of her depth. Whiskey Tango Foxtrot follows her journey from feeling lost in a new place to finding her feet and finding her calling – all with a dash of comedy thrown in.
Rent this amazing movie today at only N400 for 48 hours but your first movie is on us.
You may also like: Barbershop, A Fresh Cut, Keanu, The Huntsman: Winters War, Jungle Book, Rachel and Clark, Black way, Regression, Jane Got a Gun.
To rent these and other exciting movies on DStv Box Office, press the green button on your DStv remote. It's that easy.
BoxOffice is available to Compact, Compact Plus and Premium subscribers on the Explora.
Rent a movie now. Go to www.boxoffice.dstv.com
_________________________________________________________
Sponsored Content