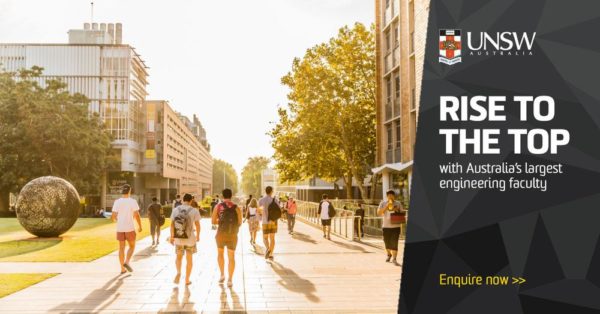 Would you like to study in a prestigious University located in one of the best cities in the world?
 Look no further; your successful career starts with UNSW (University of New South Wales) Australia. With programs designed for your career, award-winning teachers and academics, stronger links to industries and exposure to job market.
 Why Study in UNSW Australia?
 UNSW Australia is the premier choice for globally recognized degrees, record breaking research and modern facilities.
UNSW Australia has the largest and best-ranked Engineering faculty and the leading full time MBA in Australia (As listed by Forbes).
With 52,000 students from 128 Countries, studying at UNSW Australia, it is surely going to be one of your most rewarding experiences.
Visit any of the below PFL offices to meet the UNSW delegates with opportunity of on spot admission offer between 19th to 28th of September, 2016.
 Visit Schedule
Ikeja
Date: Monday, September 19th, 2016
Time:10:00am – 4:00pm
Venue: 49 Sobo Arobiodu Street, GRA, Ikeja, Lagos.
Tel: 07045265163.
Email: folasade.eboh@preparationforlife.com
Lekki
Date:  Tuesday, September 20th , 2016
Time: 9:30am – 11:30am.
Venue: Landmark Building, Ikota, Lekki – Epe Expressway, Lekki, Lagos,by
Tel: 07045303606.
Email: titilayo.onayinka@preparationforlife.com
Victoria Island:
Date: Tuesday, September 20th, 2016
Time: 12 noon – 4:00pm.
Venue: 296B Jide Oki Street, Off Ligali Ayorinde, Victoria Island, Lagos.
Tel: 07045303637.
Email: esther.igwe@preparationforlife.com
Ibadan:
Date: Thursday, September 22nd, 2016
Time: 11:30am – 4:00pm.
Venue: Opposite The Palms Shopping Mall (Shoprite), Oni and Sons Way Ring Road, Ibadan, by
Tel: 08075492024.
Email: ikenna.uyanmasi@preparationforlife.com
Abuja:
Date: Monday, September 26th, 2016
Time:10:00am – 4:00pm.
Venue: Silverbird Entertainment Centre, Central Business District, Abuja.
Tel: 07042924007
Email: chika.ike@preparationforlife.com
Port Harcourt
Date: Wednesday 28th September 2016
Time: 10:00am – 4:00pm
Venue: Item house, No 82, Tombia Extension, GRA Phase 2, Port Harcourt.
Tel: 07042924008
Email: stephanie.edomidaghan@preparationforlife.com
Pre register via this link goo.gl/Ge2Af5 for the location of your choice.
____________________________________________________________
Sponsored Content