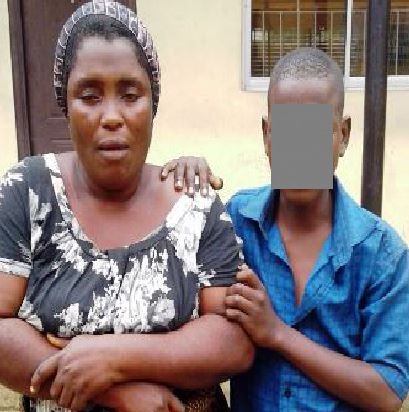 A 40-year-old mother of 6 has been arrested by officers of the Lagos State Environmental and Special Offences Unit Task Force for using her 11-year-old son to beg, Vanguard reports.
The suspect, Chinagoro Uwenke, was arrested in the Oshodi area of Lagos state, where she was begging for alms. Uwenke made passersby believe that they were victims of a fire incident.
She normally wraps a bandage, stained with a liquid substance round her son's leg, to make it look like pus from untreated burns.
She was arrested after the officers of the Task Force demanded to see the injury on the boy's leg. When the bandages were removed, it was discovered that the child had no injury.
Vanguard reports that both mother and son were then arrested, adding that preliminary investigation showed that the suspect had been engaged in the alms-begging business for five years.
Uwenke, during interrogation said that she made between N3,500 and N5000 daily.
"I live at Oloko-Dana, Ijora-Olopa area, in Oyingbo. I am from Abia State. Yes, my son is hale and hearty, but I took to begging because it is lucrative. I make more money at Oshodi than any other area because of the number of people that pass by daily.

I withdrew my son from school back in Abia and brought him to Lagos five years ago to use him to beg for alms. That is what most people do. This is because people take pity on children. My five other children are with my husband in Ata town, Abia State.

What I do is to wrap his leg with bandage, after which I would pour GV and other liquid substance which will make it look as if it is an injury that refused to heal. I would then beg people to help me with money to take him to the hospital. Some will even give without me begging them.

But I am appealing to government not to take me to court. If I am left off the hook, I promise to go back to the village and join my family," she said.
The arrest was confirmed by the Chairman of the Task Force, SP Olayinka Egbeyemi.