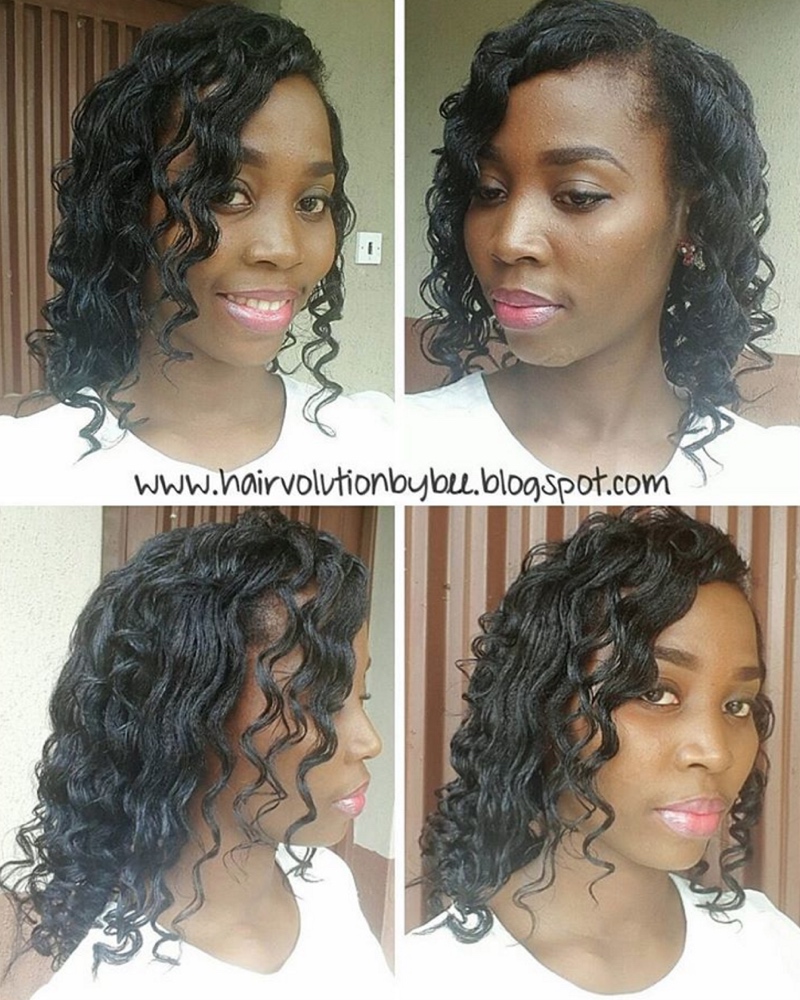 Today's #BNFroFriday interview features the lovely Adebobola Adedeji. Popularly known as Bee, Adebobola is a Food Safety Specialist, Baker, healthy hair enthusiast and a salon owner. She told us, "I've always loved my hair but I didn't know the best and right way to care for it until about 2 years ago." It was this love for healthy hair that made her open her hair salon called HairvolutionbyBee Lounge, which is in Ile-Ife. Read all about her healthy hair journey below and how she just might be going natural soon!
BellaNaija: Tell us about your hair  
Adebobola Adedeji: I'm Nigerian (Yoruba) and my natural curl pattern is 4B/4C. My hair is quite dark/black. However, I have a number of grey strands in front. I started using Henna to cover the grey strands so they are red now.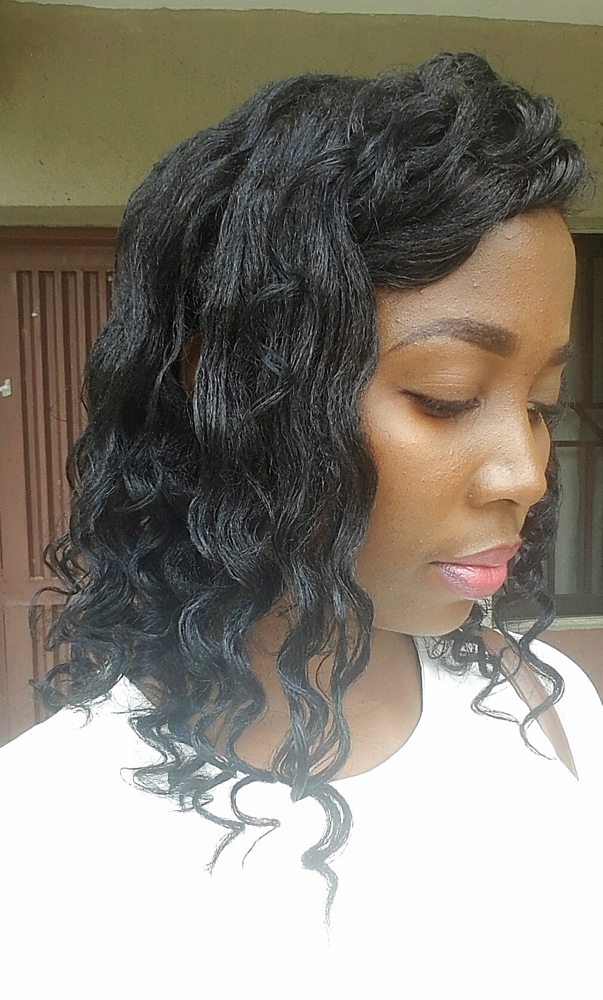 BN: When did your journey to healthy hair care start and how did it start?
AA: I started my healthy hair journey in May, 2014. Before then, I was so frustrated with the amount of breakage I was having, so I decided to do some research on the Internet. I found pictures of several African and Nigerian ladies that had waist length hair. I was amazed and this made me challenge myself, that if they could do it, I could too.
I started learning and unlearning things. I discovered a lot of bad hair practices that were responsible for my hair woes. One major challenge I encountered on my healthy hair journey was "salons". Most were ignorant, and some were also obstinate and set in their ways.
I resorted to making my hair myself for almost 2 years until I decided to open a healthy hair salon; HairvolutionbyBee Lounge, Ile-Ife. I believe this would help a lot of hairlistas around here. (Follow her on Instagram with @hairvolutionbybee)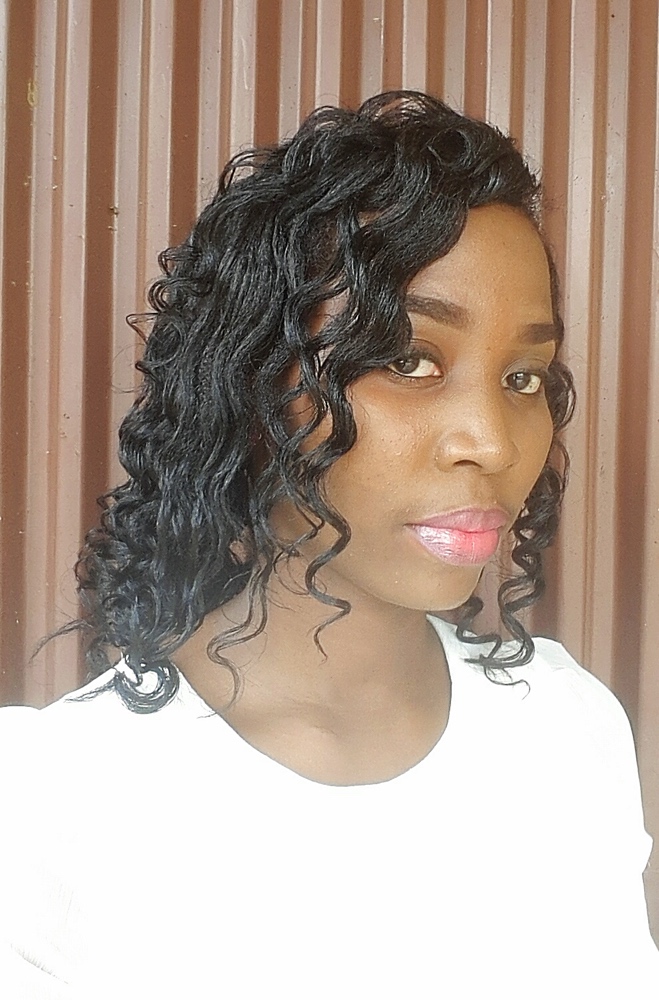 BN: How often do you wash your hair what products do you use?
AA: I wash my hair at least once in two weeks but I've also learnt to listen to my hair. Sometimes wash days are more frequent, other times less so. I will never go longer than 3-4 weeks without washing my hair though.
Products
Shampoos: Creme of Nature moisture and Shine Shampoo, ORS Creamy Aloe Shampoo, Vitale Olive Oil Anti-breakage Neutralizing Shampoo, Liquid African Black soap
Deep Conditioners: ORS Replenishing Conditioner, ORS Hair Mayonnaise, Motions Moisture Plus Conditioner, Aphogee Keratin Two Minutes Reconstructor, Aphogee Two Step Protein Treatment.
Rinse-Out Conditioners: Alberto VO5 Conditioners
Leave-in Conditioners: Profectiv Megagrowth Daily Leave-in Strengthener, Aphogee Green Tea Keratin Restructurizer, African Pride Moisture Intense Shea Butter Miracle Leave in Conditioner
Oils and Butters: Grapeseed oil, Vitamin E oil, Coconut oil, HairvolutionbyBee Whipped Shea butter, Lavender oil, Peppermint oil and Tea Tree oil
Moisturisers: Luster's S.curl Activator Moisturizer, Cantu Shea Butter Natural Hair Creamy Lotion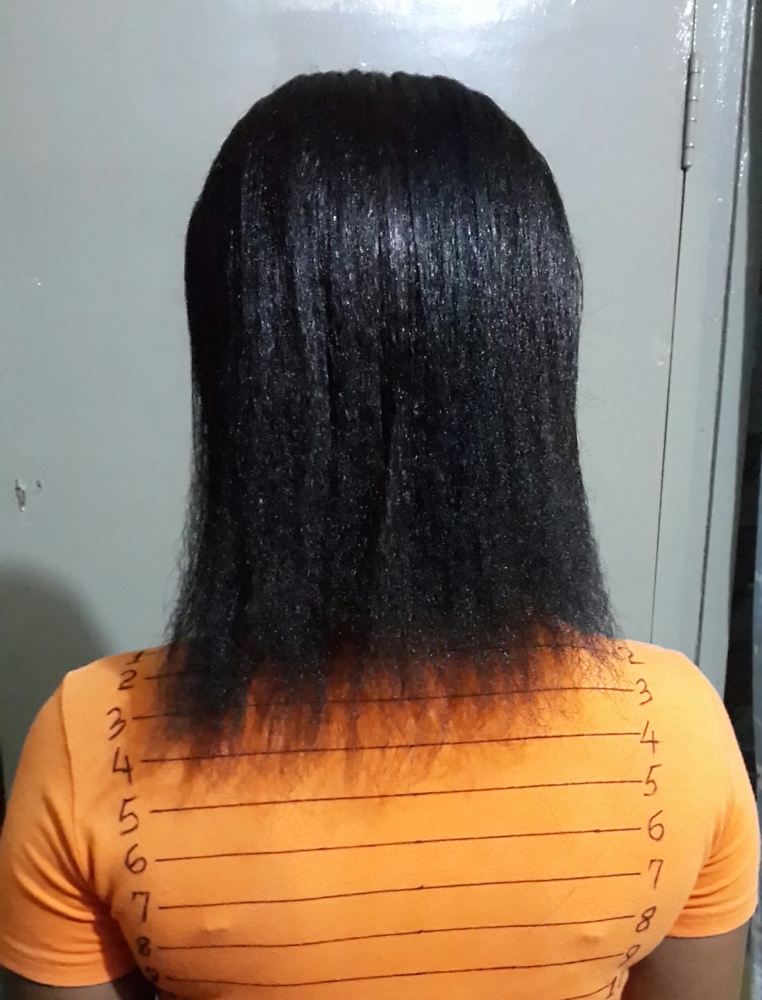 BN: Do you think your long hair is more genes than actually taking care of your hair?
AA: The length of my hair is definitely not genes but it's a result of good hair care practices. My hair was struggling before I started my healthy hair journey as pictured.
BN: Do you fully relax or texlax, how often and do you believe in spacing it out?
AA: I texlax my hair. I touch-up every 16-20 weeks. Relaxer/Texlax stretching or spacing is key in having healthy relaxed/texlaxed hair. One major culprit of unhealthy relaxed hair is overprocessing especially by overlapping touch-ups.
Relaxers should ONLY be applied to NEW GROWTH. This would be difficult if the new growth is less than one inch. Since the average hair growth rate is 0.5 inches per month, it's best to wait at least 8 weeks, preferably 10 – 12 weeks before retouching.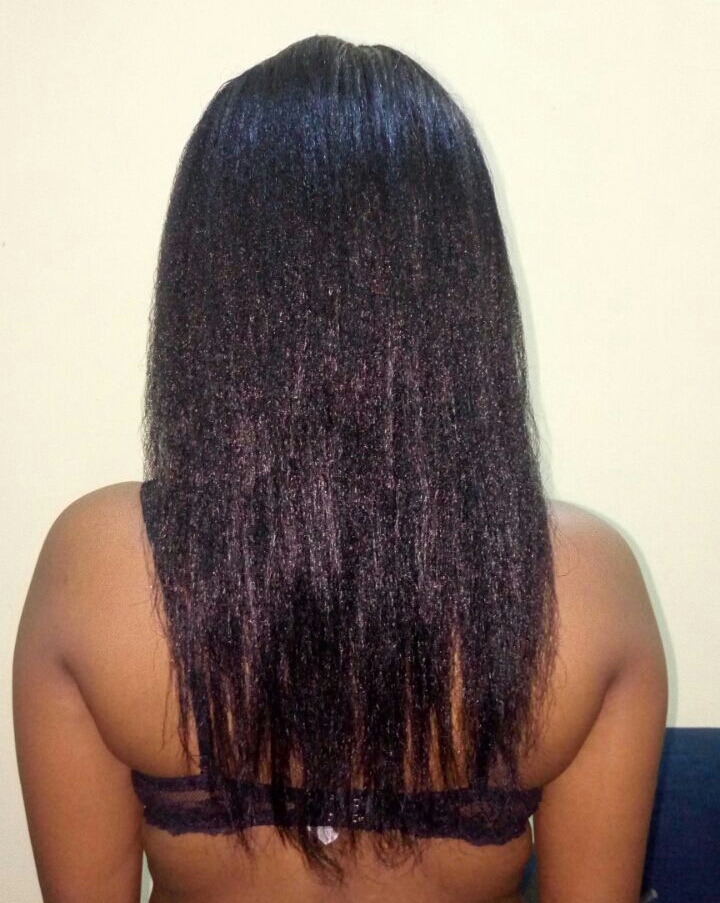 BN: What's your stance on natural vs chemical products
AA: I prefer natural products because everything used on skin or hair eventually gets absorbed into the body. So one must be careful. However, there are some chemical ingredients that are good for some hair types. For example, my hair loves good silicone.
BN: At what age do you think it's suitable for a child to relax their natural hair?
AA: Sigh. This is a tough one. I personally prefer kids keep their natural hair. However, if a parent feels it's best to chemically alter their child's hair, they should make sure it's done properly and by a professional. I also think the child should not be younger than five years old.
BN: Have you ever coloured your hair, what was the result/outcome, would you do it again?
AA: I've never used artificial colour on my hair and I don't plan to. I believe the relaxer is enough chemical stress for my hair. I use Henna, and I love the results in terms of strengthening and red highlights so far.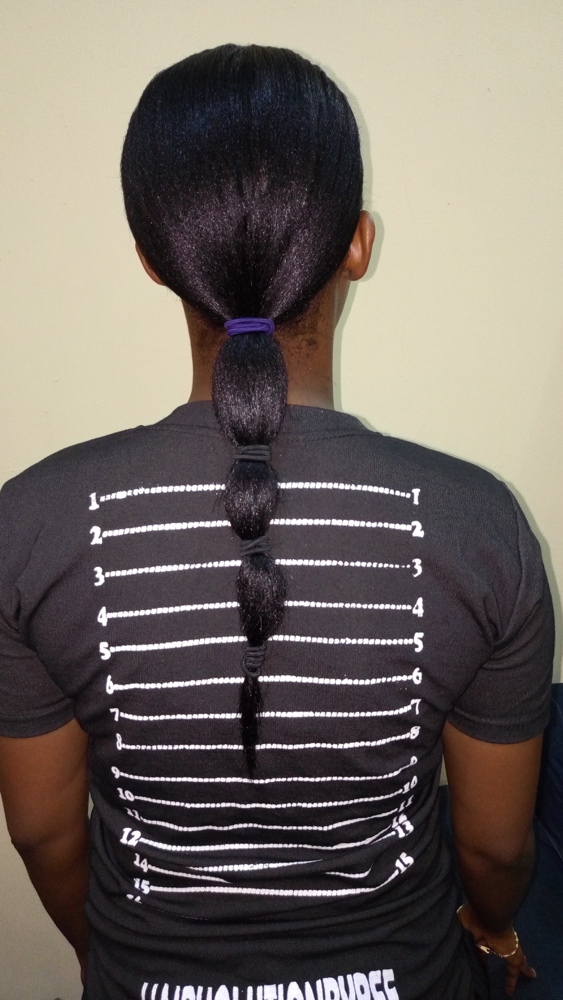 BN; How often do you cut/trim?
AA: I'm somewhat "scissors happy" so I trim/dust a lot. The state of my ends usually determine when I trim, but I definitely trim after every texlax touch up. At least 4 to 5 times in a year overall
BN: How does climate where you live affect your hair? How do you deal with negative effects of climate?
AA: I usually adjust my regimen or products to suit the weather or season. I use more Glycerin/Honey based products during rainy season, while I moisturise more and seal with heavy butters during dry season.
BN: Have you ever experienced breakage with your current hair, and if so what did you do?
AA: Whenever I notice breakage, I try to determine if my hair needs more moisture or protein. Then I give it TLC by reducing manipulation. I also do tea rinses every now and then to reduce shedding.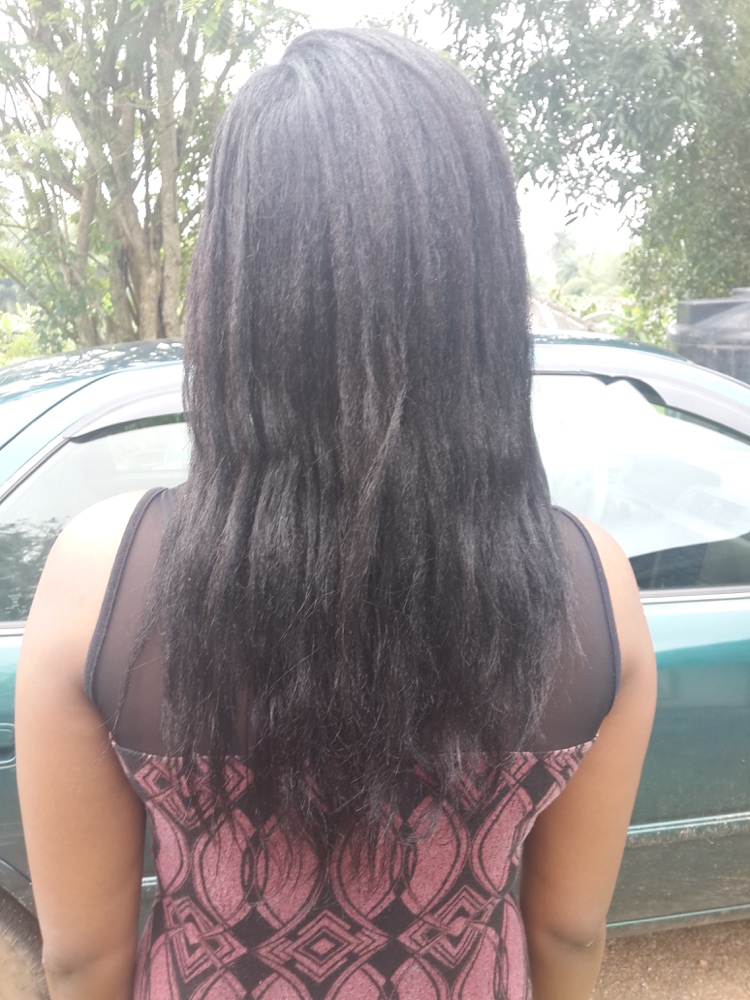 BN: Have you ever considered going natural or felt pressured to?
AA: I would definitely go natural (love it) but not yet. I'm still loving my texlaxed hair for now. I've personally encouraged a lot of people to go natural, my mom inclusive. I'm just not ready yet.
I also want to prove a point that chemically altered hair can also be long and healthy. It's about the hair care and consistent regimen
BN: What are your favourite styles to rock and why? How do you care for your hair when it's in its protective style?
AA: I love wigs, I believe wigs are the ultimate protective styles. When using wigs, I put my hair in cornrows or calabar braids. Then I spritz them with a moisturising spray, put on a wig cap then put on the wig. I also moisturise and seal my hair and oil my scalp at least once in 3 days. I wash, deep condition and redo my braids or cornrows every 2/3 weeks.
I also love crochet styles and simple updos. I love them because they are quite easy for me to make and/or install myself. Yes… I make my own wigs. They also allow my scalp to breathe and I have good access to care for my hair too.
Thank you very much for the opportunity
See more Photos
Thanks for sharing your story Bee!
If you'd like to be featured, send an email to [email protected]!