US President-elect Donald Trump has returned to Twitter to denounce reports of disorganisation in his  team overseeing his transition to the White House in January.
In series of tweets, he  singled out the New York Times for saying world leaders have had trouble getting in touch with him.
Trump listed several world leaders he had spoken with since his upset victory in the November 8 presidential election.
The Times, a frequent target of Trump's Twitter blasts, said on Tuesday that U.S. allies were "scrambling to figure out how and when to contact Mr. Trump" and blindly dialing in to Trump Tower in New York to try to reach him.
The newspaper said Trump, who has never held public office, was working without official State Department briefing materials in his dealings with foreign leaders.
Trump has mostly stuck to normal practice for a U.S. president-elect with the order in which he has spoken to foreign leaders since his surprise election victory over Democrat Hillary Clinton.
But some of his contacts have stretched the limits of the usual protocol, leaving some U.S. allies rattled about Trump's foreign policy instincts and priorities.
On November 13, Trump had also on Twitter stated that New York Times was now remorseful over the way it covered his campaign for presidency. He said the paper has lost subscribers.
It was the same day he also announced on Twitter that the Bushs, who were against him, have called to congratulate him over his victory.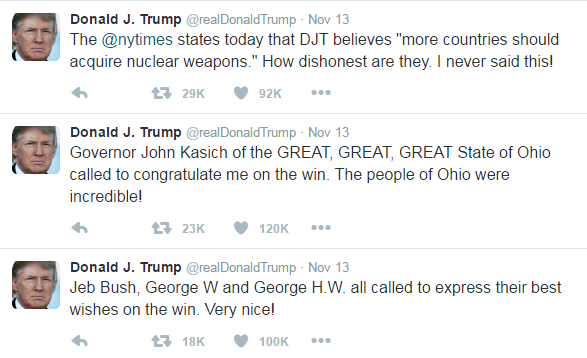 Trump had promised to resist tweeting after his surprise election last week, but it appears, old habits will die hard for the 70 year old, real-estate businessman.