Enjoy the Ultimate Shopping Experience at The Nectar Beauty Week – Shop And Dine Event Hosted By Nectar Beauty Hub for Business To Customer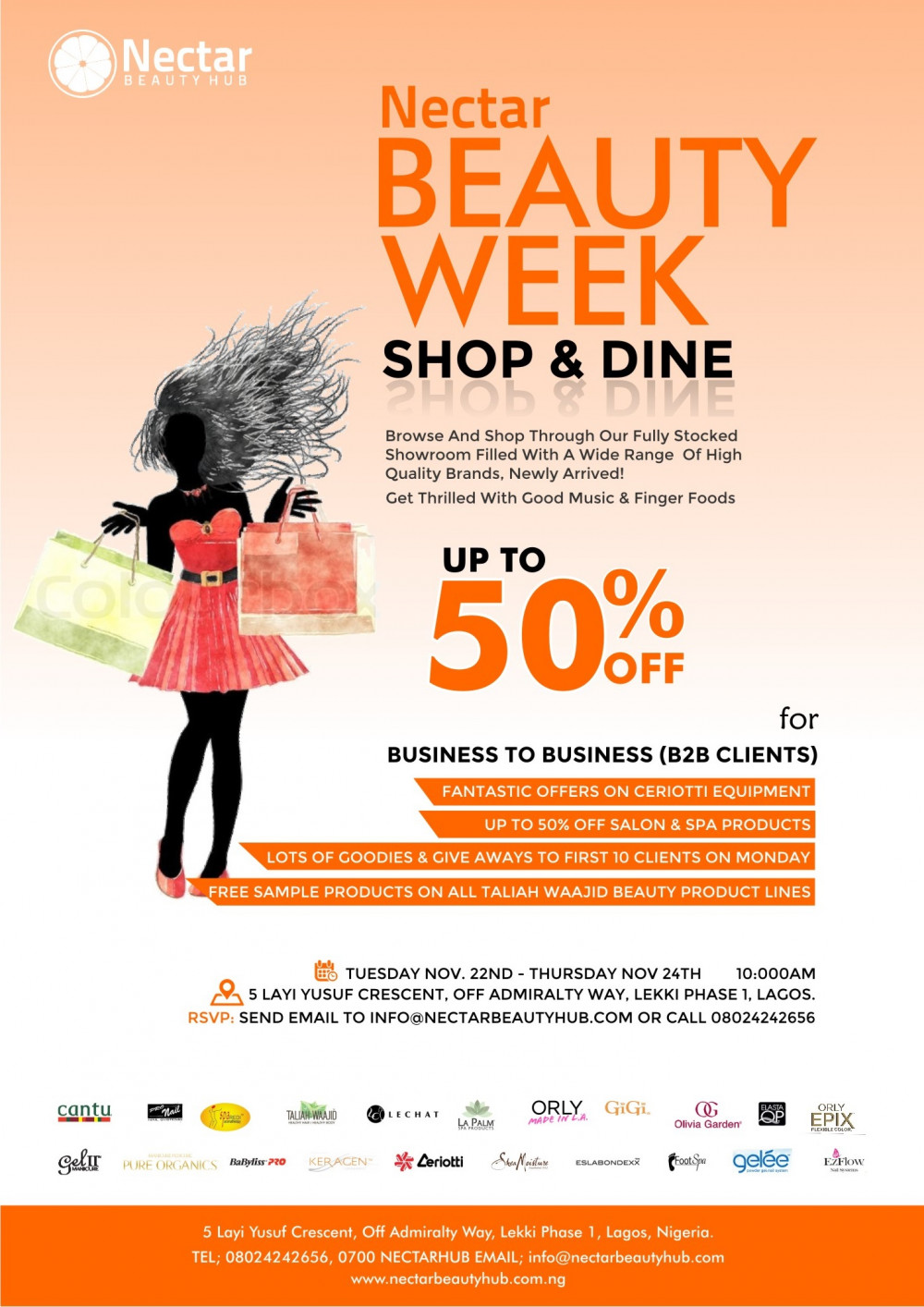 Get away from the usual rigid and tensed shopping this weekend, come experience shopping in a new dimension."Nectar Beauty Week Shop & Dine" event is an opportunity to stock up your Salons & Beauty outlets for the fast approaching year-end sales from the Premium Salon and Spa Wholesaler outlet in Lagos.
The event is organized for beauty shoppers, salon and spa owners, beauty experts, nail bars, beauty industry enthusiasts and the general public. Guests would be thrilled with good music, cocktails and finger foods while shopping and browsing through our showroom fully stocked with new arrivals.
The event is categorized as follows:
Consumers  – Business to Consumers (B2C Clients)
What You Stand To Gain
Lots of goodies & giveaways to first 20 clients on Friday
Free manicures for nail polish purchases from N5000 & above
Free neck massage for purchases from N10, 000 & above
Up to 35% off skin, body & hair care products
Free hair assessment
Free sample products on all Taliah Waajid beauty product lines
Date:  November 25th-26th, 2016
Time: 10am on Nov 25th & 1pm on Nov 26th
Venue: 5 Layi Yusuf Crescent, Off Admiralty Way, Lekki Phase 1, Lagos
Wholesalers – Business to Business (B2B Clients)
What You Stand To Gain
Fantastic offers on Ceriotti equipment
Up to 50% off salon & spa products
Lots of goodies & giveaways to first 10 clients on Monday
Free sample products on all Taliah Waajid beauty product lines
Date: Monday, November 21st – Wednesday, November 23rd, 2016
Time: 10:00am
Venue: Nectar beauty hub, 5 Layi Yusuf Crescent, Off Admiralty Way Lagos.
RSVP: send email to [email protected] or call 0700 nectarbeautyhub, 08024242656, 08024242650
Follow us on Instagram – @nectarbeautyng
Facebook: @nectarbeautyhub
__________________________________________________________________
Sponsored Content