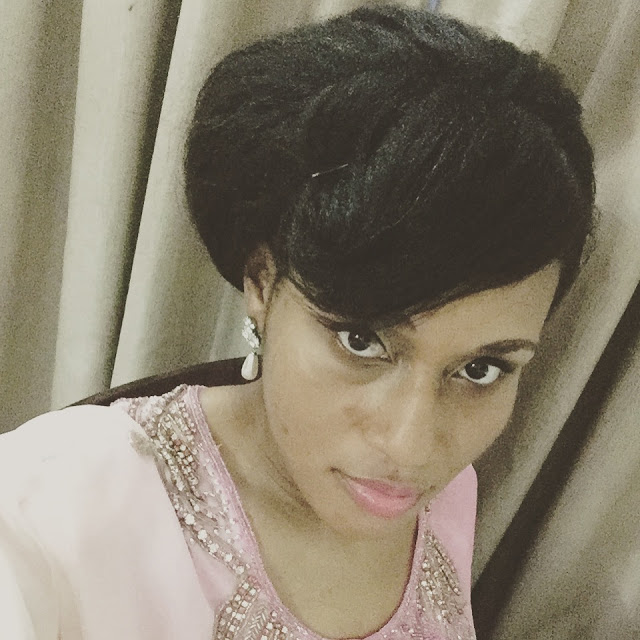 Tonka formerly known as Tonkabelle is a natural hair blogger and an occasional BN Beauty contributor. Here's what she told us;
I believe that everyone regardless of genetics, race and other factors can achieve long and healthy hair, which will at least be the best version of their own hair possible. I explain how to achieve long and healthy hair on my blog at www.wurassecrethair.blogspot.com. I also sell natural handmade hair products under the product line – Wura's Secret; these products stimulate hair growth and promote healthy hair.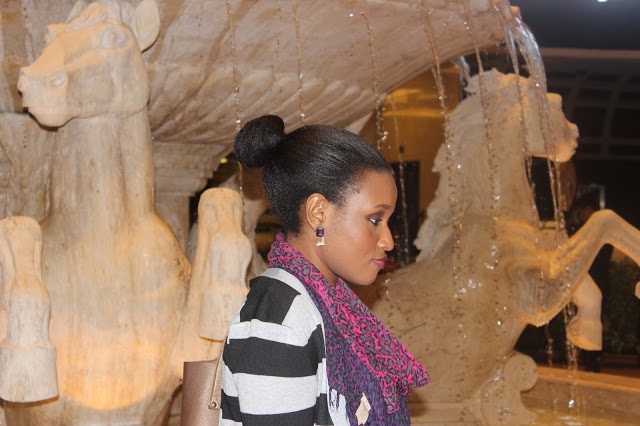 BellaNaija: How often do you wash your hair what products do you use?
Tonka: I typically wash my hair once a week but this depends on how much time I have. So there are times that I might go up to 2 weeks before I wash my hair. However anytime from 8 weeks post relaxer, I may reduce the amount of times I wash my hair to about 10 days or every 2 weeks. It really depends on how my hair is feeling.
There are times I continue with my weekly washes even when I am over 8 weeks post relaxer. I use several products to wash my hair for a clarifying wash I use my trusty ORS Aloe Shampoo which makes my hair so soft, clean and detangled. I do not co-wash as this does not work for my low porosity hair instead I use moisturizing shampoos which are not necessarily sulfate free but have milder sulfates and so they suit my hair. I use the Beautiful Textures Tangle Taming Shampoo or Profectiv Shampoo.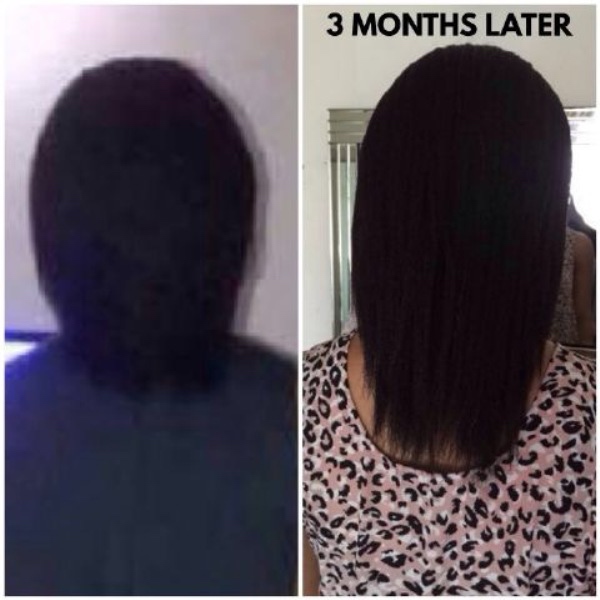 BN: Do you think your long hair is more genes than actually taking care of your hair?
Tonka: Well I definitely think that genes play a huge role in the length of everyone's hair and that is why there are some people who are able to grow their hair longer than tail bone length and beyond with little to no effort. However I do believe that taking care of your hair allows your hair to be the very best version of itself possible.
BN: Do you fully relax or is it texlaxing? How often do you relax and do you believe in spacing it out?
Tonka: I am currently transitioning to fully texlaxed hair after I got a hair cut in August 2015. I texlax my hair every 12 weeks, I do not usually stretch my relaxer past the 14 weeks mark as I believe that this is counter intuitive for my hair. So for my hair I space out the time between my relaxers, but not too much like some people who can go up to 6 months and beyond without getting a relaxer.
It is very important to space out the time between your relaxers to at least 8 weeks so that your hair has actually grown enough giving you new growth to apply the relaxer on. We should never be tempted to relax our entire hair each time we get a touch up rather we should stick to relaxing only the new growth.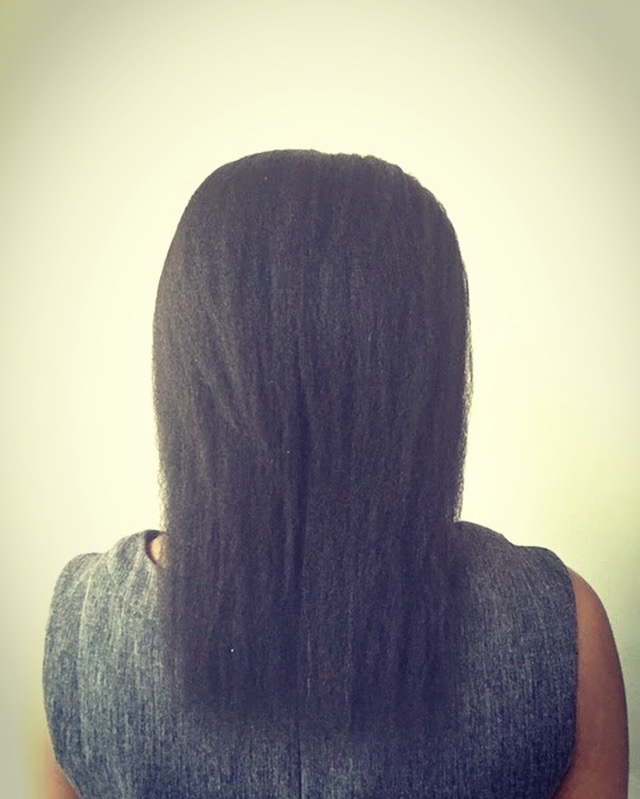 BN: At what age do you think it's suitable for a child to relax their natural hair?
Tonka: This is a very sensitive question because no one wants to tell a mother that something they are doing for their child is not suitable. Personally, I believe most mothers do the best they can for their children. However, I think it is best for children to wait till about 11-13 before getting their hair relaxed.
BN: Have you ever coloured your hair, what was the result/outcome? Would you do it again?
Tonka: I have never colored my hair because of how prone to damage relaxed colored hair can be if you do not adequately care for it. However I have been thinking of using the more natural alternatives like henna and indigo. I just might soon enough as I really want my hair to be darker.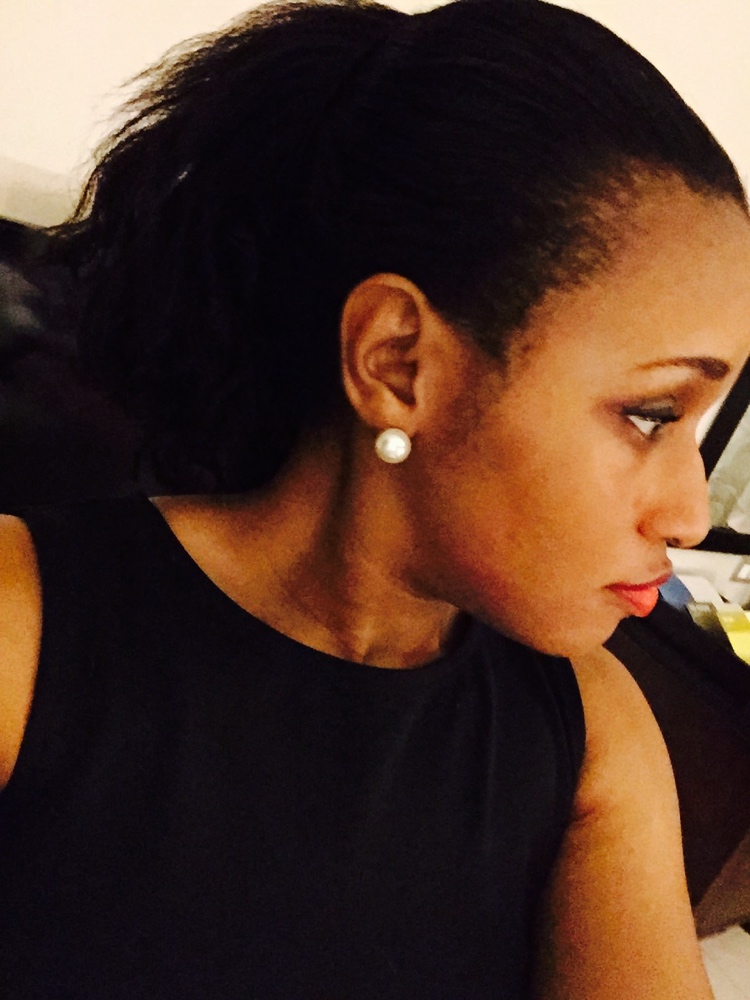 BN: How often do you cut/trim?
Tonka: I do not follow a strict timetable for trimming my hair, I usually only trim my hair if I feel I need to. So about 2-3 times a year I may get a trim. However it really just depends on the condition of my hair.
BN: How does climate where you live affect your hair? How do you deal with negative effects of climate?
Tonka: I do not think our climate in Nigeria affects our hair negatively. We have the perfect weather to grow our hair as opposed to people who live in temperate regions where the Autumn/Winter months can cause excessive shedding and breakage.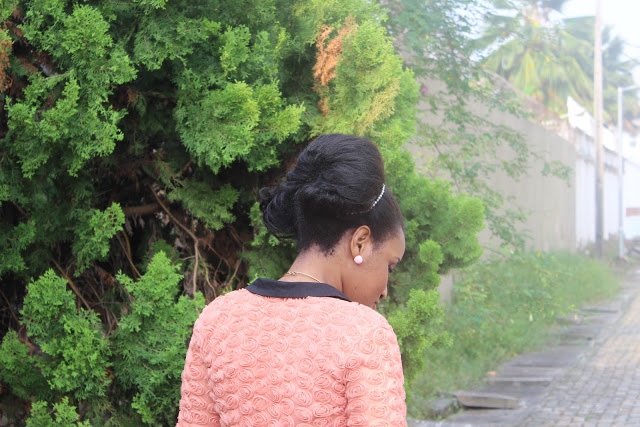 BN: Have you ever experienced breakage with your current hair, and if so what did you do battle it?
Tonka: I have had my fair share of breakage. The absolute worst breakage I experienced was with post partum shedding. After giving birth to my son, I noticed that my hair was shedding and breaking off a lot when he was about 5 months. My edges broke off to the point where I was ashamed to take pictures. However, I am glad I have a few pictures because I am now able to look back at them to see how far my hair and my edges have come.
For post partum shedding, you must be on top of your hair treatments and I was able to get my hair back on track after about 5 months or so. However, I also have to say that your hormones will do what they have to do so the breakage will have to run its course, the treatments only help manage the situation. The major thing was that at the time when my post partum shedding was at its worst, I had given hair care a bit of a back seat because of having to juggle everything – being a new mum, working, blogging and so on.
One of the most important things I did was to use my Wura's Secret Hair Growth Oil on my edges and entire scalp every day without fail and I noticed a tremendous change. I also started being more consistent with my hair regimen. Apart from oiling my scalp, I made sure to wash and deep condition my hair regularly. I also kept my hair in a bun which is an awesome protective style. I never bothered to do twist outs, big buns and so on to reduce manipulation.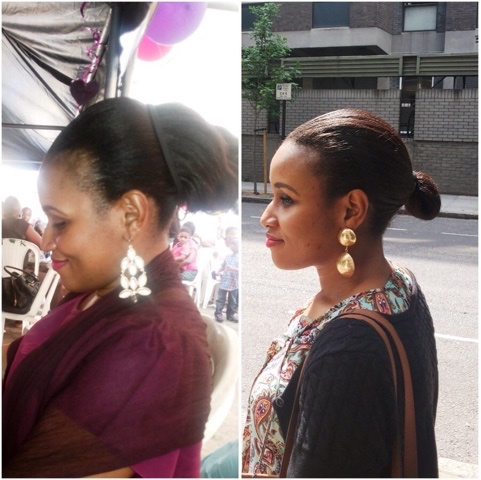 I also formulated a Kid's Hair Growth Oil for my son to help grow his own childhood bald spot (which some babies get). After about 3 months of use his bald spot had completely grown out. I have sold the same Kids Hair Growth Oil which is mildly formulated to other mothers and their children have experienced excellent results.
Exactly a year ago, all the progress I made with my hair after the post partum shedding was cut off at a particular salon by a scissor happy stylist. I have grown my hair out from neck length to grazing APL (armpit length) in just a year which I am really happy about. The main thing for everyone to remember is that during our hair journey we may experience setbacks but we need to pick ourselves up and start again.
BN: What's your favourite type of protective style and how do you care for your hair when it's in its protective style?
Tonka: I do not really like wearing long term protective styles which involves putting extra hair on my own head, because of all the inconvenience it brings such as an itchy scalp, feeling hot in an already hot climate, having to depend on stylists to do the hair style for me, taking the hairstyle out and so on.
Also for longer term protective styles such as weaves, I have a tendency to neglect my hair when it is underneath a weave. So I do not wear any long term protective styles such as weaves or braids, I simply do various updos, buns, faux bobs which keep my ends tucked away and protected. However I recently started trying out a wig so let's see how it goes.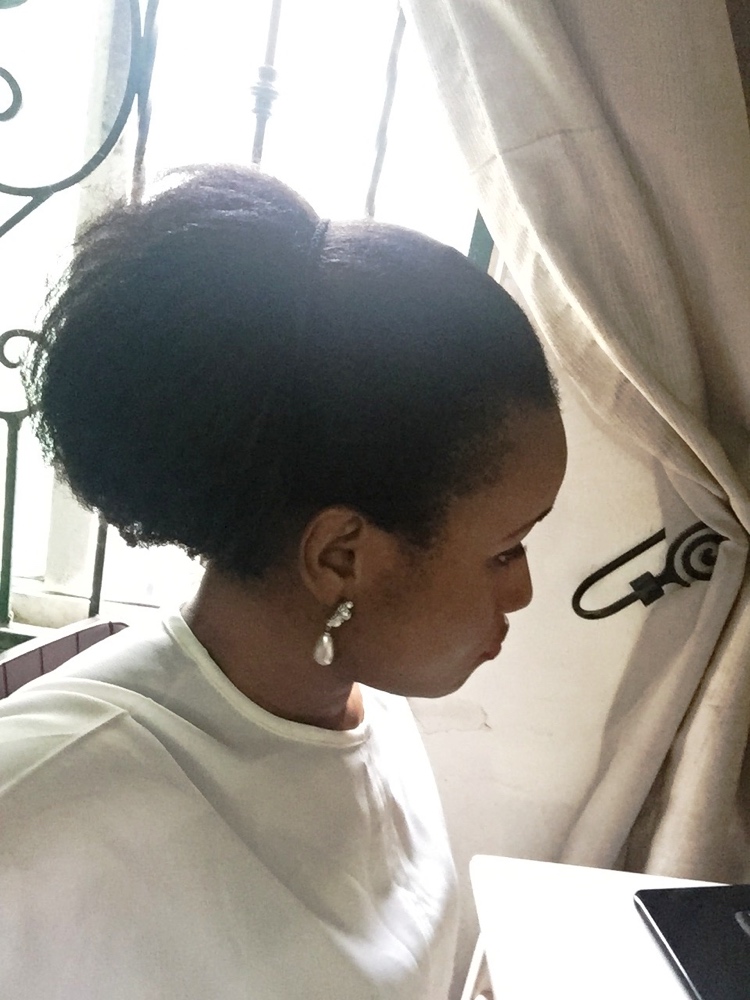 BN: Have you ever considered going natural or felt pressured to?
Tonka: Sometimes I think about going natural and who knows, maybe some time in the future I may go natural but not for right now. I enjoy having my hair texlaxed at this point in my life. I also feel that I can pull off a lot of "natural hair" hairstyles on my texlaxed hair so I do not really feel pressured to go natural. I get a lot of inspiration for how I style my hair from ladies with natural hair, I simply adapt their hairstyles to suit my hair texture.
BN: When did your journey to healthy hair care start and how did it start?
Tonka: I started taking care of my hair properly when I travelled for my Masters Degree in the UK and my hair became a shadow of its former self. Whilst I was over there I would just get a weave done and leave my hair alone without applying anything to it. This was what I used to do in Nigeria and my hair always seemed to do ok.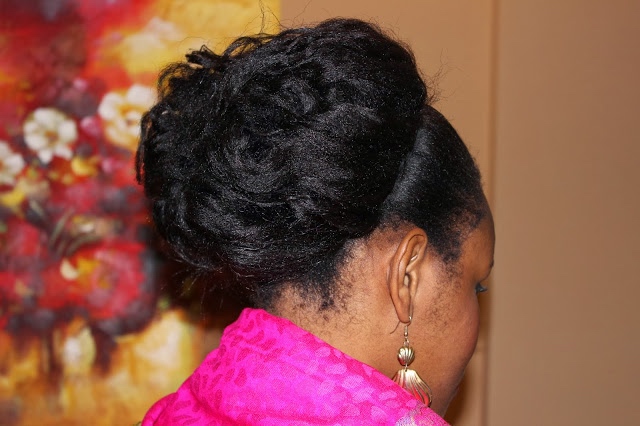 However over there, the Autumn/Winter season took a toll on my hair. As a result, when I took the weave out, my hair had completely broken off and I started looking for ways to improve its health. When I went home for the holidays I contacted my grandmother because I recalled that she used some herbs/oils for her hair and she had always had long hair. She helped me out teaching me step by step on what I was to do.
Within a short period of time my hair even surpassed how it used to be. A lot of people would ask me how I got my hair to grow and I decided that I could actually sell my grandmother's recipes. I named it Wura's Secret after my grandmother. I also started doing a lot of research on black hair and found out that black hair can actually grow to amazing lengths.
BN: What's your stance on natural vs chemical products?
Tonka: I make hair products myself so I know the importance of using natural ingredients in products. I tend to stick to products which have more natural ingredients that I can recognize. I have also noticed that most hair product companies targeted towards black hair like ORS, Crème of Nature, Dark & Lovely, Cantu, have introduced more natural hair products to their range which I think is because they have paid attention to what the consumers want.
BN: What are your must have products and why?
Tonka: My must have product is my Wura's Secret Hair Growth Oil, I like this product because it is excellent for stimulating hair growth, I also make sure to add it to my deep conditioners and use it as a pre poo and as a sealant. I also love the ORS Replenishing Conditioner for the slip it gives, Elasta QP DPR 11 +Conditioner because it is has been a staple of mine, Shea Moisture Shea Butter Hair Masque and my very own Wura's Secret Moistursing Deep Conditioner which is so hydrating. My best moisturizer is my Wura's Secret Hair Moisturiser, the Lotta Body Curl & Style Milk and the Shea Moisture Coconut & Hibiscus Curl & Style Milk.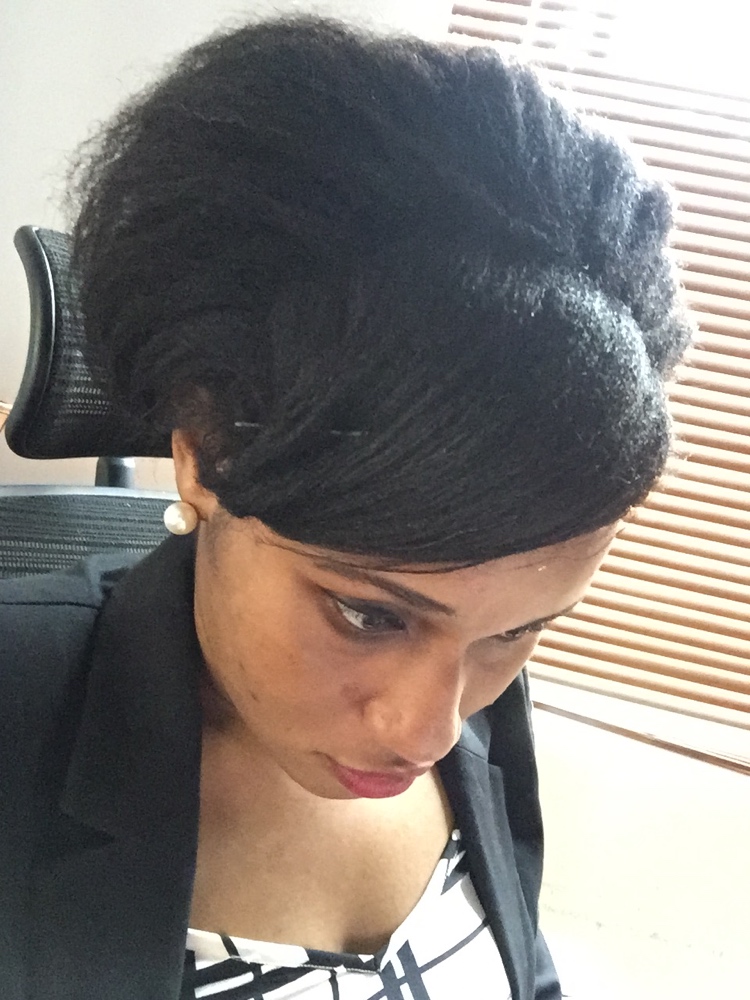 BN: What is your daily, weekly, monthly routine?
Tonka: Shampoo my hair every week or every two weeks. I use a clarifying shampoo once a month. I deep condition every week or every two weeks after shampooing. After deep conditioning, I apply my leave in conditioners and seal my hair.
I moisturize and seal my hair daily or every other day. I also oil my scalp whenever I can, giving myself a light massage as I go along. I get my hair texlaxed between 12 to 14 weeks depending on how my hair feels during that particular stretch.
BN: Where can we get your hair products?
Tonka: For anyone who wants my hair products, please go to the products tab of my blog to see the full range of our products, then send me an email at [email protected] to make your order.
We're also making plans to be sold online and in several other saloons and stores. However, I will always keep my blog updated www.wurassecrethair.blogspot.com so you can always find out the various locations where you can get the products from.
BN: Where can we find you on the internet?
Tonka: Blog – www.wurassecrethair.blogspot.com
Instagram – @wurassecrethair
Facebook – www.facebook.com/WurasSecretHair
Thank you loads BN Living Team for featuring me, I truly enjoyed answering all the questions and hope my responses help people.
***
Thanks for sharing your story with Tonka!