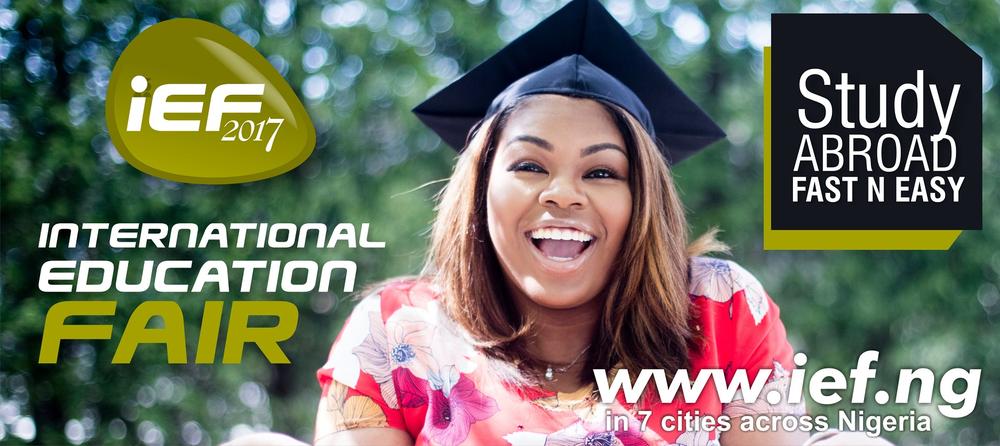 You want to study abroad by 2017? It's faster and easier than you think. Start by attending the Biggest International Education Fair taking place in 7 locations across Nigeria.
The 2017 International Education Fair, now in its 5th year, holds from the 19th to 28th of January 2017. The objective is to equip all prospective students and parents with as much information as they need to make their dreams of a foreign education a reality.
Over 30 foreign institutions from USA, UK, Canada and Australia will be ably represented by experienced education counsellors, who will answer all your questions at the different fair locations nationwide and provide you with instant admission.
Benefits of attending the fair
Meet international delegates from respective Universities
You can get ON-THE-SPOT admission
You get first-hand information about affordable study options.
You get to talk with experienced education counselors
You get discounts on tuition fees
Discuss accommodation facilities
Discuss travel arrangements
Attend the fair at venues closest to you.
100% visa success
Event details:
Kano
Date: Thursday, January 19th, 2017
Venue: Tahir Guest Palace.
Lagos Island
Date: Friday, January 20th,2017
Venue: Eko Hotel & Suites, Victoria Island, Lagos.
Lagos mainland
Date: Saturday, January 21st, 2017
Venue: Sheraton Hotel.
Warri
Date: Monday, January 23rd, 2017
Venue: Wellington Hotel.
Abuja
Date: Tuesday, January 24th, 2017.
Venue: Transcorp Hilton Hotel.
Calabar
Date: Thursday, January 26th, 2017.
Venue :Transcorp Hotel.
Port Harcourt
Date: Saturday, January 28th, 2017
Venue: 60 Evoh Road, GRA
REGISTER AT www.ief.ng or Follow us on:
Facebook:  www.facebook.com/International-Education-Fair
Twitter: www.twitter.com/iefng
Instagram: www.instagram.com/iefng
__________________________________________________________________
Sponsored Content