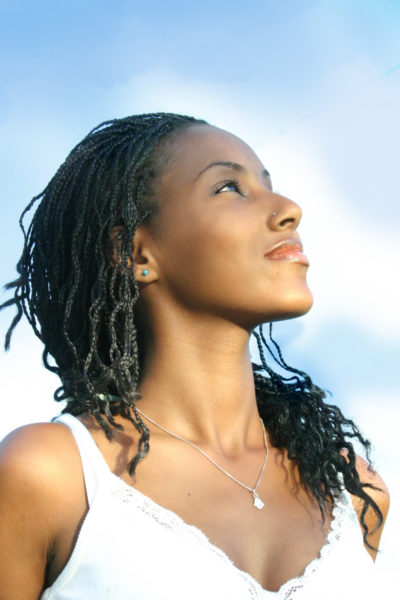 December 31st, 2009…if there was a way I could have staved off the onset of the New Year, I would have. If there was a way I could have paused time, so that I wouldn't have to enter yet another year with no baby or baby bump, I would have done that. But I couldn't. All I could do was sit down, wallowing in self pity, as we inched along to the New Year. My husband and I left for Midnight Service late, so by the time we got to Church, everywhere was full and we had to make do with standing outside. So jaded was I that I couldn't even bring myself to pray myself into the New Year. What was the point?!
All I could think about was the fact that I was going to turn 33, and getting pregnant was fast becoming a pipe dream for me. I had just had a failed Clomid cycle, and was getting ready for an invasive laparoscopy and hysteroscopy in the first part of the coming year. But rather than feel excited about it, all I could feel was despondent…hopeless.
It is very common for TTC women to feel this way, especially as yet another New Year beckons. With another candle added to the birthday cake, the tick of the biological clock starts to sound like a deafening clang. Faith starts to wane and confidence starts to thin, especially if the year that is coming to an end was characterized by failed cycles, heartbreak and disappointment. For women like this, of which I was one, it becomes hard to believe that the coming year can be any better. It seems easier to just, well, wish the New Year away.
That New Year's Eve, while I wallowed in self pity about the disappointing year that 2009 was, I chose to forget about all the other things that had gone well for me that year. Just a few months prior, in September, I had been promoted at work and transferred to a much more exciting department, with a lot more growth potential. I had also fully recovered from a debilitating ankle fracture I suffered earlier that year, and, infertility aside, by the end of the year, I was in the best of health. I had a beautiful marriage, and all my loved ones were hale and hearty. I had so much to be thankful for, but instead chose to mope about the one thing I didn't have.
Inevitably, I entered 2010 not in the most positive of mental attitudes. I was angry, frustrated, anxious, resentful…name it, I was it. I lashed out like a wounded animal at everyone and everything, and I pursued a resolution to my problem with an intensity that was borderline obsessive. It took my failed IVF cycle in November 2010 to give me the wake up call that I needed.
After going through all the five stages of grief that accompanied that failed cycle; the denial, the anger, the bargaining, and the depression…when the fifth stage came, the acceptance, I surprisingly found myself at peace. I accepted that it was time to stop being so hard on myself…on my husband…and my loved ones. I accepted that happiness could come from a lot of different sources, other than the only one I had been chasing for the last few years.
On December 31st, 2010, even though I was a few weeks past a failed IVF cycle, and even though I was still fragile emotionally, I was more thankful. I was grateful to God for a wonderful husband…a true partner. I was also grateful for the lessons I had learnt that year…the good and the bad. And as 2011 beckoned, the year I was to turn 34, I found myself less anxious than I had been the year before. No, there were no guarantees that I was going to get pregnant that year, but I was finally in the mental place where I was ready to just let God lead me. Just as the popular saying goes, I finally was able to let go and let God. And in November 2011, my girls were born.
Of course, this is not meant to belittle anyone's struggle. The TTC journey can be very intense and traumatic, to say the least. The heartbreaks can be more devastating than anything one can imagine! But amid all the heartbreak and anguish, the even greater calamity will be to lose all hope. The bigger disaster will be the inability to see the light at the end of the tunnel…no matter how dark. Not being able to hold on to some hope, no matter how small a shred it may be, will truly be worse than anything that could have happened in the year just ending.
Sometimes, I wish I'd enjoyed some of the little things more, in my TTC days. Now that I have a house with 2 boisterous 5 year old girls, nannies, and other domestic staff, I wish my husband and I had taken more advantage of having the house all to ourselves those days. I wish we'd traveled more. I wish I'd read more. I wish I hadn't spent my every waking thought fixated on getting pregnant. I wish I hadn't wasted those early years. I wish I'd taken the time to smell the roses.
For the TTC women who are staring at 2017, feeling despondent, I implore you to look inward and count your other blessings. We all can agree that 2016 was one HECK of a year! Personally, I feel like I was in a long boxing match that refused to end! The recession hit haaard! The whole world went crazy (think Brexit and the new POTUS, Donald Trump)! Too many lives were lost! It was literally one thing after the other! I have never been more eager to see a year end than I am about 2016 just leaving with its wahala. And as 2017 beckons, the year I hit the big 4-0, even though I haven't achieved a lot of the things I thought I would have at that age, I am not only grateful to have made it through such an awful year in one piece, but, more importantly, for the plethora of other blessings that are just way too much to count.
My dear friends, you might not have seen those two lines on the stick this year, but if today, neither you nor your loved ones are in hospital or the morgue, you have a family that loves you, you have a partner whose love and support you can count on, you are still able to keep your head above water in these dire financial times…you have it better than a lot of people. It's time to be grateful.
As 2017 rolls along, it is also important to be open to receiving your blessing in whatever package it comes along. Try not to be like the person stranded on an island, waiting for God to send an airplane to rescue her, and ignoring the boat, canoe or even scuba diver who comes along offering help. Yes, getting a natural BFP is what we all dream about, but don't be close minded to other options like IUI, IVF, surrogacy, donor eggs/sperm, and adoption. The gift of parenting comes in different types wrapping paper. Let's not shun the gifts that don't come in the packaging we expect.
The other day, I stumbled on an old edition of the defunct True Love West Africa magazine. I was featured in the Careers section of the magazine in early 2006, and I smiled as I read the interview my 29 year old self gave. But what struck me were my parting words at the time; Don't wait for tomorrow to be happy. Happiness is right now!
Today, almost 11 years later, that phrase rings so very true!
Let us stop putting our happiness on hold until the babies come. Be grateful today. Be happy today. Be hopeful today!
Happy New Year, folks!
Photo Credit: Daniela Spyropoulou | Dreamstime.com