A couple of days ago BN reported that Big Brother Naija housemate ThinTallTony is married and has 2 children.
Housemates ThinTallTony and Bisola have been getting cozy with each other for some days now and they have confessed to having feelings for each other, although it seems Bisola doesn't know TTT is married as he has never mentioned it to anyone in the house.
Yesterday while they were having a group discussion, Bisola asked him "Are you not a single man?" He replied, "By the grace of God".
This revelation came as a shock to viewers as his wife, Laraba in her campaign for him to stay in the house took to her Instagram page to share 5 real facts about her husband – including the fact that he is married "to the love of his life".
See photo below!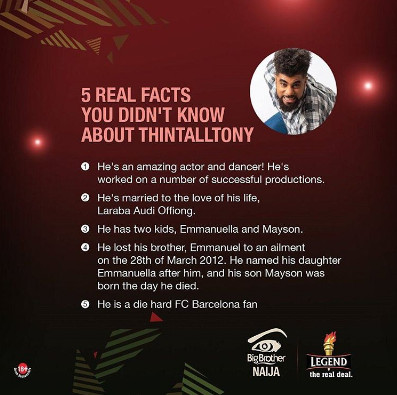 Watch the video of TTT sharing his marital status below.