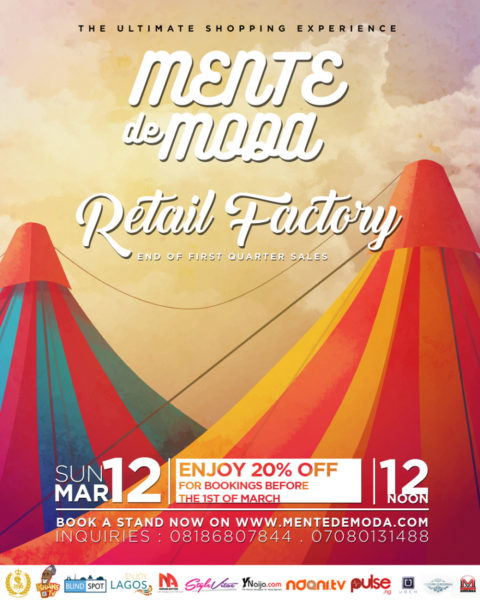 Here's exciting news for small business owners and Lagos entrepreneurs looking for that much needed edge in shifty economic times.
Do you want to sell out all your old stock?
Do you want to go for an exhibition and leave feeling fulfilled and satisfied at the end of the day?
Do you want to go for a shopping event that you can have fun to the max and do all your shopping at the same time?
Do you want to go for a one day event that connects you to lifetime customers?
Do you want to see what the sharpest entrepreneurial minds in Lagos have on display?
Mente de Moda, your ultimate shopping experience is offering 20% off every stall booking for their next exhibition made between now and March 1st 2017. So hurry now to their website www.mentedemoda.com, click on 'Book a stand" and follow the easy instructions.
The event tagged "Retail Factory" will feature a special pre-exhibition segment where financial experts speak to vendors setting up before 12Noon on how to make the best use of their growing brands and putting their best foot forward.
There hasn't been a better time to buy Nigerian and support our local industry/enterprise than now, with the international market having a gripping chokehold on our economic growth. The small and medium scale sector clearly stands out showing resilience by being almost immune to the growing cost of production and furnishing a large workforce faced by larger companies.
Mente de Moda is solely focused on constantly improving our platform in order to give the small/medium scale business owner that much needed edge.
The people at Mente de Moda also want to thank all our esteemed vendors and most loyal shoppers for their continued support so far and for the effort put into making the cupids bazaar successful last weekend.
Proudly Supported by: 2516 Security, NdaniTV, Uber, StyleVitae.com, Mariam Adeyemi Company, Culture Custodian, YNaija.com, Pulse.ng, magnum Stitches, DZRPT TV.
___________________________________________________________________________________
Sponsored Content