Hello fellow BellaNaijarians, it's Nana Kennedy-Kwofie again! For those of you who missed out on all the juice I'm about to spill, I've just returned from a wonderful trip to Barcelona and I'd like to share my experiences with you all!
Read my first introduction post here to find out a little more about me but this post is all about Barcelona, so enjoy.
Before I begin I must express my gratitude to STAR Lager and the Nigerian Breweries PLC, FC Barcelona, Black House Media (BHM) for taking me on the trip. I'd also like to thank BellaNaija for giving me this AWESOME BN Travel opportunity and finally thank you BELLANAIJARIANS for accompanying me on this trip!
DAY 1
I got to Murtala Muhammad International Airport around 8 pm and met BHM's Project Director, Henry Ekechukwu, who helped me during the check in process. I was introduced to everyone who would be traveling with me to Barcelona from Nigeria; Maria Okanrende from the Beat 99.9 FM, Tunde Abioye from Punch newspaper and Tokunbo Adodo from Nigerian Breweries PLC.
Everything went very smoothly and before you know it all my bags were checked in and I was ready to fly.
The flight was approximately 6 hours long and I slept through the entire flight! But obviously not before I made sure to eat #Foodiealert! We reached Amsterdam at around 5:30am and headed directly to our connecting flight which left at 6:35am
DAY 2
I arrived in Spain safe and sound. The ride from the airport to the hotel was short and pleasant.
We checked into the Hilton Hotel where I was greeted with a card and a comfy bed. The view from my room was lovely!
Since I was tired from the flight I rested for a while before going to have a late lunch with Maria from the Beat 99.9 FM
We went to La Rambla, which is a popular street for tourists and locals in central Barcelona. We walked a short distance and got to the Mercat de Sant Josep de la Boqueria which is a market.
The market was a sensory overload, we were surrounded by a vibrant display of colourful and delicious food and drink: fruits, vegetables, nuts, fish, ice cream, blended juices and so much more. As a lover of food, the market as such a great experience for me!
After exploring the market we decided to get a bite to eat, we went to a restaurant called Kubik where I ordered some tasty salmon with veggies.
After doing a little shopping we finally went back to the hotel I found my mother there in my room (yay!). So I'm sure you're thinking "that's a bit random" lol and I wouldn't blame you. Well, my mother works and lives in Budapest, Hungary and upon hearing I'd being coming to Barcelona booked a ticket to see her one and only daughter ❤️️
We had a nice dinner together and caught up. It's always so good to see my mother. And I was glad she was there to support me on my first big assignment. I love you mummy.
DAY 2 RECAP
DAY 3
So today is the big day! Woke up extra early, curled my hair. To be frank, I wasn't exactly sure what the big announcement would be but I was quite excited.
I know we are headed to Camp Nou, which is the football stadium for the Barcelona Football Club (FC Barcelona). After having breakfast and I was ready for the day. We all met in the lobby and everyone was dressed to the nines. Everyone looked great!
I met and chatted with a few representatives of the Nigerian Breweries PLC. Below is a photo of Franco Maria-Maggi (Marketing Director), myself, and Kufre Ekanem (Corporate Affairs Adviser) of Nigerian Breweries PLC before Camp Nou.
We headed to Camp Nou, which was only a short ride away. It was huge! As I was posting on social media, a lot of my friends who are supporters of Barcelona were sending me messages of how jealous they were. Below is a photo of  the Football stadium at Camp Nou

Me at Camp Nou
Once we got there we were led to an executive room and were welcomed by representatives of FC Barcelona.

Silvio Elias, a member of the Board Economic Commission for FC Barcelona giving a welcome address.
After a few welcoming speeches, the news we had all been waiting for was revealed! We learned that STAR Lager and FC Barcelona would be partnering together. Seems a like the perfect partnership to me. Most people I know crack open a cold beer to watch the big game.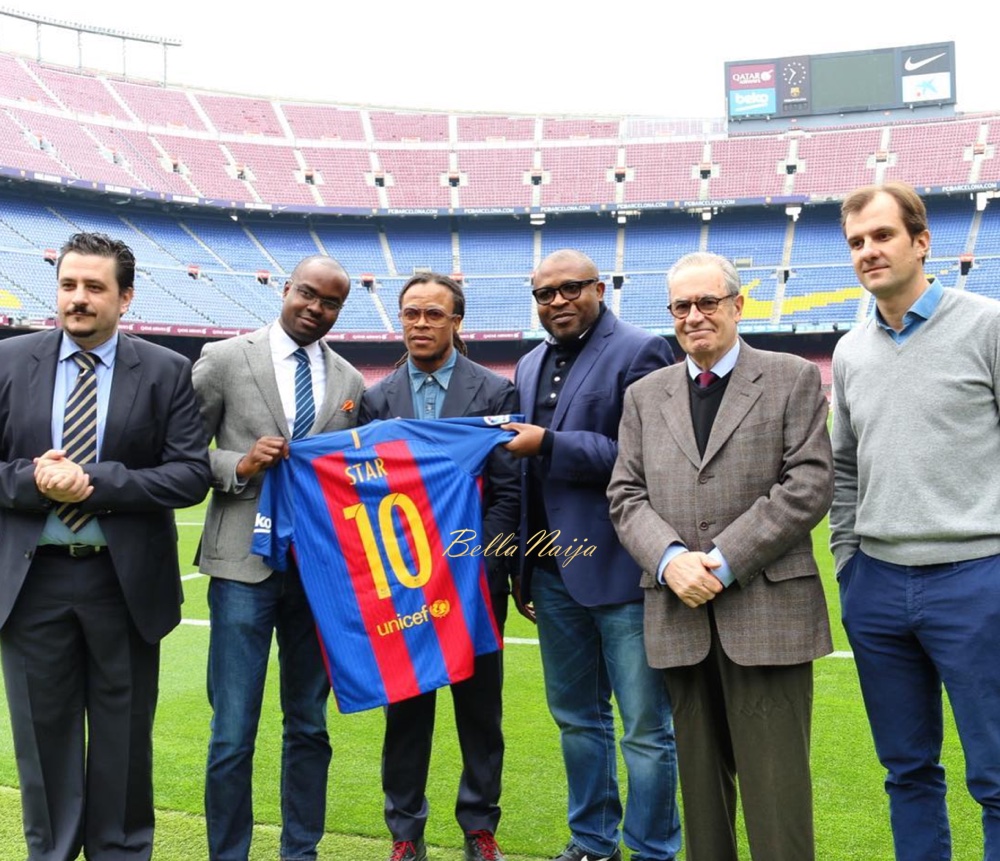 I got to meet Edgar Davids who is a football Legend. He played for Barcelona and came to the ceremony.
After the ceremony we were given a tour of Camp Nou. I didn't know much about FC Barcelona and I learnt a lot on that tour.
After the tour, it was reception time! We were given endless food and drinks!
The reception ended and we went back to the hotel to rest. It was a great way to end a wonderful ceremony. Later that evening my mother and I decided to go to La Rambla with Omavua Akatugba and Kayode Olowu for our last supper. We stuffed ourselves silly and had great conversations. It was a fun night.
DAY 3 RECAP
DAY 4
We're leaving Barcelona today! I've had such a wonderful time here and I'm a little sad to leave.
We left the hotel very early in the morning and got to the airport quite early. I was able to get gifts for my family and friends. We got on our flight and left Barcelona.
I touched down in Lagos around 8pm, safe and sound!
I've had such a great time here and I'll treasure the trip for a long time! Nana Kennedy-Kwofie signing out and wishing you all PEACE, LOVE and PROSPERITY!
Check out #BNxBarcelona for all the exciting posts and for more pictures.